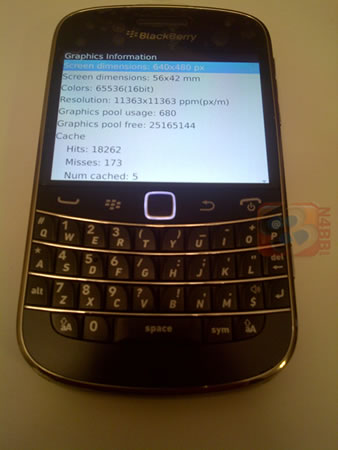 If you thought that BlackBerry Storm series was the only touchscreen devices being rolled out of RIM, then there's some bit of surprising news in store for you. N4bb has already posted some leaked pictures of a touchscreen BlackBerry Bold device. Time and again there were hushed murmurs in regards to BlackBerry looking at more touchscreen devices and even the news in regards to BlackBerry Bold being included had surfaced. But this is the first time any pictures have cropped up in the public to feast their eyes on.
This device in question will have a full QWERTY keyboard along with a 2.8in capacitive touchscreen. Other specifications include 5-megapixel camera that doubles as a 720p HD video recorder, NFC, 8GB of internal memory and 768MB RAM. Running on BlackBerry OS 6.1, this device is expected to be only 10.5mm thick, which makes this to be the thinnest BlackBerry ever released.
So all in all it looks like an interesting device from BlackBerry stable but things would get more cleared when one gets to know the availability and pricing details. Pretty sure there will be more leaks in near future, which may give some indications in regards to the same.