BlackBerry Milan, a BlackBerry 10 running slider mobile
Just a few days back we saw the roadmap of the future BlackBerry 10 (formerly BBX) running devices where we had heard about many codenames of the QNX-based mobiles from the previously seen London to Nevada and Milan. And now people at CrackBerry have popped up a picture of a slider phone with full QWERTY physical keyboard which may turn out to be the BlackBerry Milan.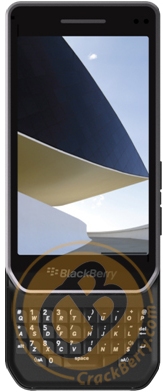 RIM is betting all its money on the BlackBerry 10 platform and the devices running on the future-OS, and that can be seen by the design of the Milan above. The Milan is traditionally round-edged at the top but has sharp edges at the bottom which was also noticed in the BlackBerry London. The thing missing in the London was the physical keyboard that BlackBerry fan boys love the most and this has found its place in the Milan. The full QWERTY keyboard will be the key feature of this BlackBerry 10 running device.
It is also being said that the next-gen BlackBerry 10 devices will have a great focus on display and may even have pixel-density more than Apple's retina display. If this happens then there will be no looking back for the Canadian company. Also a few things are missing in the picture above. There are no traditional call, call-end button, no optical trackpad, no home and back button anywhere on the device. Now this may be heartbreak for the BlackBerry lovers but we will have to see how these are replaced on the touchscreen of the Milan.
So the BlackBerry Milan may come out with a huge touchscreen, QWERTY and next-gen BlackBerry 10 OS on board. Enough to get you excited?