BlackBerry PlayBook OS 2.0 FINALLY Arrives, loads of new features
So three days back we reported that RIM was planning to release the most-awaited BlackBerry PlayBook OS 2.0 for all the PlayBooks out there, and hey the Canadian company didn't disappoint this time around.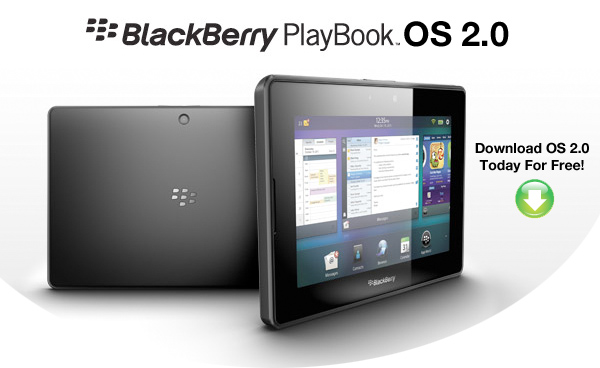 So if you own (by any given chance) a PlayBook, then go ahead and check for this MAJOR update which will just transform this piece of hardware you once hated and finally give you more reasons to love it. But if you are wondering what is all the hue and cry all about, then read on to know about the new additions in the upgrade.

Now with the PlayBook OS 2.0 you get
New Email Client: Now this was the most urgent and also the most basic need on the PlayBook that RIM forgot to include at the time of launching the PlayBook but now you will be able to integrate and check both your work and personal mail accounts on to your PlayBook. What's more better is that the email client is deeply integrated at the Social front, so now you can check all the messages coming on from Facebook, Twitter and LinkedIn.
Calendar and Contacts App: The built-in calendar harnesses information from social networks and makes it available where and when users need it. Contact cards are also dynamically populated with updated information from Facebook, Twitter, and LinkedIn to create a consolidated view of contacts.
Run Android Apps on PlayBook: YES! Now owners of the PlayBook will finally have access to thousands of apps from the Android market and be able to run and use them over their PlayBooks and finally putting the not-so-successful tablet to some good use. Also RIM has said that many more apps have been added over the BlackBerry App World for users to play with.
BlackBerry Bridge: With BlackBerry Bridge now, users can use their BlackBerry to control any device, from Motorola Xoom to PS3. The Bridge will turn your BlackBerry into a virtual remote. Also now users can use their BlackBerry smartphones' as wireless keyboard or even a mouse and use it to input and work over their PlayBook, all with the Bluetooth connection. Also carry the documents easily now and also transfer them with so much ease as never before.
So these are the major changed and new features that are out with the PlayBook OS 2.0. If you wondering how to check for the upgrade then just go to Settings > Software Updates > Check for Updates and you should find PlayBook OS 2.0 available for download. Update it now and also let us know if you like it or something is again missed out by RIM in the comments below.