With the rumours along the BlackBerry Playbook 4G flowing in and the latest one suggesting that the tablet might be announced as early as of July 31st, we have one more thing that RIM is expected to release.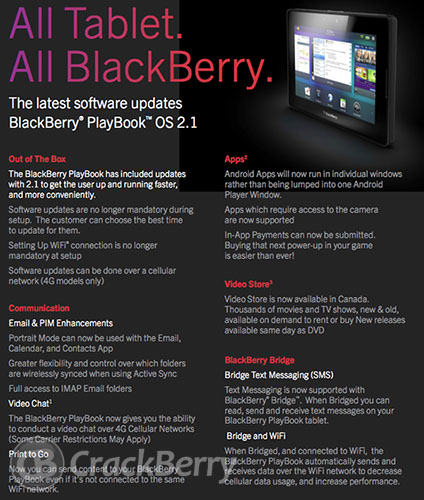 And it is an update to the BlackBerry PlayBook OS to version 2.1 bringing in loads of new features.

And now a document has been leaked at CrackBerry which includes complete change log of the BlackBerry PlayBook OS 2.1 and suggest the features that will arrive alongside the PlayBook 4G.
 
The changelog lists the following for the PlayBook OS 2.1:
 
Software updates are no longer mandatory during setup. The customer can choose the best time to update for them

Setting Up WiFi connection is no longer mandatory at setup

Software updates can be done over a cellular network (4G models only)

Portrait Mode can now be used with the Email, Calendar, and Contacts App

Greater flexibility and control over which folders are wirelessly synced when using Active Sync

Full access to IMAP Email folders

The BlackBerry PlayBook now gives you the ability to conduct a video chat over 4G Cellular Networks (Some Carrier Restrictions May Apply)

Print To Go – Now you can send content to your BlackBerry PlayBook even if it's not connected to the same WiFi network

Android Apps will now run in individual windows rather than being lumped into one Android Player Window

Apps which require access to the camera are now supported

In-App Payments can now be submitted. Buying that next power-up in your game is easier than ever!

Video Store is now available in Canada. Thousands of movies and TV shows, new & old, available on demand to rent or buy New releases available same day as DVD

Text Messaging is now supported

with

BlackBerry Bridge. When Bridged you can read, send and receive text messages on your BlackBerry PlayBook tablet.

When Bridged, and connected to WiFi, the BlackBerry PlayBook automatically sends and receives data over the WiFi network to decrease cellular data usage, and increase performance
With the leaked document we do get to know that is new in the OS, but the OS doesn't give any clue on as to when the Canadian giant would roll out this OS upgrade to the BlackBerry PlayBook all over the world but we don't expect the release to be too far away.