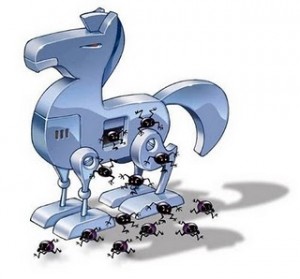 Trend Micro, a security solutions provider, claimed that they have found a Trojan that is very much capable of exploiting your BlackBerry smartphone. The Trojan called Zeus seems to target specifically the SMS feature of the Blackberry. Basically a Trojan, sometimes referred to as a Trojan horse, is a non-self-replicating malware that appears to perform a desirable function for the user but instead facilitates unauthorized access to the user's computer system. In this case it's a cell phone. The Trojan maybe in the form of an application, once installed sends a confirmation message to the hackers that transmitted the Trojan, to signal that it is ready to receive commands. Once the Trojan sender or the hacker sends a confirmation message, the Trojan can view, delete and forward SMS's, block calls, change the administrator on the device and block phone numbers. It sends all data on the phone to the hacker in the event that it gets shut down.
Earlier attacks by a similar Trojan were seen on Symbian and Windows Mobile operating systems. Mr Amit Nath, Manager of Trend Micro India and SAARC said, "As more users access the Internet from the expanding pool of devices, web-based threats will continue to grow in size. The growth of smartphones and faster data speeds will also increase the possibilities of infection. As criminals devise ways to make money out of exploiting mobile technologies, mobile users will grow extremely vulnerable."
Now is a good time to get those antivirus softwares for you cell phones people, and be sure to not install uncertified applications.