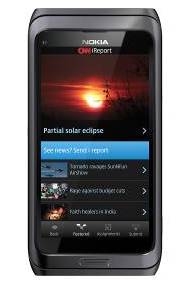 CNN and Nokia have launched an international news app for the Nokia E7. The app is free of charge and is designed to provide a visually-driven news experience for Nokia E7 users who demand accessibility and convenience, as well as who like participating in the news via iReport, CNN's user-generated news community.
CNN App for Nokia features include:
Provides a direct gateway to CNN's user-generated news community, iReport.

Lets users browse user-generated content; register, sign-in to their account or sign on as a guest to instantly upload photos and videos.

Users can also browse iReport's latest "international assignments," asking the community to weigh in on various news stories.
Easy to navigate: Users can easily flick through news stories across categories including Top Stories, U.S., Africa, Asia, Europe,Latin  America, Middle East, Business, Sport, -Entertainment, Tech and Travel.

Easy to consume: Each story features bulleted highlights above the full article, designed to satisfy mobile "snackers," allowing them to easily scan through the latest stories.

Easy to share: Users can share stories via SMS, email, Twitter and Facebook directly from the CNN App.

Easy to view: White text on black background provides excellent viewing experience
Video: Provides users with access to live, breaking news video, as well as an extensive selection of on-demand video clips across many categories, including World, Most Popular, Sport, Business, U.S., Entertainment, Tech and CNN en Español.
The CNN App is available for free from the Ovi Store on the Nokia E7 or at http://store.ovi.com/content/121610. For more information about the CNN App, go to www.cnn.com/nokia.