With the Coke Studio show on MTV becoming increasingly popular amongst the youth of India, the shows now has its own dedicated app for the Windows platform.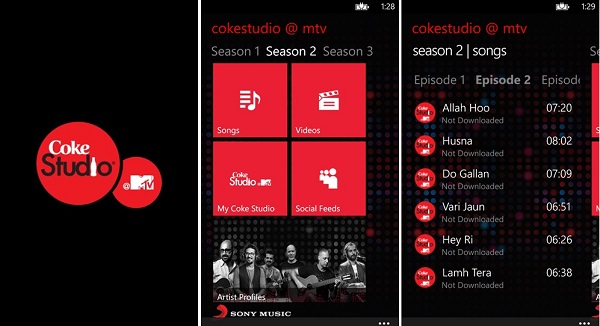 Sony Music Entertainment has announced the launch of the Coke Studio @MTV app for Windows 8 and Windows Phone. The app is powered by Windows Azure, Microsoft's cloud platform and brings the rich and diverse music styles offered by Coke Studio India thus offering the user's independent, classical, folk, Sufi and other popular genres of music from all the three seasons and episodes of the show.
While the Coke Studio @MTV app is free to download, the seasons are paid. The complete download, audio and video, of Season 1 would cost $4.99 and season 2, $5.99. Only audio of season 3 is available at $9.99. However all the three seasons are available for just $14.99. You can download the app from the WIndows Phone Store.
Speaking about the new Coke Studio @MTV app, Sanujeet Bhujabal Marketing Director Sony Music Entertainment India, said, "We have been associated with all three seasons of Coke Studio as we have always believed in the project and the unique music content that gets created. Over the years we have carved a strong following and have seen a huge demand for the music. Today, we are happy to make this music available to all Windows users and we are sure music enthusiasts will cherish the music"