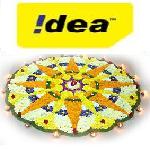 IDEA Cellular, one of the oldest operator of Gujarat, with over 60 lakh subscribers, has launched a Festival benefits pack for new customers offering special tariff and additional benefits of SMS and GPRS usage.
Mobile consumers who choose to connect with the Idea network this festive season will get to enjoy the Festival benefits pack which has in-built tariff advantage of all local Idea to Idea calls at the rate of 1 paisa per 2 seconds. The pack also offers SMS benefit of a whopping 73,000 Free SMS for a period of one year and 200 MB of GPRS usage absolutely free for 7 days.
Additionally, Idea subscribers can also opt for a wide range of special recharges with higher consumer benefits such as discounted Night Calling free for a year; 12,900 Free SMS; 1,290 MB of free Data usage; and STD calls for as low as Re. 1 per 3 minutes, during the festive season. 
Idea's Festival benefits pack is available across all retail outlets in Gujarat.