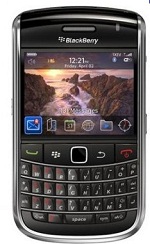 Tata Indicom, the CDMA arm of Tata Teleservices Limited and Research in Motion (RIM) announced the launch of the BlackBerry Bold 9650, the first combined CDMA-GSM 3G-ready Smartphone in the BlackBerry Bold series. The BlackBerry Bold 9650, introduced exclusively by Tata Teleservices Limited is a new Smartphone for CDMA subscribers, offering seamless global roaming, 512 MB of Flash Memory, an Optical Trackpad, and enhanced Wi-Fi and GPS capabilities.
Customers purchasing the BlackBerry Bold 9650 Smartphone in the month of October will also be given a special data usage offer. For the first two months, these customers will receive a free data pack worth Rs.900 per month, as well as 500 MB of tethered modem data usage per month. Customers using the BlackBerry Bold 9650 smartphone will also have exclusive access to Tata's Photon TV, powered by Photon +, on the go.
The BlackBerry Bold 9650 Smartphone offers a stylish and compact design with soft rounded edges and an easy-to-use full-QWERTY keyboard. It includes a variety of useful productivity applications and a wide range of popular features, including advanced multimedia capabilities, Bluetooth 2.1 and a 3.2-megapixel camera with flash, image stabilization and video recording.
Commenting on the launch of the BlackBerry Bold 9650, Mr Sunil Batra, President of CDMA Operations at Tata Teleservices Limited, said: "As the youngest dual-technology telecom service provider in India, the addition of a Smartphone like the BlackBerry Bold 9650 to our portfolio of products and services from Research In Motion is an important step in strengthening our offerings to consumers. Our pan-India reach, supported by the traditionally strong speeds on TTL's cutting-edge CDMA network, will provide users with an exceptional voice and data communication experience, enhanced by the ability to share and experience multimedia, chat and social networking on the go."