While we are still busy covering all the aspects, features and specs of Apple's new iPhone 5, a hilarious image is doing the rounds which suggests that the newly launched iPod nano from Apple has design elements which seems like it has copied from the Nokia Lumia 800.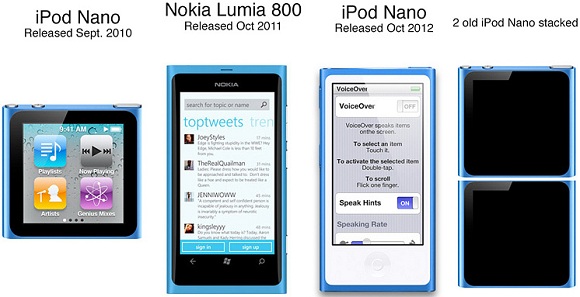 As you can see above, the design of the new iPod Nano arrives with the same rounded edges and looks like another Nokia Lumia 800.
So did the 'don't you dare copy my design' company, better known as Apple copy Nokia Lumia 800's design? Well we just hope not. Nor are we interested in seeing another lawsuit between two tech giants.
 
But if we go back into the times to 2010 when Apple launched the smaller iPod nano, it seems that the case if other way round. According to the source, Stuart Gibson went on to compile these images and lets us know that if we stack up the 2010 Nano one over the other, then it seems that Nokia might have got 'inspired' by the design of the iPod Nano and included it in its Nokia Lumia 800.
 
It is indeed a very funny moment to see how the design elements have been carried forward since 2010 to today with the launch of the iPod Nano with almost similar design that of the Nokia Lumia 800. And hey, p
lease don't call the lawyers!

Also what do you think? Did Apple copy Nokia Lumia 800's design?