Do not drop your Samsung Galaxy S III – [Drop test Video]
We all know that nobody likes to drop his or her smartphone straight onto the concrete but then there are times when we accidently do drop them. But what happens when you drop your newly purchased Samsung Galaxy S III?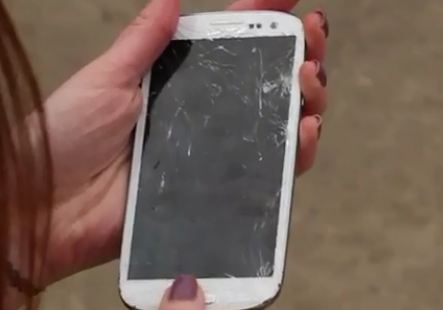 AndroidAuthority has uploaded a drop test video where they test both the Apple iPhone 4S and Galaxy S III to see how much damage both the devices can manage to bear.

First the Apple iPhone 4S is dropped on the back, side and face down which leaved the devices with multiple cracks all over, but the device still functioned quite well and the touch screen was still working and usable.

The same was repeated with the Samsung Galaxy S III, dropping the device on the back, side and face down and the result was bad. Though the device had less noticeable damages on it, the touchscreen of the S III which is made up of Corning's Gorilla Glass 2, known for its toughness, smashed into pieces as you can see above and the touch has no functionality.

We have seen the consequence of dropping the S III face first earlier and this drop test just went on to confirm it. So the next time you drop your Galaxy S III, just make sure you have a toughened protective cover all around the smartphone so that you could save a few bucks on getting the screen changed.