Today is a good day for Windows Phone users, as Microsoft announced Windows 10 with some pretty cool features and now, the app gap seems to be further declining, as Dropbox has finally arrived for the platform in official capacity.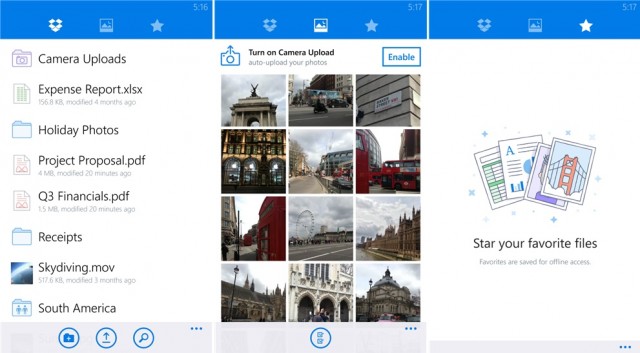 Dropbox has also updated its Windows tablet app along with bringing the app to the Windows Phone Store. Dropbox and Microsoft had announced a partnership recently for Office integration and the Dropboox app for Windows Phone seems like a fruition of the partnership.
The Dropbox app for Windows Phone brings the usual features we've come to expect from the cloud storage app. The app offers 2 GB of cloud storage when you sign up and the app lets you backup and access your photos, files from anywhere. There's ability to mark files as favourites, which lets you access those files even when you don't have an active internet connection. The ability to share files with a link is also included along with ability to use multiple accounts.
The app has been tailored for Windows Phone users, as you can pin your folders to the Start Screen. The app is live on the Windows Phone Store and the updated tablet app is also live on the Windows Store. So, what are you waiting for, hit the Store links below and check out the new apps.
Dropbox – Windows Phone Store and Windows Store