The number of people having access to Internet is more as compared to the number of people who had access to Internet a couple of years ago. Affordable smartphones too have directly or indirectly helped increase Internet penetration. While Internet can be used to gain knowledge from multiple sources like Wikipedia, YouTube too turns out to be helpful in many cases. You will find many helpful tutorials related to different topics along with DIY videos as well.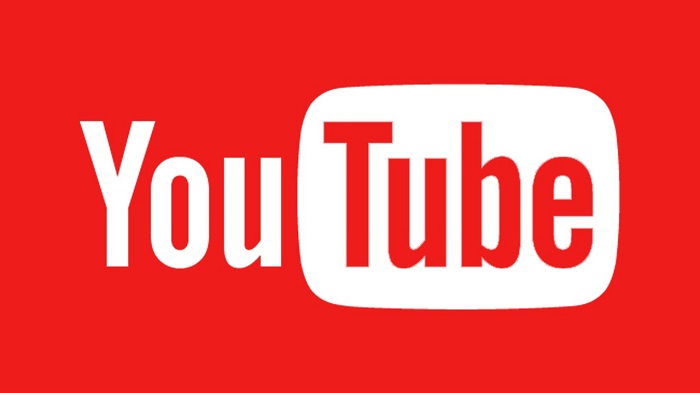 This aspect also leads to your kids using YouTube very often. However, there will often be inappropriate content that you or your kids will come across. Not to forget the kind of comments some users post even on resourceful videos. This can have a negative impact on your kids which is not good.
To tackle this, YouTube lets you hide such content which is being flagged by users as inappropriate. While this may not be totally accurate, it does restrict the inappropriate content to some extent. Wondering how this happens? Well it's easy, there's a mode called restricted mode in YouTube which acts like a parental control. If you don't know how to enable it, we show you how it's done.
How to enable Restricted Mode on YouTube (for Android)
Step 1: Open the YouTube app.
Step 2: Tap on the 'three vertical dots' located at the top right corner of the app screen and then tap on 'Settings'.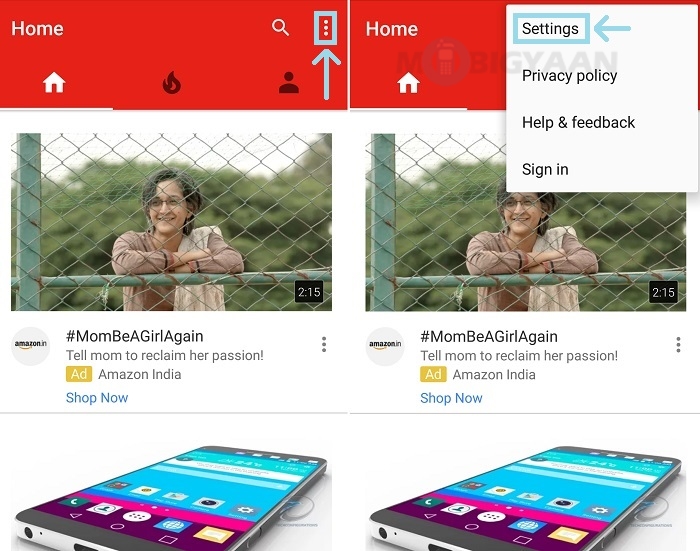 Step 3: After that, tap on 'General'. Doing so will show you a list of options. The restricted mode will be located at the bottom. To enable restricted mode on YouTube, you will have to tap on the toggle button provided against the restricted mode option.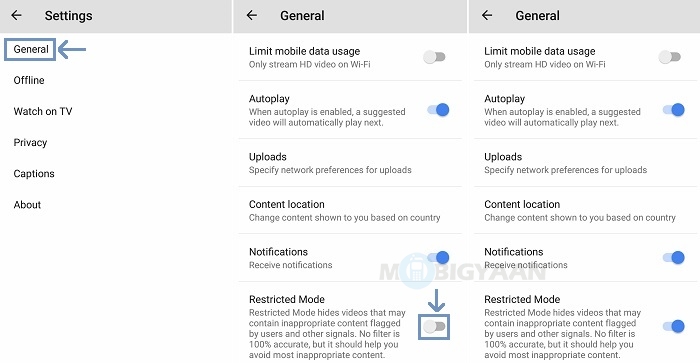 As soon as you tap on it, the button will turn blue in color which means that restricted mode has been enabled on your device.
How to enable Restricted Mode on YouTube (for desktop website)
Step 1: Open www.youtube.com on your laptop or desktop computer.
Step 2: Now scroll down to the bottom of the site and find the option for Restricted Mode. After you find it, just click on it.

Step 3: As soon as you click on it, you will see two radio buttons with options On and Off. Click on the radio button provided before the On option and then click on Save.

Note: Anyone with a knowledge of this feature can turn this off. To lock the restricted mode on your computer, you will have to log in with your account and then turn it On. After you have turned it On, you can log out of your account. Now if someone wants to turn restricted mode Off, he/she will need your user credentials, which we hope are only known to you.
So that's it. Now that you can enable restricted mode on YouTube, you can be rest assured to a certain level that your kids won't come across inappropriate content while using YouTube. However, you can alternatively use the YouTube Kids app which is specially designed for kids. But. if you are lucky (pun intended) and live in a country where the YouTube Kids app is not available, restricted mode is what you should keep enabled.
Also check out: How to see country based content on YouTube
For more, head on to our 'How-To Guides' section.