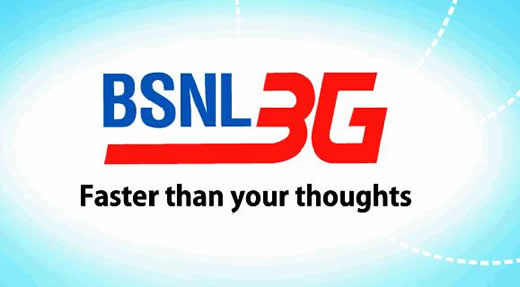 BSNL has come up with new 3G Plans for its Prepaid and Postpaid customers. If you are thinking about some new unlimited 3G offers, then you are wrong. We have learned from our sources that BSNL will be offering Special 3G Combo Data plan to both is Prepaid and Postpaid consumers from 1st February 2011.
Special 3G Data Plans for Postpaid users

Special 3G Data Plans for Prepaid users

1.The validity in case of 3G prepaid RCV is 30 days. The RCV will increase both main account and dedicated account validity.
2.The free minutes voice/video calls, SMSs and data usage offered with plan are to be consumed within the validity period. No carry forward of unutilized freebies are allowed.
3.Free data usage is available while national roaming also. However, free voice/video calls & SMSs are available from your own telecom circle only.
4.Other charges and usage beyond free limits will be as per normal call charges i.e. base voice plan under 3G service.
5.In case of data plan the customers not purchasing data card from BSNL has to activate through FRC 120.
Recently airtel launched its 3G Services in Karnataka, Chennai and Coimbatore, but the plans which it announced were no where near to what BSNL or MTNL provides.We feel that BSNL and MTNL are giving a tough fight to Private Telecos in terms of 3G Tariff. What to your think who will win this 3G war between BSNL and MTNL v/s Private Telecos.
Also Read :
Exclusive : BSNL's 3G Data Plans for iPad
MTNL (Delhi) offers Unlimited 3G at Rs. 750/month
airtel 3G Data Plans (Tamil Nadu & Chennai) in detail
airtel 3G Data Plans (Karnataka) in detail