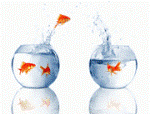 Yet again, we are sharing with our loyal readers one more exclusive news. This our first 'Exclusive' in our 3rd year. So here is the news.
As Mobile Number Portability (MNP) launch is round the corner, every telecom operator is trying one thing or the other to lure the new customers. BSNL, offcourse, is trying the same. BSNL has announced various Goodies for the Prepaid and Postpaid customers who will port to BSNL from their exisitng operator.
BSNL will waive off  porting charges and will provide 32K SIM free of cost, however if you have any specific demand for other SIM then actual SIM price will be charged. 
Here is what BSNL going to offer :
For Prepaid Connections :
At the time of activation of all port-in customers, additional talk value of Rs.100 will be offered in addition to the normal free talk value available with FRC.
All port-in customers will be offered 5 GB GPRS for one month free of charge.
For Postpaid Connections :
Activation charges will be waived off.
50% rebate in the FMC of first month after port in.
Freebies attached with the plan will remain same.
For all Telecom Circles except Haryana the above tariff will be implemented with effect from the date of implementation of MNP. In respect of Haryana Telecom Circle, the above tariff will be effective from 01.02.2011.
So what do you think will such freebies only attract you or you will choose, in case you switch to other operator, on the basis of other factors also like 3G services, network quality, customer service, transparency in billing, highest talk value per recharge, network coverage etc. Do let us know what do you think?
Related Article :
All You Want to Know about Mobile Number Portability (MNP)

Image Source