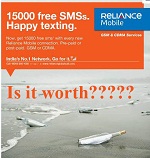 Yes, you read it right! Reliance sms packs are no more cheaper. There has been a steep increase in the tariff this time. Reliance almost brought a revolution in telecom market as far as sms packs were concerned by introducing packs at a denomination of Rs. 11, Rs. 25 and Rs. 1/day where customer had the privilege to send local and national sms at 1 paise, 500 sms/day respectively but reliance had increased the sms pack rates within 9 months.
The updated pack rates were Rs. 19 for 1 paise/sms for first of 500 sms of a day, Rs. 39 for 500 local/National sms/day and the third pack consisted of Rs. 1 on a daily deduction basis for 500 Local/National sms/day.
However, Reliance has announced that all their sms packs will come at a higher price starting today. The new tariff is as follows:
1 Paise/sms pack :
Previous Tariff: Rs. 19
Revised Tariff:  Rs. 39
500 Local/National sms/day pack :
Previous Tariff: Rs. 39
Revised Tariff:  Rs. 69
Daily Deduction Pack (500 Local/National sms/day) :
Previous Tariff: Rs. 1/day
Revised Tarif: Subscribers who have activated the daily deduction pack before 20th August will be on same plan without any tariff change for the next six months and then this pack will be discontinued.
To cut the long story short, Reliance will offer unlimited* local national sms's at a fixed monthly price of Rs. 69 from now which is costlier by a few bucks than the sms packs launched by its competitors like Docomo, Airtel, Vodafone, Aircel, etc. The price with which these packs used to come used to justify the quality of these packs but now that they have increased the rates, its high time for Reliance to give a better quality product as we all know that customers all over India are facing huge problem in sending and receiving sms's on Reliance network.