Facebook for Android has just received a major update, which brings an interface overhaul along with a flatter new minimalistic design. The new design the Facebook for Android update brings is a lot similar to the iOS counterpart of the app.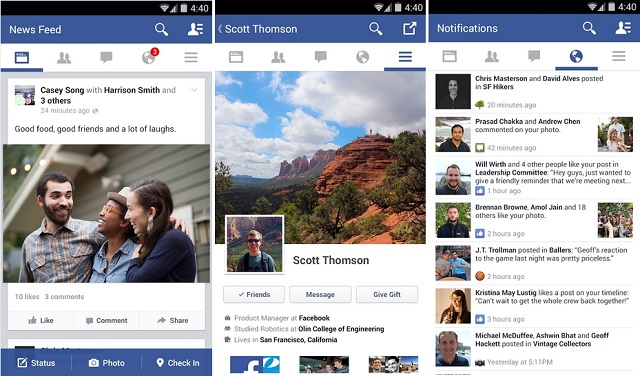 Along with the flatter redesign, there's also a lot of change in the interface. We now have five tabs to navigate between the news feed, friend requests, messages, notifications, and the Facebook menu. The Facebook chat window is no longer available to swipe but you can access it through a button on the top right.
The buttons for updating your status, uploading a picture and checking in has now been been hidden and you can bring them up from the bottom through a swipe.
Along with the visual improvements we just told you about, Facebook for Android update brings a lot of performance improvements. There's improved scrolling, faster navigation, speedy load times and lot of under the hood fixes.
The update isn't live yet here in India but it should roll out gradually. We'll suggest you to have a little patience and keep checking. Do tell us, how you like the new update, after you've received it of course.