Facebook App for Feature Phone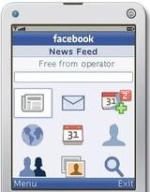 If you have felt missed out of all the Social networking action because of your mobile phone not being in one of those high end categories, its time you can jump in the bandwagon too. Facebook has introduced a new Facebook mobile app that is compatible with over 2500 mobile phones. The application is aimed at providing a better user experience to every mobile user. Facebook has worked closely with Snaptu to bring out this application. The application provided a better Facebook experience for the most popular features, including an easier-to-navigate home screen, contact synchronization, and fast scrolling of photos and friend updates.
All you need is a data plan from your service provider. In India, Reliance will soon provide 'zero-cost' data for this particular application. Just go to m.fb.snaptu.com/f from your mobile and download the application.