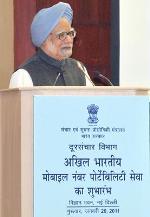 Remember Captain Planet's famous line "The Power is Yours", it was the first thing which came into my mind when Prime Minister, Dr Manmohan Singh announced the launch of Mobile Number Portability at Vigyaan Bhawan by making inaugural call to Kapil Sibal, the Union Minister of Communications & IT from a ported number.
Congratulating the Telecom Sector for the introduction of MNP and for being the fastest growing telecom market in the world, the Prime Minister said that the MNP is a shining example of how our telecommunications services have helped to widen human choices in a very important area of nation's economic activity. Telecommunications provide a key tool for socio-economic transformation of our rural areas, he added.
Speaking on the occasion, Kapil Sibal said that though India has introduced Mobile Number Portability relatively late vis-à-vis other developed countries but at the same time it has done so by adopting latest technologies and methodology. India has now joined the band wagon of advanced countries like USA, UK, China etc. in providing the MNP. He further stated that seeing the size of the country, number of subscribers & their growth rate and the number of operators per Licensed Service Area, there will be hardly any country with a network of so much complexity where MNP has been implemented.
Implementation of MNP will not only give wider choices to the Indian subscribers but will also compel Service providers to offer innovative, affordable and competitive Tariff plans for the benefit of the masses. He also said that commitment made at the time of pilot launching in Haryana in Nov'2010 has been kept today because of single minded efforts of all concerned. Congratulating engineers for the great job done, he said that making solution for the complex situation was possible only because of them.
The MNP Service was initially launched in Haryana Licensed Service Area on 25.11.2010 which served as a pilot and helped resolve all problems in the countrywide implementation. Subsequently, a phase-wise migration plan of networks in all the other Service Areas was worked out by DOT in coordination with Service Providers. During the migration process, validation of technical parameters was carried out for successful and smooth migration of the networks of various Service Areas. Technical migration activity has been completed as planned on 19.01.2011 which has completed the ground work for commencement of MNP Service on a commercial basis from 20.01.2011.
To know all about Mobile Number portability read our MNP Guide
All You Want to Know about Mobile Number Portability (MNP)