Its Official! Mobile Number Portability (MNP) arrives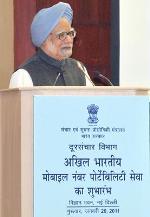 Remember Captain Planet's famous line "The Power is Yours", it was the first thing which came into my mind when Prime Minister, Dr Manmohan Singh announced the launch of Mobile Number Portability at Vigyaan Bhawan by making inaugural call to Kapil Sibal, the Union Minister of Communications & IT from a ported number.
Congratulating the Telecom Sector for the introduction of MNP and for being the fastest growing telecom market in the world, the Prime Minister said that the MNP is a shining example of how our telecommunications services have helped to widen human choices in a very important area of nation's economic activity. Telecommunications provide a key tool for socio-economic transformation of our rural areas, he added.