Last year in May, Google announced offline mode for its YouTube app. What it does is it allows the users to download the video and watch it later offline, without any Internet connection. More recently, in June this year, Google announced Smart Offline feature for YouTube which allowed users to schedule video downloads. Now, in a bid to compete with YouTube, or maybe just to enhance user experience, Facebook is also allowing its Android app users to save videos.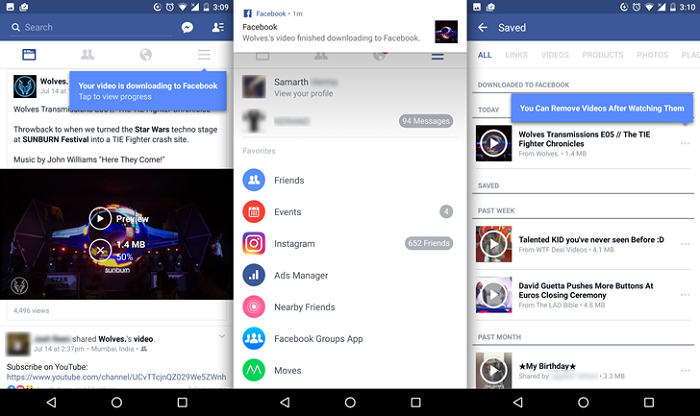 Facebook users who are using the beta version of Facebook's Android app are now able to save user videos. Once the videos are saved, you don't need Internet connection to be able to watch the saved videos. This is useful if you are using a 2G connection, or, if you would like to save the video and watch it later when you won't be having access to the Internet.
However, you wont be able to access the saved video through some file manager on your Android device. The saved video will only be accessible from within Facebook's app. As of now, this feature is not available on the stable version of the app. It's available only on beta version 85 and 86 of the app.
What do you think of this feature? Do you think it will be useful to you? Do share your thoughts in the comments below.