Facebook Messenger 4.0 update is out and it adds voice calling support and group features. While Facebook had already given free voice call support, the official update to its Android app means that Facebook has put in additional support. Not just that, there are goodies in store such as the ability to forward a Facebook message to other contacts.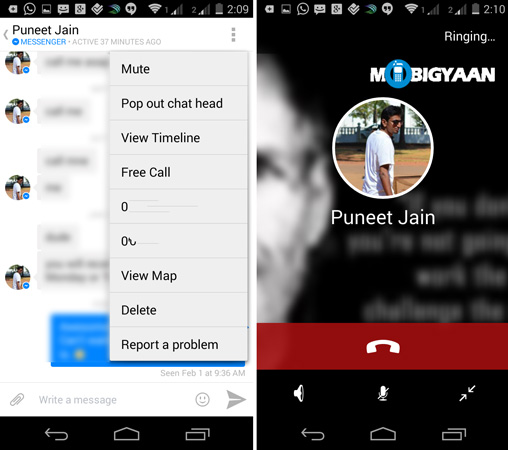 Facebook issued the same update for iOS last week, but the Android update is definitely more extensive. You can now get your messages without opening the Facebook app, send photos privately and record voice messages (just like on WhatsApp).
Interestingly, Facebook Messenger seems to gain from the company's recent purchase of WhatsApp and now boasts of most of the features of WhatsApp, including letting you share your location and letting you know when people see your messages. It also lets you turn off notifications, so when you don't want to be disturbed, you won't be.
Most importantly when we last issued an update about this, many people stated that they had not received support for voice calling. This update should make it universal i.e. once you update your Facebook Messenger, there will be no stopping you from making free calls over Wi-Fi or Mobile data.
Here's the link for the update, check it out.
What's new in Facebook Messenger 4.0
Voice calling support
Groups
Facebook Messages forwarding
Privately send photos
Recording voice messages
Sharing location
Letting you see when other people view your message
Turning off notifications