We just saw early rumours about the VoIP call feature which is expected in Whatsapp. However, Facebook, which is the new owner of Whatsapp, has started the final rollout of the free voice call support to its messenger.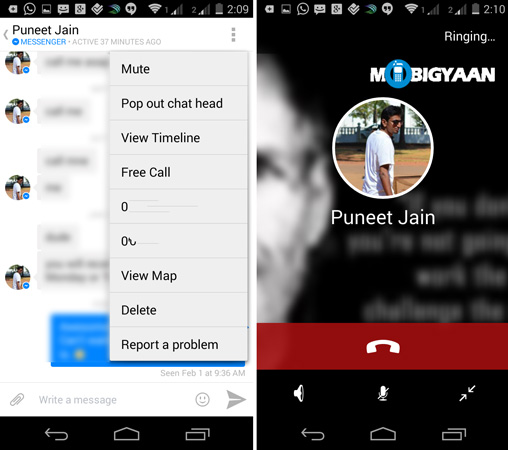 While Facebook had started rolling out the free voice calling feature more than a year ago, it has started the final phase of its rollout, which also includes India. The feature is currently available to Facebook Messenger users on Android and iOS. The feature is being rolled out slowly, as such some users are unable to make or even receive free calls as yet.
The voice calling feature of Facebook Messenger is completely free and requires only data connection. While the voice relay is very clear and sharp when on 3G or Wi-Fi, there is a noticeable lag when on GPRS connection. Overall call quality is excellent and we cannot forget that it is absolutely free across all countries.
This could be bad news to our telecom service providers as many people would switch to Facebook Messenger and then maybe WhatsApp messenger for their calling purposes, especially for long distance calls. To try the voice calling feature go to the Facebook Messenger and select the person you want to call. In the options dropdown at the top right corner is the Free Call option.