Apple has finally launched its iPhone 5C 8GB model, but sadly, it is currently headed only to shelves in the UK. The handset is now available with the UK carrier O2 on contract. We reported just yesterday that this handset was headed for a global launch.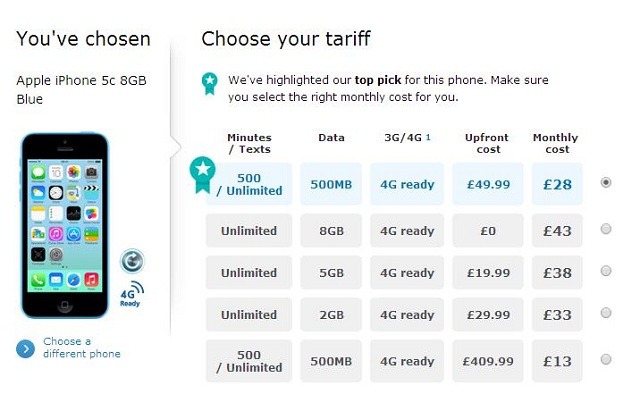 Just like we stated previously, the iPhone 5C 8 GB model comes with all the same features as the iPhone 5C 16 and 32 GB models, aside from the memory. It comes with a 4-inch retina display, Apple A6 processor and an 8-megapixel rear snapper. The Apple iPhone 5C 8GB model should ideally replace the iPhone 4S and create some hype and use of the iPhone 5C models, currently lying unsold and unused. It should also provide Apple a way to target the mid-range smartphone market.
As far as the pricing for the handset goes, based on the carrier plan, the phone should be priced around $166 (around Rs. 10,000) less than iPhone 5C 16GB model, which pegs it for around the Rs. 27,000 -30,000 range in India, if and when it releases here.
The Apple iPhone 5C is only smartphone from the company that can be certified a flop. This is actually a smart strategy from Apple, which doesn't want to lose its premium phonemaker tag, yet offer a smartphone targeted at the mid-range smartphone market.
Apple iPhone 5C 8GB specs
4-inch 640 x 1136p  Retina display
Form factor: 124.4 x 59.2 x 7.6mm; 132 gms
A6 Chip
8-megapixel rear Camera; 1.2-megapixel front cam
Siri
Nano-SIM Phone, not compatible with MicroSIM cards
Apple iOS 7.1
8 GB inbuilt memory; No MicroSD slot
1510 mAh battery