Facebook owned WhatsApp Inc. announced that WhatsApp Messenger has now reached 1 Billion Daily Active Users. Well, apart from WhatsApp, Facebook too has reached a milestone. Mark Zuckerberg has announced that Facebook is now used by 2 Billion users every month.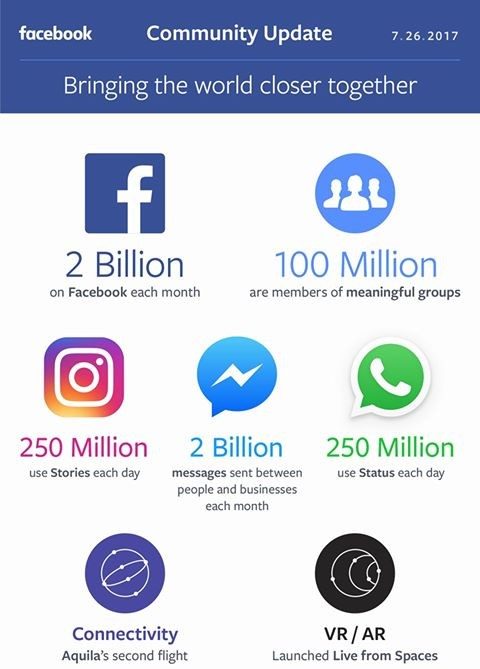 After announcing Facebook's quarterly results, Zuckerberg shared some stats about Facebook's user base as well and said that Facebook now has 2 Billion Monthly Active Users while also having 1.32 Billion people using Facebook everyday.
Apart from that, Zuckerberg also revealed that 100 Million Facebook users are now members of "meaningful groups", and, 2 Billion messages are exchanged between the people and businesses every month.
Zuckerberg also mentioned that Instagram Stories and WhatsApp Status are now used by 250 Million users each day. Well, both these features are a copy of Snapchat Stories, and, it's interesting (and ironic?) to see that this number is more than the entire user base of Snapchat.
Speaking of the quarterly results, Facebook has revealed that it grossed $9.32 Billion during Q2 2017 in revenue, which is an increase of 45% year-over-year. The company also said that it had 20,658 employees as of Q2 2017 which is an increase of 43% year-over-year.
"We had a good second quarter and first half of the year. Our community is now two billion people and we're focusing on bringing the world closer together." said Mark Zuckerberg, Founder and CEO of Facebook.