Popular instant messaging app WhatsApp has reached a new milestone. WhatsApp Inc. has announced that WhatsApp Messenger is now used by 1 Billion users every day.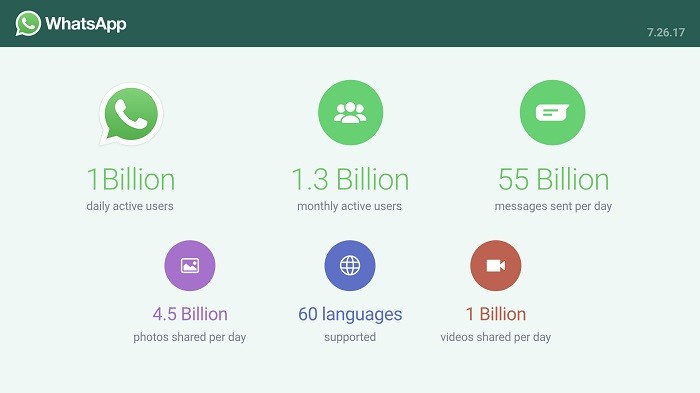 Back in February last year, the company had announced that WhatsApp was used by 1 Billion users actively every month. However, more than a year later, this app is being used more as it has garnered 1 Billion daily active users.
"Just last year, we shared that one billion people around the world use WhatsApp every month. Today, we are excited and proud to share that one billion people around the world use WhatsApp every day to stay in touch with their family and friends." said WhatsApp in a blog post.
"Whether it's sharing personalized photos and videos, connecting through video calling, or keeping friends updated throughout the day with Status, communicating on WhatsApp has never been easier or more personal. We are humbled that so many people are using these new features to connect with one another in their own special way." the company further added.
Apart from announcing that it now has 1 Billion daily active users, WhatsApp also shared some other stats. The monthly active users have now reached the 1.3 Billion mark, 55 Billion messages are sent every day, and, the app now supports 60 languages from around the world. Moreover, the company also said that users are sharing 4.5 Billion photos and 1 Billion videos a day. Besides, Mark Zuckerberg also announced that WhatsApp Status, which is a clone of Snapchat Stories, is now used by 250 Million users every month. Well, that number is more than Snapchat's entire user base.
Having said that, these stats show how popular the app is. WhatsApp may not have some "cool" features found on other messaging apps, but, it's the simplicity and speed of the app which attracts many.
By the way, how often do you use WhatsApp? Do you prefer any other messaging app over WhatsApp?
Download Link: WhatsApp for Android | WhatsApp for iOS