Facebook's Live video feature is really being used a lot. Initially, only the Facebook Pages could live stream video from their pages. However, with the increase in demand, Facebook now lets individual users live stream the videos as well. While this feature was available to users in some other countries, Facebook has now availed this feature for users in India as well.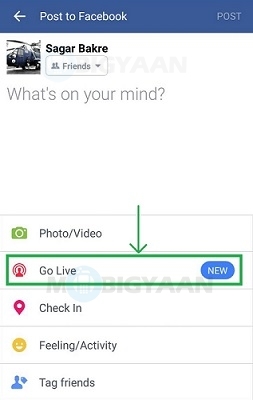 This feature is now visible to users who are using Facebook for Android app in India. As soon as you open the app and tap on status box, you will see an option called 'Go Live'. With this option, you can broadcast live video to your friends and followers. As soon as you start broadcasting, your friends and followers will be notified about the broadcast.
This is a great feature for users to share their special moments with their friends and followers. Last month, Facebook also made it possible for its Android app users to save videos for offline viewing.
As for the live broadcast of video, if you don't see the 'Go Live' option, try updating your app. However, we didn't have to update our Facebook app to be able to see this option. So, are you ready to broadcast some live videos on Facebook? Do let us know what you think.