Good news for Sony Xperia XA users! The phone is finally receiving some attention by Sony and it is getting updated to Android Nougat 7.0. And it's about time too. Considering it's ten months of time since Android Nougat got out. The update has also hit Sony Xperia XA Ultra users lately. But only for two variants.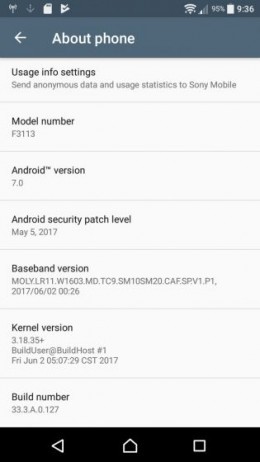 Now, for the Xperia XA, the update is hitting all variants across the board. Regardless of the model number, your Xperia XA is in line for the Nougat experience. Indian users are also getting the update. Also, you will be receiving the May security patch built in. It will feature latest bug fixes and some tweaks. While Android Nougat 7.0 brings some really cool features to Android.
With Android 7.0, you will be getting split-screen functionality which will allow you to do better multi-tasking. You will be able to run two apps simultaneously. The notification system has been improved vastly. Also, you will be able to quick reply from the notification bar. An improved Doze Mode will give you better battery life and so on. There are many new features you will be getting but we don't want to spoil the fun here. Better get ready for surprises!
Take note, you need to backup your data properly, make sure your device is fully charged and also check if it is hooked to Wi-Fi before hitting the update button.