Firefox OS is one of the upcoming OS of 2013 which we are looking forward to and today Mozilla, the makers of the OS have unveiled the Firefox OS developer preview devices called the Keon and Peak. Both the devices have been built by Geeksphone, a hardware OEM based in Spain.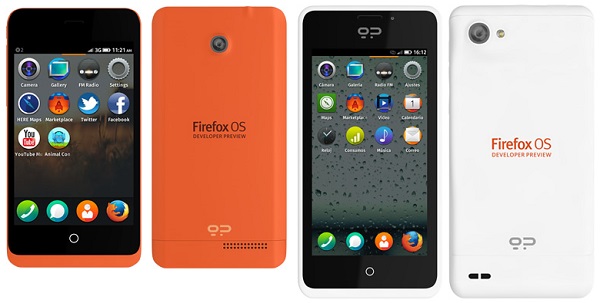 By the looks, both the device look cool enough and the specifications are decent too. The Keon is a 3.5-inch smartphone which is powered on Qualcomm's Snapdragon S1 1 GHz processor while the Peak is a 4.3-inch smartphone Qualcomm's Snapdragon S4 1.2 GHz dual-core processor.

Firefox OS is a mobile operating system which is built entirely using open web and it is HTML5 based and apps written on it can make your phone vibrate, make a phone call or send a text message, just like the usual phones.
 
Going by the specifications, the Keon packs in:
 
Qualcomm Snapdragon S1 1GHz processor

UMTS 2100/1900/900 (3G HSPA)

GSM 850/900/1800/1900 (2G EDGE)

Screen 3.5″ HVGA Multitouch

3 MP Camera

4GB ROM, 512 MB RAM

MicroSD, Wifi N, Light and

proximity

Sensor, G-Sensor, GPS, MicroUSB

1580 mAh battery

Over the air updates

Unlocked, add your own SIM card
While the Peak packs in better specifications which include:
 
CPU Qualcomm Snapdragon S4 8225 1.2 GHz dual-core.

UMTS 2100/1900/900 (3G HSPA).

GSM 850/900/1800/1900 (2G EDGE).

Screen 4.3″

qHD

IPS Multitouch.

Camera 8 MP (back) + 2 MP (front).

4 GB (ROM) and 512 (RAM).

MicroSD, Wifi N, Light & Prox. Sensor, G-Sensor

GPS, MicroUSB, Flash (camera).

Battery 1800 mAh.
Mozilla wants developers to build apps for the Firefox OS using the Keon and Peak and both the devices are expected to be made available in February while we do not know how much they are going to cost. But it is indeed interesting to see the

specs

that the devices have included as they are not that high-end and decent enough.