If you are nervous before an exam or an interview or just want to increase your knowledge base, Windows Phone 8 brings to you Flashcards Pro to make your learning easier.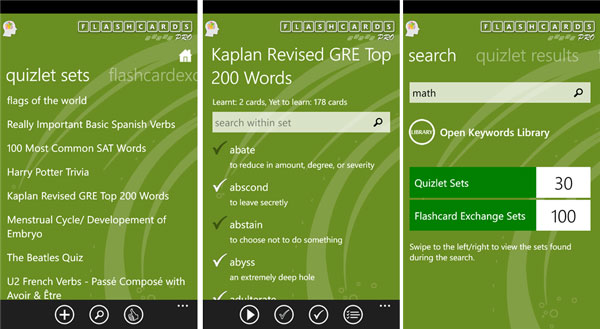 Flashcards Pro, is a Windows Phone 8 app that can be used by anyone for their own purpose of learning. The app uses online searching to search and download millions of sets available on Quizlet.com and FlashCardExchange.com. The same can be used to learn, get progress and create customs sets.
The Flashcards Pro app has a large selection of sets for almost any subject on the planet makes it a one-stop e-learning solution for thousands of subjects. The built-in keywords library can be used to find subjects to learn more about. You can reverse the card sides and study progress can be tracked and cards segregated into "learnt" and "yet to learn" groups.
You can download the Flashcards Pro app from the Windows Phone App Store.