Hike Messenger, the popular messaging app for smart phones has partnered with CricBuzz to launch 'World Cup 2015' on Android.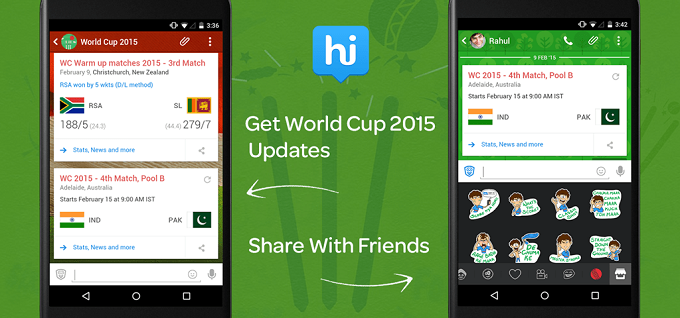 'World Cup 2015' on Hike will present score updates, news and analysis of ongoing cricket matches. It will appear on a new chat window called 'World Cup 2015' in the chat list. Hike Android users will receive cards presenting real time score updates and match results. The service will also bring Points Tables and additional content within the app. Additionally, Hike Android users will be able to share match scorecards and news from the World Cup with other Hike Android users. This service will begin from February 13, 2015 and will be active till March 31, 2015.
Kavin Mittal, Founder and CEO, hike messenger, said, "It is a known fact that our country is crazy about cricket. We're excited to partner with CricBuzz to launch 'World Cup 2015' on hike that will allow tens of millions of hikers to enjoy real-time cricket scores & updates all through the World Cup. Like messaging, we've kept the experience quite simple and bite sized so that it feels absolutely effortless to consume cricket content, inside hike itself."
Pankaj Chhaparwal, CEO, CricBuzz, stated, "Being a brand that is natively digital, we understand the importance of reaching out to the customers, on a medium they're used to, in a format that is engaging. We've been doing a lot of things around building traction on CricBuzz and our content partnership with Hike takes it to the next level. Through hike, we'll be touching over 35 million users. We're excited to see how this takes off".
For this service to work make sure you have the latest version of Hike Messenger installed on your Android Device.