Galaxy Grand gets Group Play feature update
We had earlier reported that the features of the newly launched Galaxy S4 which are not hardware dependent would be available on other Galaxy devices. While we thought that the features would be gradually introduced starting with high end devices like Galaxy S III, we were completely stunned to see the Galaxy Grand to be the first to receive the update.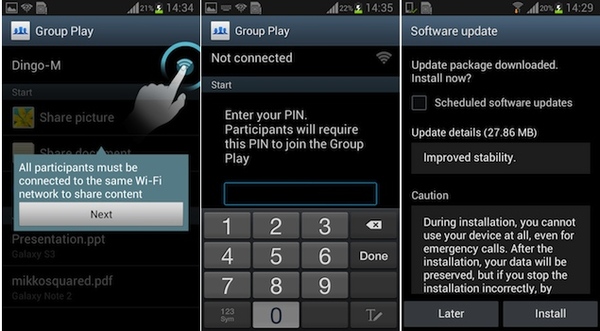 The latest update for the Samsung Galaxy Grand has one feature introduced in the Galaxy S4, the Group Play. All the Galaxy Grand devices in India started receiving the OTA update which includes this feature last night.
The Group Play feature allows users to simultaneously play the same track on up to eight devices, and even create a 5.1 surround system, along with support for multiplayer games. Besides this, users can also share pictures, documents, and music with other Galaxy Grand users over the same Wi-Fi network.
Even though the feature available on the Galaxy Grand has reduced functionalities compared to the actual features on the Galaxy S4, it is still appreciated as it was released with one week of the launch.