When it comes to communicating and expressing yourself with something other than words, GIFs and Emoij are the ones that come in handy. With Gboard – the keyboard app from Google – doing that is pretty easy. You can easily search and send the GIFs you want using the keyboard without leaving the messaging app. And, if the GIFs that Google presents to you aren't enough, then it's now possible for you to create your own GIFs and send it to your friends.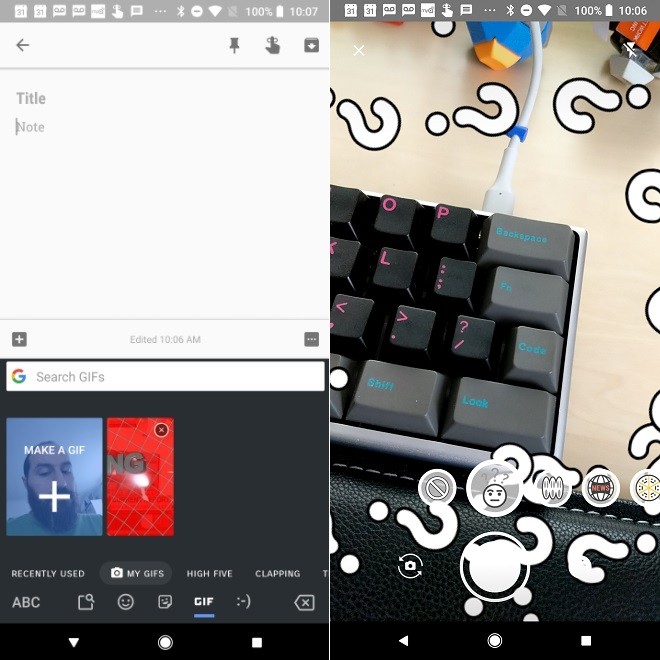 With beta version 7.2, Google has brought GIF creation to Gboard for Android. In the GIF section, there's a new tab called 'My GIFs'. Under that tab, you have an option that says 'Make a GIF'. To create your own GIF, just tap on that option and record a short clip of three seconds. This will automatically turn that clip into a GIF which will be saved in the 'My GIFs' tab so that it's quickly accessible to you.
When you record the three-second clip, you get a full-camera screen which should make it easier for you to create the GIF as you get a larger view. Having said that, while Google has brought this feature to Gboard for Android only now, it has been available for iOS users for a couple of months now.
That said, this GIF creation tool isn't available for everyone right now, and has reportedly popped up only on Pixel devices.
Also, in addition to rolling out the GIF creation tool, Google has added a sticker gallery to Gboard that includes Blobmoji as well.
If you want these new features, you can enroll in the beta program, or can download the apk of Gboard beta version 7.2 from here.