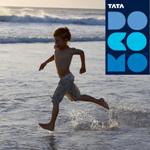 Tata DOCOMO has launched "Postpay @ your doorstep", an initiative where Tata DOCOMO would assist potential customers with their queries on new post pay connections.
To avail this service, you just need to call the toll-free number 1800 266 0000 where you would be guided by Tata DOCOMO representatives. The representatives are trained to make use of scientific tools like Bill Plan Calculator that would help suggest the best value plan, customized to the needs of the customer, based on their usage amount and usage pattern.The customer once decided on a postpay plan, the call center executives sends a representative to collect the documents from customer's location and deliver the SIM card whenever and wherever he desires.

Tata DOCOMO has also recently launched its new "Diet Plan" with the claim that with these plans the customers' bills would go from "fat" to "fit", an assured savings due to its aggressive per sec plans. As part of the new plans, at 299 rental customer can get 36000 local seconds free (600 mins), and all local and STD calls @ 1p/sec.