The last thing we heard about Google Allo that got us excited was that this smart messaging app would soon get a desktop client. Well, Google didn't give any specific date as to when we should expect the desktop client, however, Google has updated the mobile app which brings some new features.
The latest update brings three new features to Google Allo – GIF search, animated emoji and one tap shortcut to Google Assistant. Starting with the GIF search, until now, you had to rely on keyboards like the Gboard to be able to send GIFs in Allo, but, with the GIF search feature now built in to the app, you no longer have to rely on any other keyboards. Just tap on the smiley icon in the chat bar and keep swiping from right to left to find the GIFs.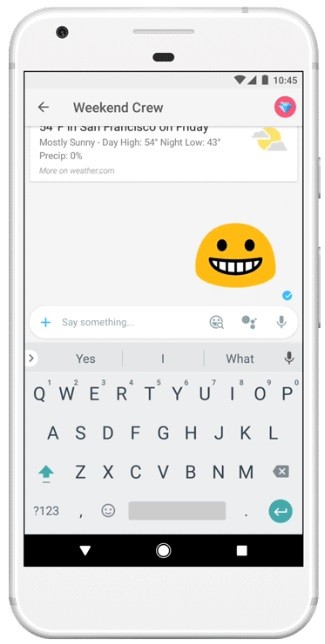 Next up are the animated emojis. You can send all the emojis you want in a chat, however, with the new update, you can send animated emojis. Once sent, they will not only look bigger, but will animate as well. Right now, Google only supports 10 emoji, but, the company should support more soon. If you want to animate your emoji, just touch and hold the send button to see the slider, once you set the size of the emoji, it will be sent in the chat and will be animated.
Moving on, Google has now made it easier to access the Google Assistant in Allo. Initially, you had to type "@google" to bring up the Assistant in the chat. Now, you no longer have to as Google has added a Google Assistant icon next to the smiley icon (check the second image above), and tapping on it will bring up the Assistant.
These features are rolling out from today, however, only the Android users will get them first. People on iOS will to have for some time.