Google ARCore 1.0 announced with update to Google Lens
Yesterday, we told you that Google is going to release ARCore 1.0 at Mobile World Congress (MWC) next week in Barcelona, Spain. And, we also told you that ARCore 1.0 had already started rolling out ahead of its official announcement. Well now, just ahead of MWC, Google has finally announced ARCore 1.0.
Google has officially announced ARCore 1.0, and, has also confirmed that it's going to launch it at MWC along with new support for developers. Its SDK is also out of preview now, and, will be launching as version 1.0 for developers that will help them publish their AR (Augmented Reality) apps on the Play Store.
Google has also said that ARCore works on "100 Million Android smartphones", and, is currently compatible with 13 devices that include Google Pixel, Google Pixel XL, Google Pixel 2, Google Pixel 2 XL, Samsung Galaxy S8, Samsung Galaxy S8+, Samsung Galaxy Note8, Samsung Galaxy S7, Samsung Galaxy S7 edge, LG V30, LG V30+ (for Android Oreo only), ASUS ZenFone AR, and, the OnePlus 5.
Moreover, Google has also confirmed that they have partnered with Samsung, Huawei, LG, Motorola, ASUS, Xiaomi, HMD/Nokia, ZTE, Sony Mobile, and Vivo to make their devices compatible with ARCore.
Furthermore, Google's ARCore will also be available to people in China, but, it will be initially available only on devices sold by Huawei, Xiaomi and Samsung.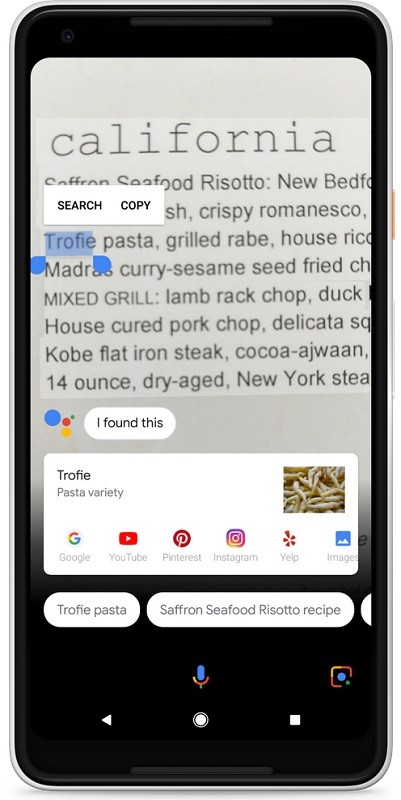 Well, apart from announcing ARCore 1.0, Google has also announced that it's going to make Google Lens available for more users, and, it will also be available to the users through Google Photos on both Android and iOS. However, it will be initially available only for English language users.
Moreover, in the coming weeks, Google will also roll-out camera-based Lens in Google Assistant to flagship devices with support for more devices rolling later on.
"Smarter cameras will enable our smartphones to do more. With ARCore 1.0, developers can start building delightful and helpful AR experiences for them right now. And Lens, powered by AI and computer vision, makes it easier to search and take action on what you see. As these technologies continue to grow, we'll see more ways that they can help people have fun and get more done on their phones." said Anuj Gosalia, Director of Engineering, AR, Google.