I remember I got my first mobile phone only after I was 15 years old. Well, these days, kids younger than that age have smartphones in their hands. They play games on that smartphone, take selfies and use Facebook. While a smartphone can definitely be a useful device at times for the kids, that same device can turn out to be distracting for the kids if not used properly. Hence, Google has launched an app called Family Link which lets parents control the usage of smartphones by their kids.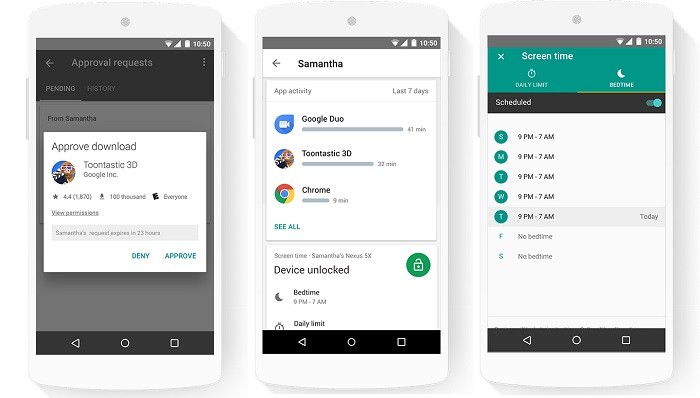 With Family Link, parents can create a Google account for their kids who are below the age of 13. Apart from that, Family Link also lets parents control different aspects of their kid's Android smartphone like app downloads, screen time and device bedtime. More precisely, your kid will only be able to download an app on his/her Android device if you approve that download. You will also be able to see the screen time of the device and get weekly/monthly reports. Not just that, you can also set a daily limit for the screen time of the device. Besides, you can also remotely lock your kid's device when it's time for them to study, sleep or play.
While all that sounds cool, the caveat is that your kid will need a device which runs Android 7.0 Nougat or higher. Well, at this time, there aren't a whole lot of devices in the market which run Android 7.0 Nougat, and those who do, are mostly flagships. Hence, you will have to shell out some more money if you want to give your below-13 year old kid a smartphone.
Also, Family Link is only available to the users in the US right now, and that too after you receive an invite after requesting to be a part of the Family Link early access program.
"While Family Link can help you set certain ground rules around how your child uses their device, it can't make the apps or services on their phone that were designed for adults kid-safe; it's up to parents to choose what's right for their kid. When you make the decision to give your child their own device, Family Link can serve as a tool that keeps you in the loop as they begin to explore." said Pavni Diwanji, VP of Engineering at Google.
If you are a parent living in the US having a kid below the age of 13, you can request an invite to Family Link early access program by heading on the link given below.
Family Link: Request an invite to the early access program here