Reliance Jio's entry into the Indian telecom sector last year has given rise to the usage of 4G data in the country. We have also seen many people who have purchased a 4G VoLTE ready smartphone just to use Reliance Jio's services. While many smartphones support 4G networks, not all of them have support for VoLTE. Well, that was the case with Google's Pixel and Pixel XL as well, however, Google India has announced that both these smartphones will soon get support for VoLTE as well as Wi-Fi calling on Jio's network.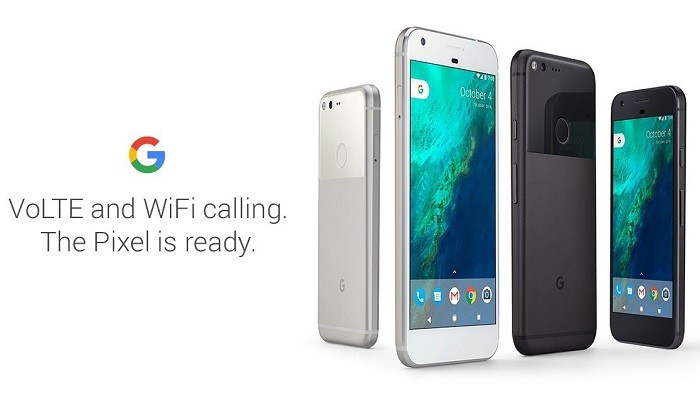 Google India made this announcement on Twitter by tweeting "Now say hi over wi-fi. VoLTE and WiFi calling, now available to Pixel on Jio. Watch out for the next Nougat update". While the Google Pixel devices are said to have already received support for VoLTE last year, these devices will now receive support for Wi-Fi calling on Jio's network through a software update.
Google India has said that the support would be rolled out to these devices through a Nougat update soon, however, the company didn't say when the update will be rolled out. Having said that, it's very likely that this will be the Android 7.1.2 Nougat update that began rolling out last week to eligible Nexus and Pixel devices.
Also, with Wi-Fi calling support for Jio's network, Google Pixel owners will be able to place calls through a Wi-Fi connection. Well, Wi-Fi calling is similar to VoIP (Voice over IP) calling such as the Skype calls, however, with Wi-Fi calling, the call will be placed using your Jio number. This can be useful if you are in an area with bad signal reception but have access to a Wi-Fi connection. Having said that, there are chances that the telecom operator would charge you for Wi-Fi calling.
As of now, there's no information from Jio in this regard, but, we expect the telecom operator to make some clarifications regarding the charges once the update is rolled out to the Pixel and the Pixel XL. Also, while these Pixel smartphones will soon receive Wi-Fi calling support, there's no information from Google regarding the VoLTE and Wi-Fi calling support for the Nexus 5X and Nexus 6P.
By the way, does your smartphone support VoLTE ?