Google unveiled the 2018 Pixel devices, the Pixel 3 and Pixel 3 XL smartphones and the Google Pixel Slate convertible PC powered by Google Chrome OS. The Google Pixel Slate features a 12.3-inch IPS display, detachable keyboard design, and up to Intel Core i7 processor.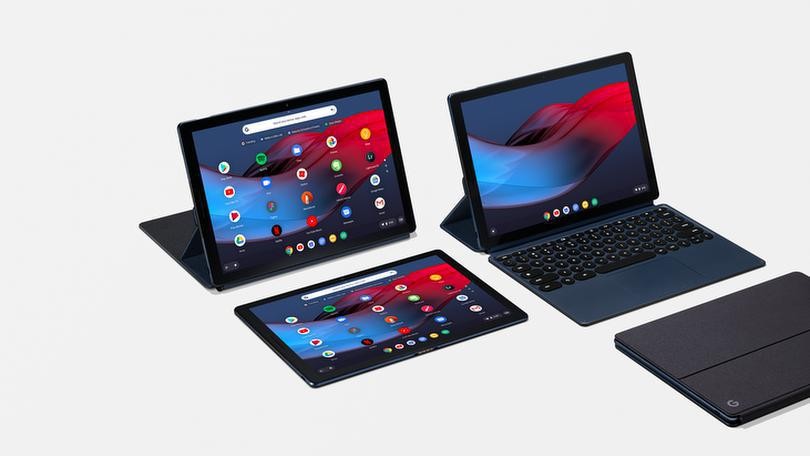 The Google Pixel Slate sports a 12.3-inch 3000 x 2000 pixels resolution 2.5D curved glass Molecular Display. The design is metallic and 7 mm thin with dual front-firing speakers. The keyboard is detachable that means you can remove the keyboard and use it as a tablet.
The Google Pixel Slate is powered by Intel Core i7 processor, other models are based on Intel Celeron, Intel Core M3, and Intel Core i5. Moreover, it is coupled by 4 GB RAM, 8 GB RAM, and 16 GB RAM depending on the model. It comes with 32 GB, 64 GB, 128 GB, or 256 GB SSD depending on the model you choose.
The Pixel Slate further offers an extra layer of protection with the Titan security chip which will protect your information, device passwords, and operating system.
The price for the Pixel Slate starts at $599 (Intel Celeron processor, 4 GB RAM, and 32 GB storage, $799 (Intel Core M3 processor, 8 GB RAM, and 64 GB storage, $999 (Intel Core i5 processor, 8 GB, and 128 GB), and the top variant at $1,599 (Intel Core i7 processor, 16 GB RAM, and 256 GB storage).
Google Pixel Slate Specifications
Display: 12.3-inch IPS LCD, 3000 x 2000 pixels resolution, 293 ppi, 400 nits brightness, 72% NTSC color gamut, Google Pixelbook Pen support
Software: Google Chrome OS
CPU: Intel Celeron/8th Gen Intel Core M3/i5/i7 Processor, Titan C security chip
GPU: TBD
Memory: Up to 16 GB RAM
Storage: Up to 256 GB SSD
Main Camera: 8 MP autofocus, f/1.8, 1.12μm
Selfie Camera: 8 MP, f/1.9, 1.4μm, wide-angle lens
Connectivity: 2x USB Type-C, Wi-Fi 802.11 a/b/g/n/ac (2.4 GHz, 5 GHz), Bluetooth 4.2
Battery: 48 Wh battery, up to 12 hours of mixed use
Adapter: 45W (5V/3A, 9V/3A, 15V/3A, 20V/2.25A) fast charging
Google Pixel Slate Price & Availability
Price: $599 (Intel Celeron processor, 4 GB RAM, and 32 GB storage)
$799 (Intel Core M3 processor, 8 GB RAM, and 64 GB storage)
$999 (Intel Core i5 processor, 8 GB, and 128 GB)
$1,599 (Intel Core i7 processor, 16 GB RAM, and 256 GB storage)
Availability: Available soon on Google Store in the US, Canada, and UK