Google Play has extended its free service to 4 months which might give an additional month to the new subscribers who have opted the Play Music subscription recently. Before, the new subscribers were getting a 3-month free service, and now the promo offer is adding around 30% more time to that period.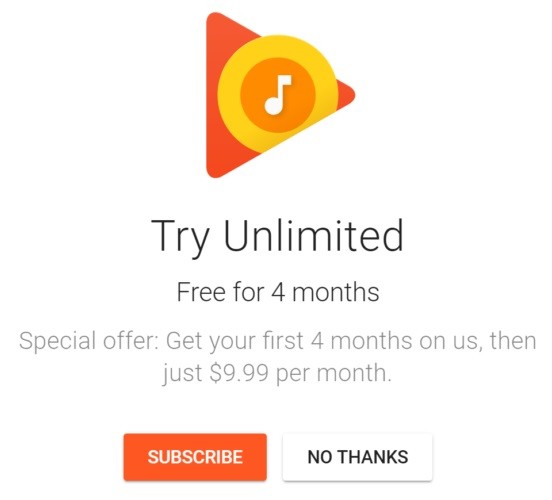 Google Play Music is a free music streaming app from Google that offers free unlimited streaming and downloads of millions of songs, albums, and playlists. The service, which is completely ad-free, also offers personalized recommendations and unlimited skips.
This offer is based in the US and valid for the people living in the US.  The Play Music cost in the US is $9.99 after the free months. On the contrary, Apple Music is priced the same i.e. $9.99 for one month.
Google offered a 1-month free service trial for ₹89 as an introductory offer in India. If you are from India, the Play Music service is available for ₹99 a month. Apple Music is currently priced at ₹120 a month while other competitors like Gaana and Saavn costs ₹99 a month.
This offer can be availed from the code 120DFREE or visit the link below which takes you to the Google Play Music website.