We were expecting a celebration on the occasion of the 2nd anniversary of Google Play. The offers have now gone live.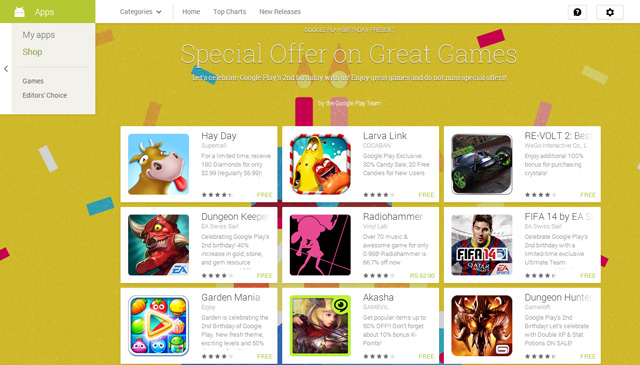 To mark two years of rebranding the Android Market as the Google Play store, Google has offered some limited time deals for Android users. For today it is offering nearly 15 great games for free. While some of these games were generally free, Google is said to be offering in-app purchases for free or at discounted rates. It is offering heavy discounts on otherwise expensive games also.
The game titles listed include:
Hay Day
Larva Link
Re-Volt 2
Dungeon Keeper
Radiohammer (Rs. 62)
FIFA 14 by EA Sports
Garden Mania
Akasha
Dungeon Hunter
Venture Towns (Rs. 73.41)
Star Girl: Beauty Queen
Punch Hero
Final Fantasy V (Rs. 445)
Dead Ahead
Heroes of Camelot
This is definitely a good way to celebrate the 2nd anniversary of the Google Play store. However we are also looking forward to offers on apps as well. So all the Android users (except Nokia X users) go ahead and enjoy the Google Birthday present by visitng the Google Play store.