Google Search update makes "OK Google" work from anywhere on the screen
Google Search has just been updated and there are a couple of new features. The new update brings the Google Search version to 3.5.14 and it allows the "OK Google" phrase to activate a search from anywhere on the screen and Audio History.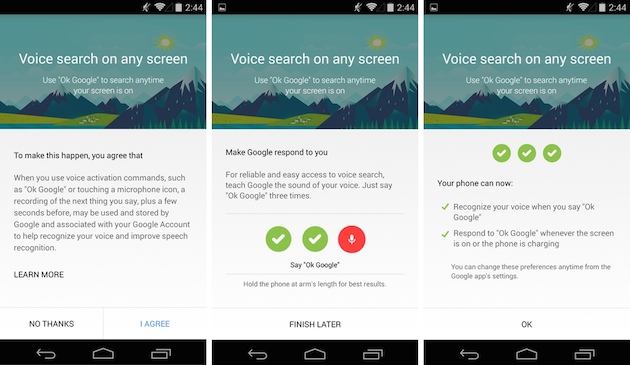 Previously, you could activate the Google voice search by saying "OK Google" when you're on the homescreen on Android 4.4 KitKat devices. However on the Moto X and its touchless control feature, you could activate your phone with "OK Google" even when it's locked, thanks to an always listening chip. With the latest Google Search update, you can now start a voice search from anywhere on the screen, from the lockscreen, an app or while you're playing a game.
Along with that, there's also a new Audio History feature, which as the name suggests creates a history of your voice searches to learn about your sound and accent of your voice to bring your more accurate results in the future. If you are concerned about your privacy, you have the option to turn it off.
The new update is being rolled out on a phone by phone basis by Google, so it might take some time to reach your. The feature won't work even if you get an .apk file, as it requires Google to enable it for you. I guess we'll just have to wait then.