It seems all companies are now gung ho on the smartphone bandwagon. After the news of a Samsung Galaxy Gear smartwatch with a 4-megapixel cam and 1.5 GHz became more or less slated for a launch, it seems that friendly rival Google is also tightening the noose for its smartwatch launch.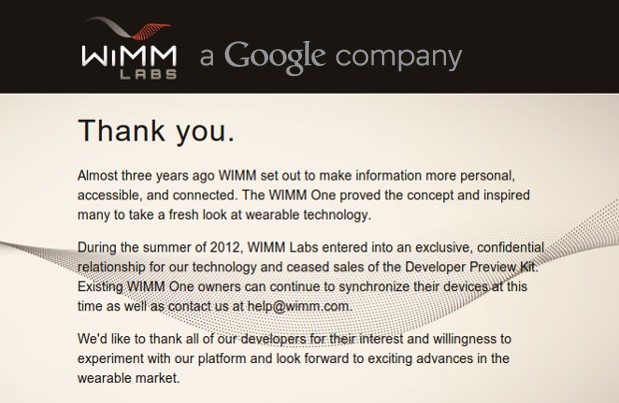 Google, it seems is doing something it has learnt from the Motorola takeover with smartwatches too –  It is buying into a company that already has the hardware and patents in place for designing smartwatches and as far as it seems, it will emblazen it with the whole deal from Google. The company it has acquired this time – WIMM labs was actually the first entrants on the smartwatch scene. It started working on a smartwatch as far back as 2011. But, it somehow wasn't successful with the whole smartwatch deal and could not get something out to rock the market. It seems after this takeover, it will become an active contributor to the smartwatch line up.
Google has so far resisted commenting on the smartwatch scheme it has with WIMM, but it has retained most of its staff and has them working in tandem with its Android team. By all means, it seems a smartwatch might be out from Google before we expect it to be.
WIMM has worked on not just smartwatches but also on wearable tech – something Google has been keen on. Ever since Google came out with the Google Glass, we have been excited to know where it takes the wearable technology gambit to. Now, it seems its endeavors are finally takings shape.