Kids love stories on any given day. But in our small families there are generally no grannies to read them to the little sluggers and parents generally and unfortunately do not have the time to do so. But, they do have something that we didn't have at their age – most of them have a device – smartphone or tab at their disposal.
Most of us tag these devices as time wasters and generally blame them for many parodies playing out in our lives, heck we even try to keep our kids away from them, although without succeeding most of the time. While you would generally leave these devices up to them only for playing games and stuff or you might even take care that they don't breach parental controls – how about the educative and fun effect these devices could have on your kids. Yes, we aren't kidding. It is possible to do so.
Don't believe us? Read on about these storybook apps we have curated just because your little ones deserve nothing but the best.
Before we begin, we  just want to say that these apps are the ideal combination of fun, teaching and sweetness. They will make both parents and kids happy.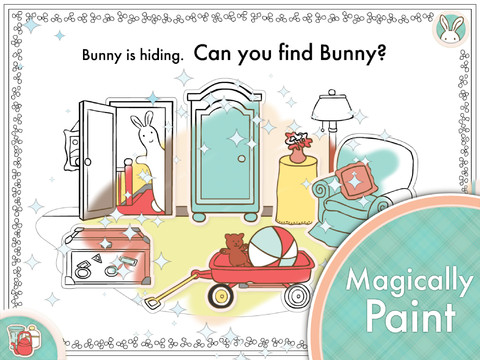 Pat the Bunny: Pat the Bunny is one storybook from 1940s that is immensely popular  with kids of all ages (including you and me), but this iPhone  has taken the story and given it a lot of dimensions – just transformed it into a pretty awesome kids storybook app.
It contains 14 different scenes, where kids play hide and seek with the bunny, run after butterflies and do other kinds of whimsical kiddie stuff. It plays some amazing music that goes along with the theme in the background, while you can even see your own reflection in the midst of the story, as if you really are a part of it using the 'mirror' feature of this app.
That's not all, every page is also a coloring activity for kids and you have 3  modes to choose from how a story would be narrated –  The read aloud mode, in which you could turn off the narration and tell the story yourself, the narration mode in which the app plays out the story in a melodious voice, or the recording mode, in case you want the kid to hear a story in your voice even when you are away.
But the star of the app is the UI, which just takes your heart away with its simple design, something that would remind you of the storybooks you read when you were younger.
Sadly, the app is currently available for Apple devices only.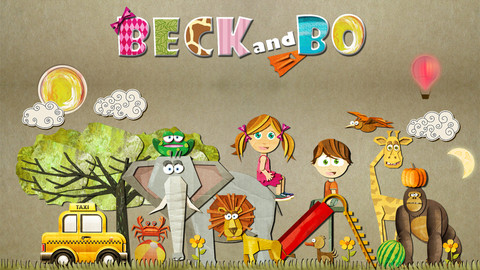 Beck and Bo: Beck and Bo is just like it sounds – a imaginative story about Beck and Bo. The story traces the adventures of Beck and Bo – two kids who go on an adventure along with their dog. Kids actually play the story up as they go forward – they drag objects and re-enact scenes with this app.
It is an app that will peak not just your child's curiosity, but also help boast his or her creativity, memory skills and  vocabulary. The adventures of Beck and Bo are pretty exciting – you follow them while they go on a train trip, run into gorillas and go on a safari. It is a treat as far as a storybook is concerned.
There is also a security section of the app, which parents can use to moderate content.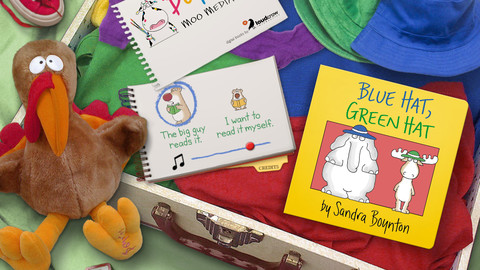 Blue Hat, Green Hat Boynton: How about a story about animal friends – four regular ones and one clumsy one who always goofs up and makes your kid go bonkers laughing?
This is a story of  four animal friends who face trouble getting dressed. The moose, the elephant, the turkey and the bear always face problems getting dressed and somehow the turkey always  gets something wrong.This app will help encourage your kids into reading and  make it just more fun than the regular way to read  storybooks. The app is simple, the pictures are funny and the  story is  great. It also teaches kids about colors and clothing.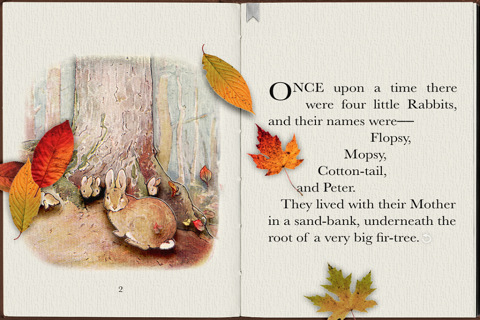 Popout! The Tale of Peter Rabbit: It seems rabbits are a staple of storybook authors. Peter Rabbit is a classic tale which has been re-invented via this app.
This app makes the best use of not just reading material but also adds in interactive music and is like any pop-out, albeit this one happens on your smart device!
Each image comes with several pop-out elements – Say, you can just click on the leaves falling from the trees and they will pop out in a real worldly flavor or if you touch Peter and his siblings, they will giggle with delight