Xiaomi is a Chinese smartphone manufacturer which has super slim profit margins. understandably, with low-profit margins, it is hard to continually back devices by software updates as each device requires a team of developers. But Xiaomi has been very straightforward and honest by providing users with Android Nougat road map for its devices. It is something other Chinese OEMs can take a lesson or two. The list contains 14 devices and is divided into two sections. The first section for devices to receive Android 7.0 Nougat  The second list for devices to receive Android 7.1 Nougat.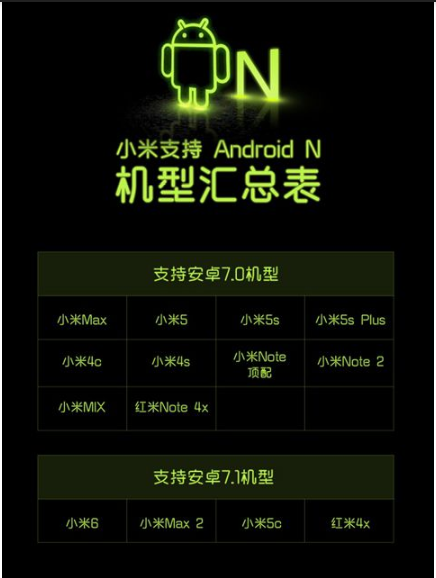 10 Xiaomi devices that will receive or have received Android 7.0 Nougat
Xiaomi Mi Max
Xiaomi Mi 5
Xiaomi Mi 5s
Xiaomi Mi 5s Plus
Xiaomi Mi 4c
Xiaomi Mi 4s
Xiaomi Redmi Note 2
Xiaomi Mi Note
Xiaomi Mi MIX
Xioami Redmi Note 4X
4 Xiaomi devices that will receive Android 7.1 Nougat
Xiaomi Mi 6,
Xiaomi Mi Max 2
Xiaomi Mi 5C
Xiaomi Redmi 4X (called Redmi 4 in India)
What is most surprising is the exclusion of the Redmi Note 4 which was released late last year and should have been eligible for Android 7.0 Nougat at least. Even more surprising is the inclusion of the Mi Note. It is worthy of mention that Xiaomi likes to push new features to MIUI regularly and as such many features of Android Nougat might make it to the devices not mentioned here. Right now, Xiaomi is in advanced stages of developing MIUI 9 which has some pretty cool features apart from Nougat niceties.