In recent years, we have seen several SoCs for the smartphones and there are a lot new presented, be it from Qualcomm Snapdragon, Samsung Exynos, MediaTek Helio and the Honor's Kirin. However, very few of them are using the 16nm manufacturing technology. Kirin 650 is one such SoC with a 16nm technology. Honor is suspected to launch a new flagship with Kirin 650 which is the direct successor to the Kirin 620. We also have the flagship-grade Qualcomm Snapdragon 820 SoC having a 14nm technology. But before you look at both the SoCs and decide which one outperforms the other, let's have a look at what these chips offer and what you should consider.

The Kirin 650 is a 16nm ARM-based octa-core SoC. It is a middle-class 64-bit CPU clocked at 2.0 GHz (8 Cortex-A53 cores) along with a Mali-T830 MP2 GPU. The chipset further supports LPDDR3 RAM and a dual-SIM LTE Cat6 Modem. The Snapdragon 820 (MSM8996) is a high-end SoC from Qualcomm which can be found on flagships. The CPU is a quad-core with 2.2 GHz Kyro cores (2 power-efficient cores and 2 high-performance cores). It combines with the Adreno 530 GPU and an LPDDR4 RAM.
16nm vs. 14nm Manufacturing Technology
Smaller is better. Smaller manufacturing technology leads to better efficiency and reliability. A couple of years back, we saw Intel manufacturing 14nm CPUs named as Intel Core M family. Now the same manufacturing technology is emerging into smartphones. The Kirin 650 uses a 16nm manufacturing technology with 8 power saving Cortex-A53 cores. The Qualcomm Snapdragon 820, although, uses a 14nm manufacturing technology yet has 2 power saving cores only.
Octa-Core vs. Quad-Core
Kirin 650 is an octa-core processor, that means it can handle more processes simultaneously as opposed to the Snapdragon 820 which is a quad-core. The Kirin 650 can outperform by a margin if you have a huge multi-tasking requirement.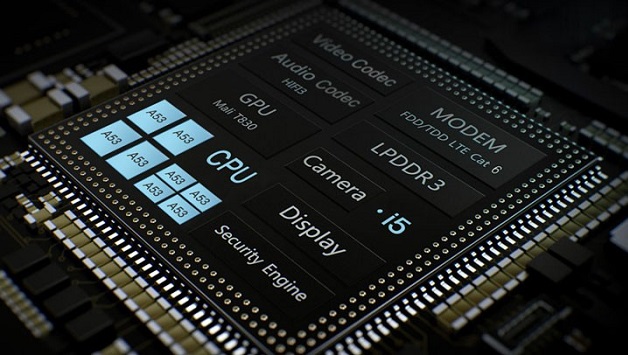 Power Efficiency
Talking about the power efficiency, the Kirin 650 with its eight power efficient cores can give you a longer battery life whereas the Snapdragon 820 is a high-performance CPU which can take as much battery when used at full power. Kirin 650 is claimed to be an ultra-power saving CPU eventually giving out a better battery backup. Kirin smartly reduces the usage of the battery by switching to the power-efficient cores without interrupting the user experience. Honor might soon come up with a new flagship with Kirin 650 which serves as the best solution in power saving.