Honor 10 comes with their flagship processor Hisilicon Kirin 970 coupled with 6 GB RAM and 128 GB internal storage. It runs on EMUI 8.1.0, based on Android 8.1.0. EMUI is a feature rich Custom OS. Let's explore some of the hidden features, tips and tricks on Honor 10.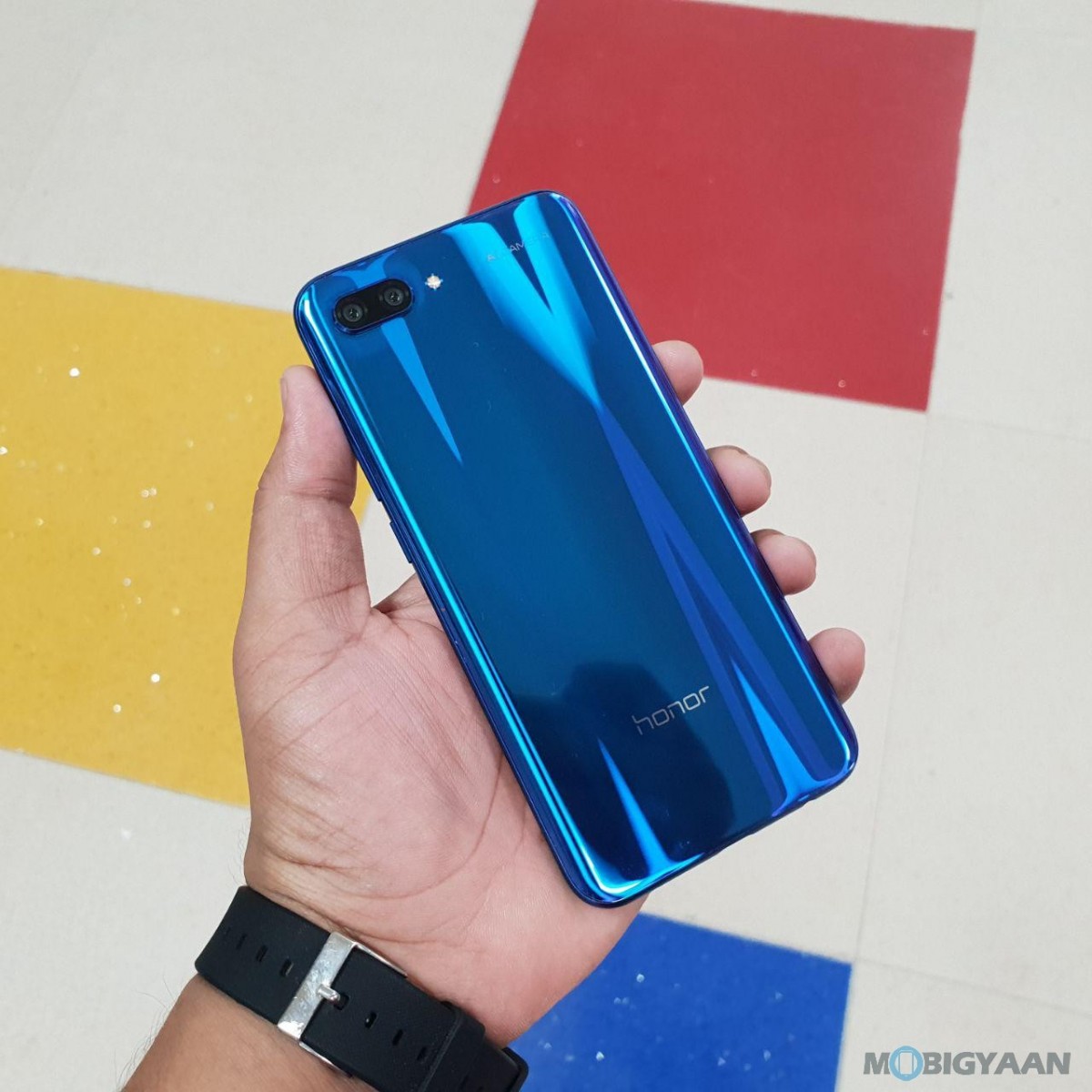 1. Face Unlock:
So, this is becoming one of the most popular features on a smartphone in 2018. And Honor 10 have this as well. Here's how you can enable this feature: Go to Settings➞Security & Privacy➞Face Unlock. Enroll your Face in that and Voila, it's done. You can also select whether your device should be unlocked automatically or slide the screen to unlock the device. Also, you can enable Smart lock screen notifications, which would show notifications only when it recognizes your face.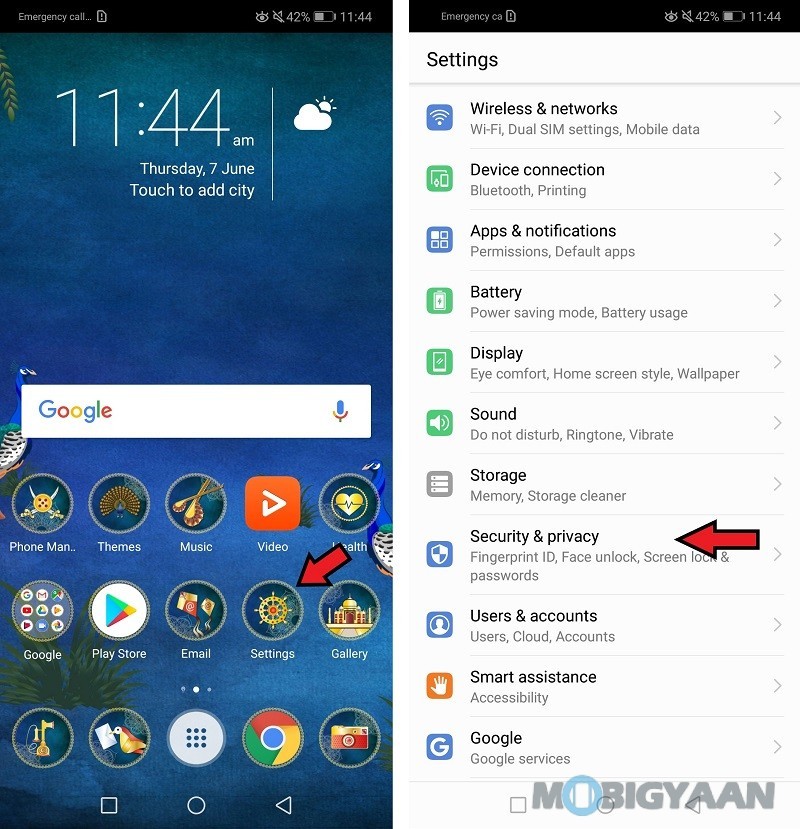 2. Navigation using Gestures:
Just like face unlock, this is also one of those features which is coming to a ton of devices now. Honor 10 would offer you two different types of navigation gestures. Let's see them one by one.
1. Off-screen navigation button: Using this, you would be able to use the screen completely. This would make use of the ultrasonic fingerprint scanner to navigate on your device. You can turn this on by following these steps: Go to Settings➞System➞System Navigation➞Off-screen navigation button. If you want to learn about how to navigate using that, just click on Details and it would show you various gestures there.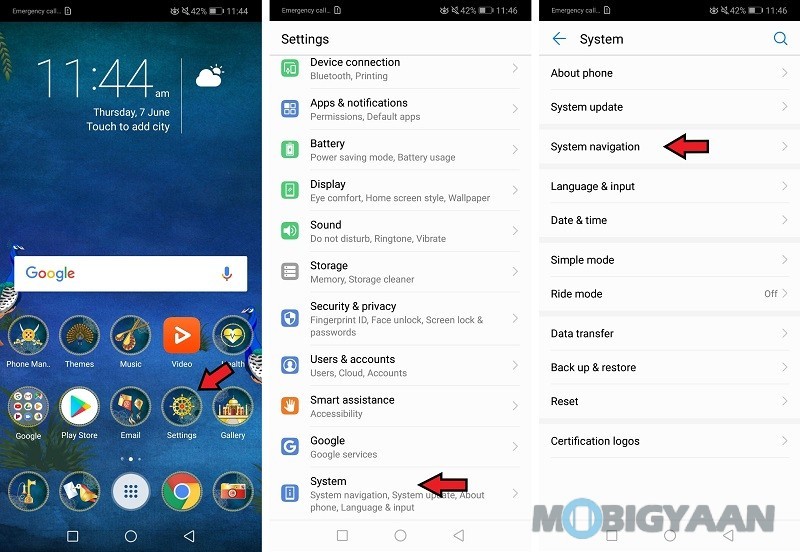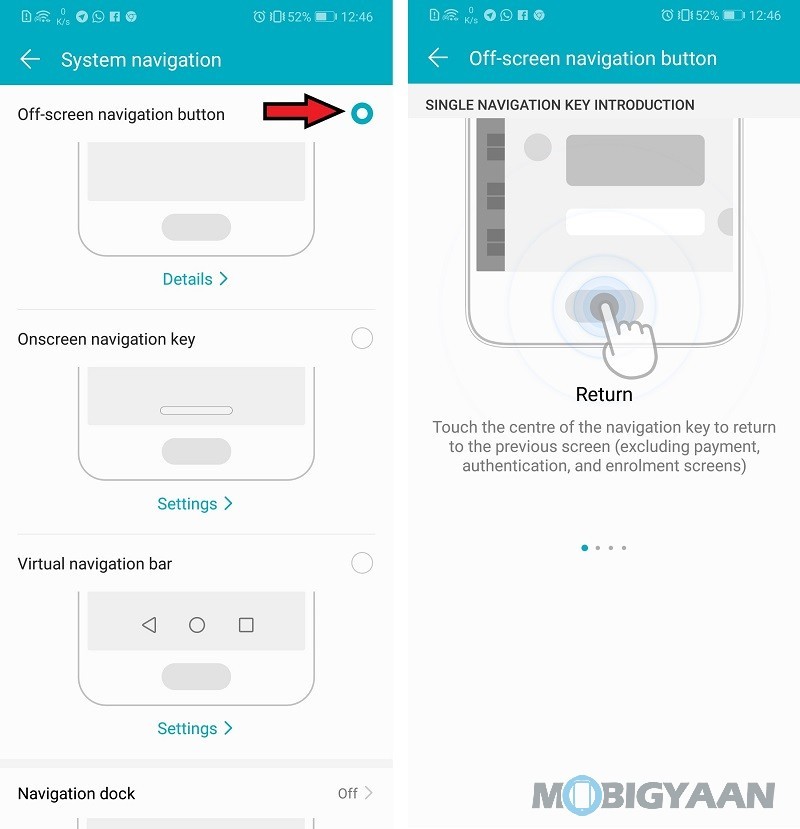 2. On-screen navigation key: Have you seen the new navigation gestures for Android P? Honor 10 offers something similar here and it's interesting. Go ahead and enable this by performing these steps: Go to Settings➞System➞System Navigation➞On-screen navigation button. You can click on Settings there if you want to learn more about navigating through that key. Note that the quick switch works here, which doesn't work with Off-screen navigation button.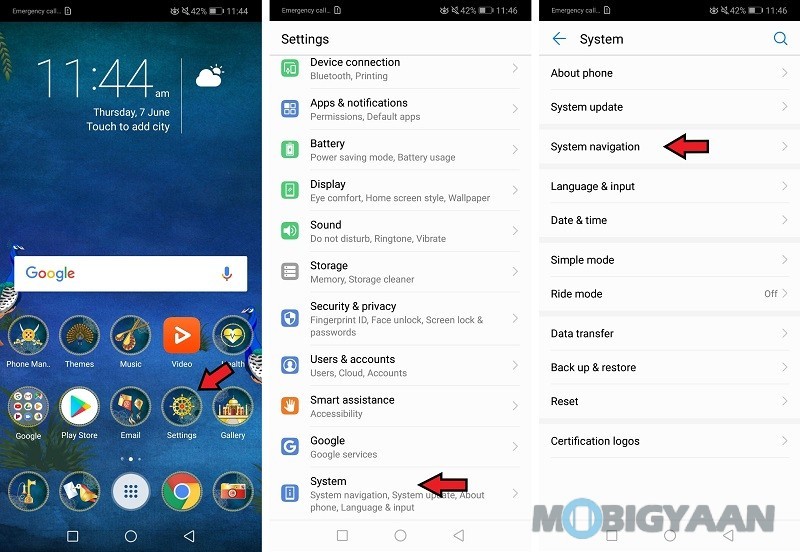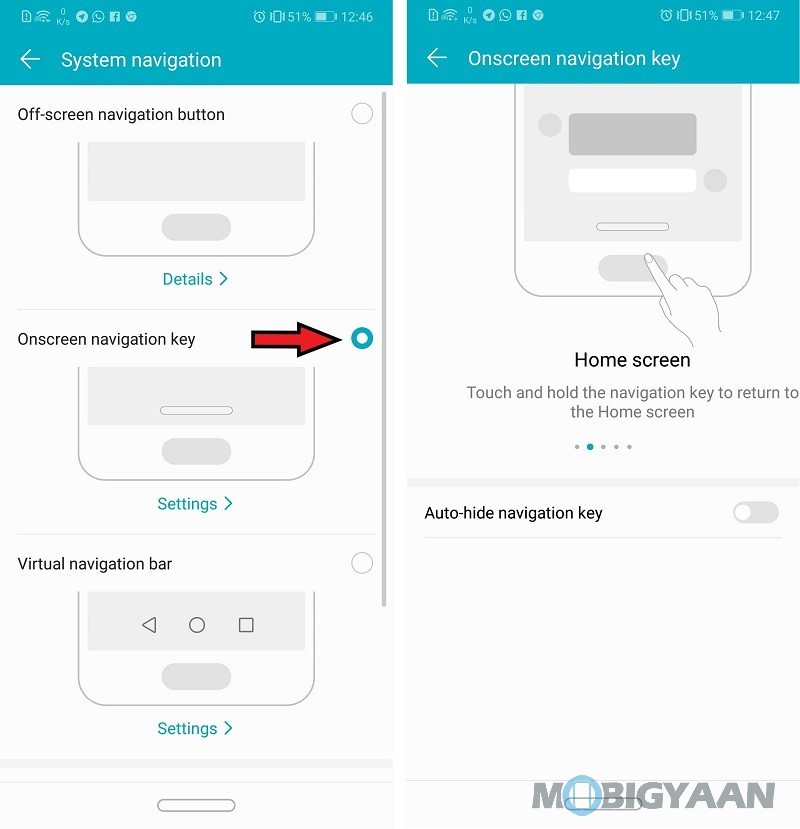 3. Changing Navigation Button Style:
The navigation bar comes with default settings of back, home and recent buttons respectively. But, you can change these buttons according to your liking by doing this: Go to Settings➞System➞System Navigation➞Virtual navigation bar. Here, select the style whichever suits the best for you. You can turn slide on the Navigation Bar in there which would enable you to hide the Navigation Bar, resulting into more immersive experience for your device.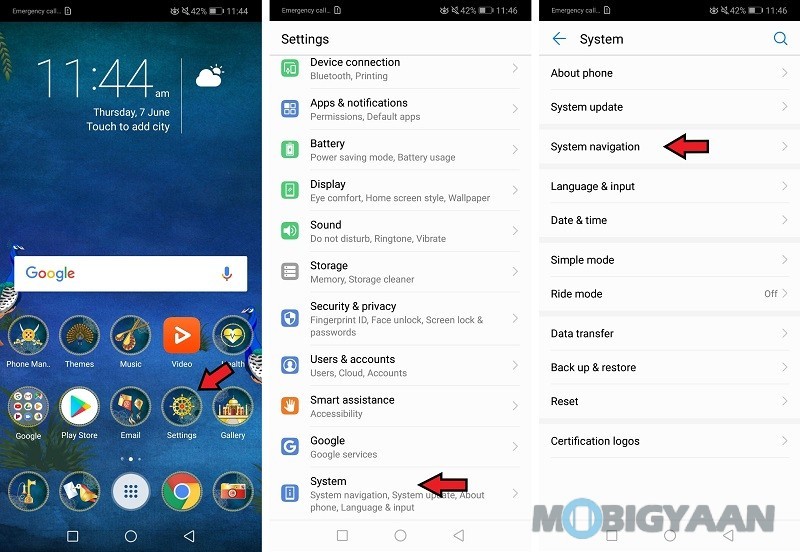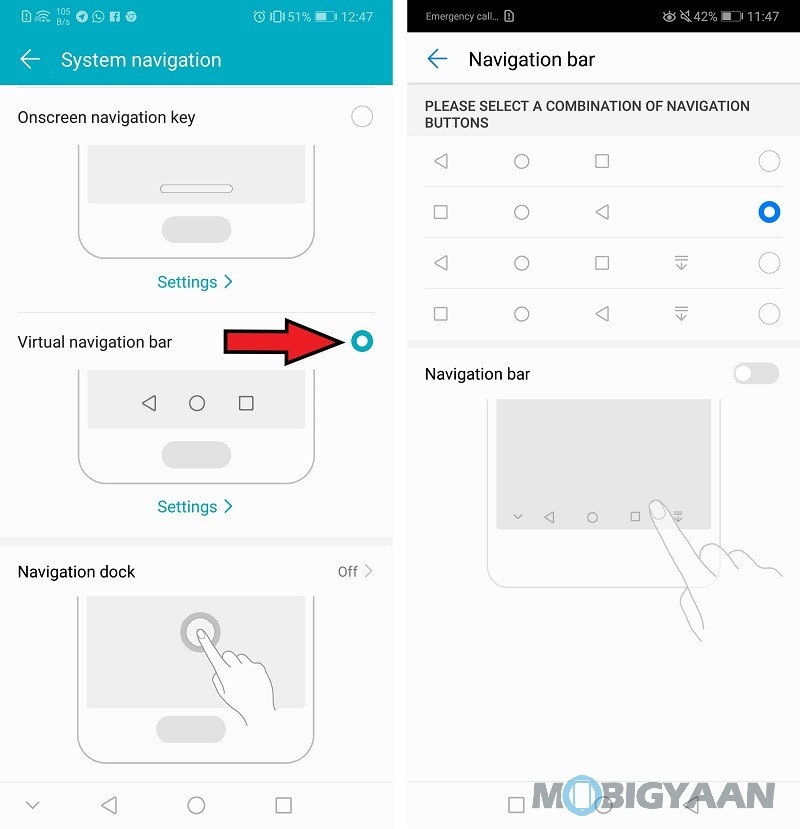 4. Navigation Dock:
This is just like the one touch button of Apple devices for your Honor 10. This would help you to navigate even without navigation bar at the bottom and would increase the one-handed usage capabilities for your device. Enable it by performing the following steps: Go to Settings➞System➞System Navigation➞Navigation Dock➞Turn it on by sliding on that button.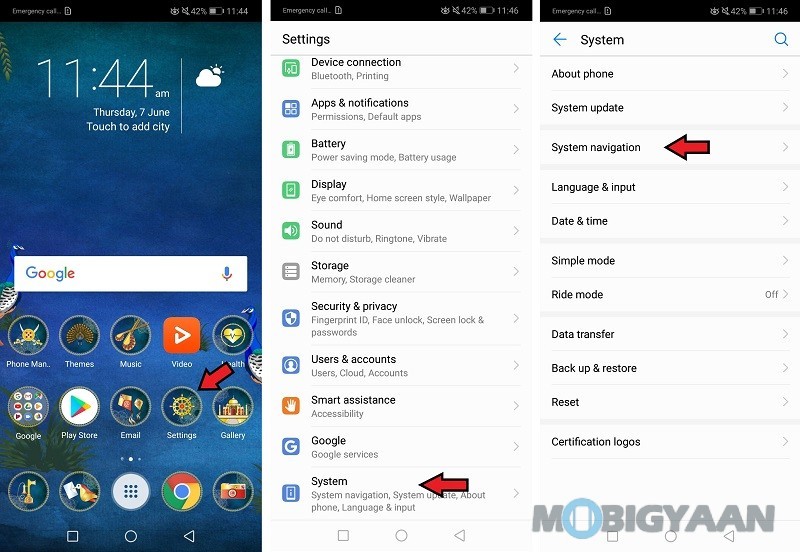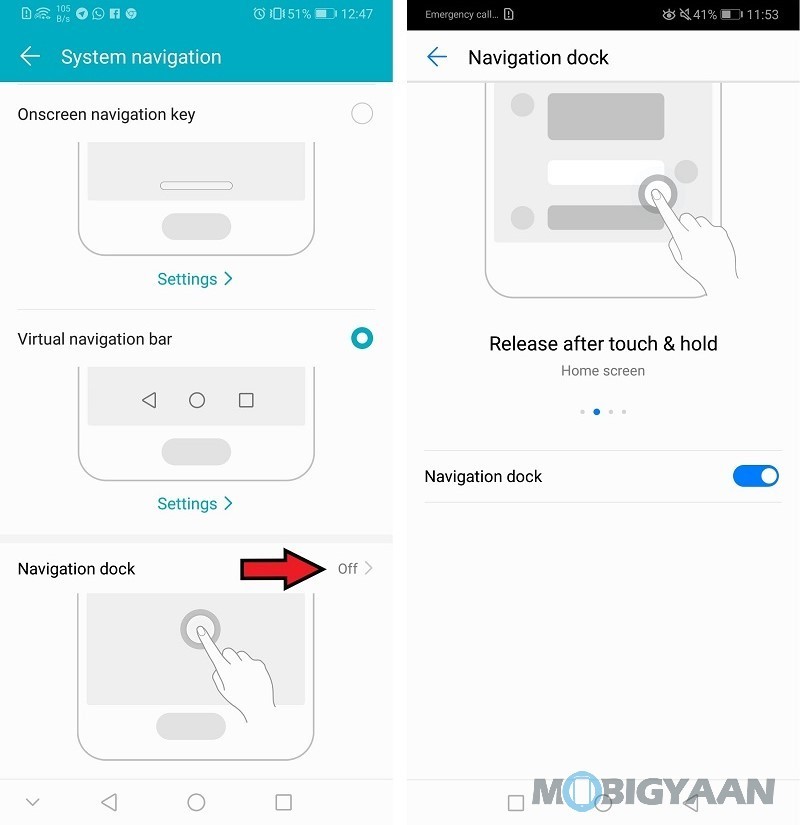 5. Screen Recording:
Want to start making YouTube videos of you playing mobile games? If yes, then this is how it can be done: Slide down the notification panel➞Touch Screen Recording Button➞Press Agree and your screen recording begins right there. You can also tick "Do not show this again" if you don't want to click on agree every time you start recording. If you don't see that button for screen recording, this is how you can enable it: Slide down the notification panel➞Click on that pencil button➞Drag the screen recording button.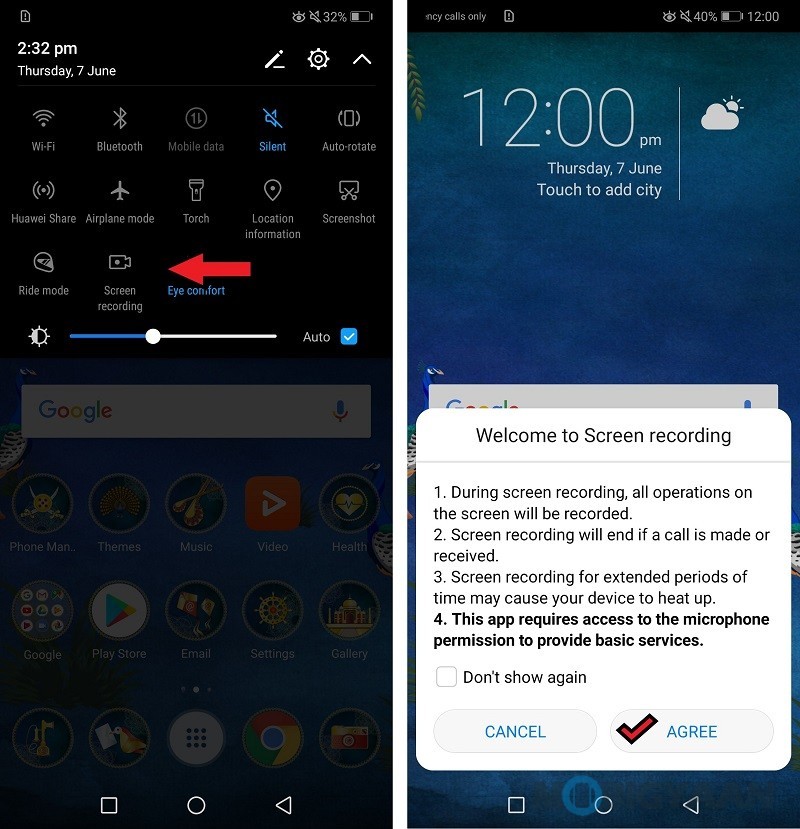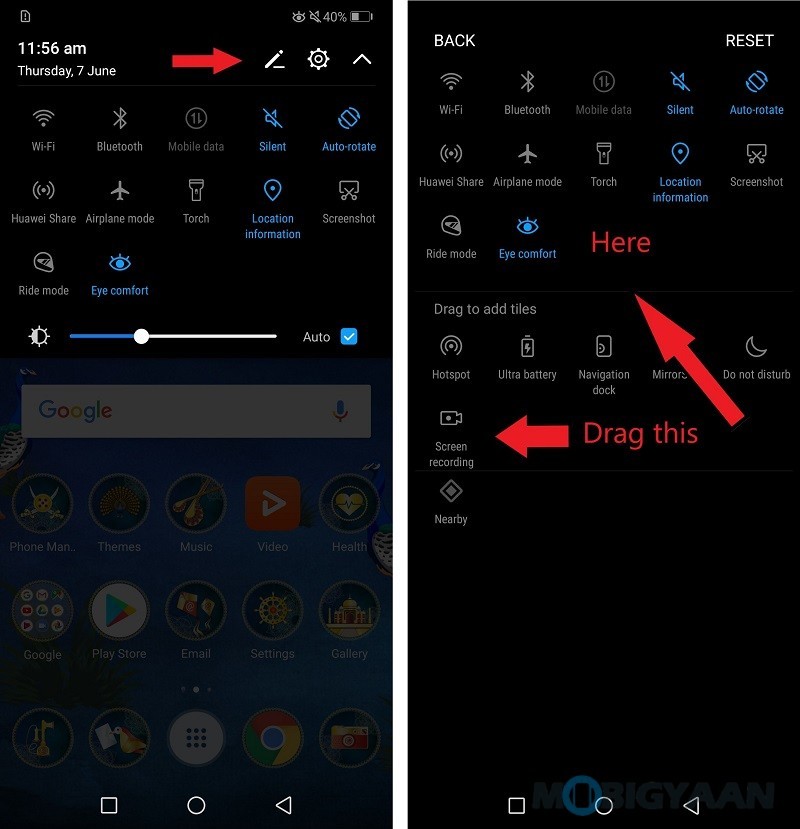 6.Motion Control:
Motion control enables you to use Flip to mute, pick up device gestures, raise to ear, three finger screenshots and knuckle gestures. For using your device in a better way, you can enable Motion Control on your Honor 10 by following these steps: Go to Settings➞Smart Assistance➞Motion Control. There you will find various options as follows: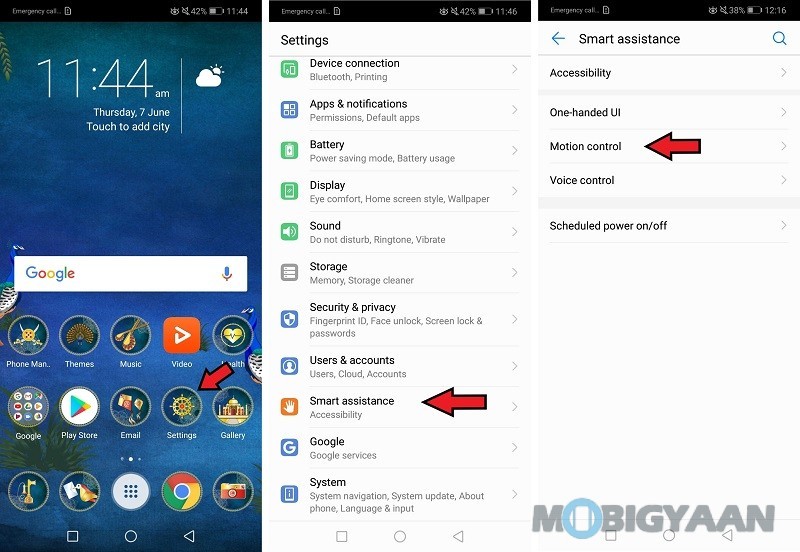 A. Flip to mute:
Click on Flip to mute and you'll be able to see two options:
1. Mute incoming calls: Turning this on would help you to mute incoming calls by simply flipping your device.
2. Mute timers and alarms: By turning it on, you can now simply flip your device to mute when your timers or alarms goes on.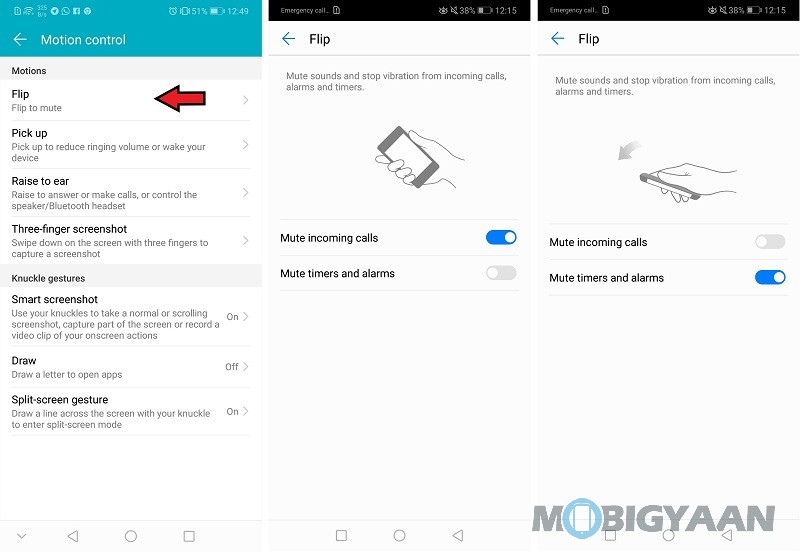 B. Pick up device:
You would see the following options when you click on Pick Up:
1. Reduce the ringtone volume for incoming calls: Turn this on and now, by just raising the device would reduce the ringtone volume for any of your incoming calls.
2. Reduce the tone volume for timers and alarms: If you turn this on, your device would know when you raise your device when an alarm/timer goes on and reduce the volume immediately.
3. Wake up device: Raising your device would turn on the screen if you have this enabled. This would better match up when you have Face Unlock enabled. So, if have face Unlock and Wake up Device turned on, you'll get straight into your device without clicking any buttons.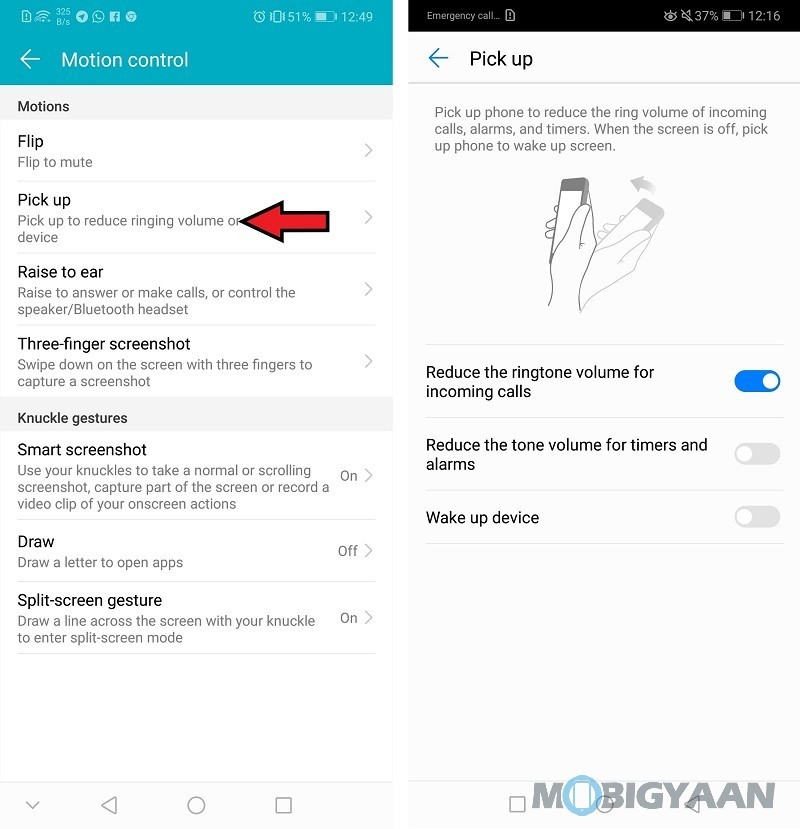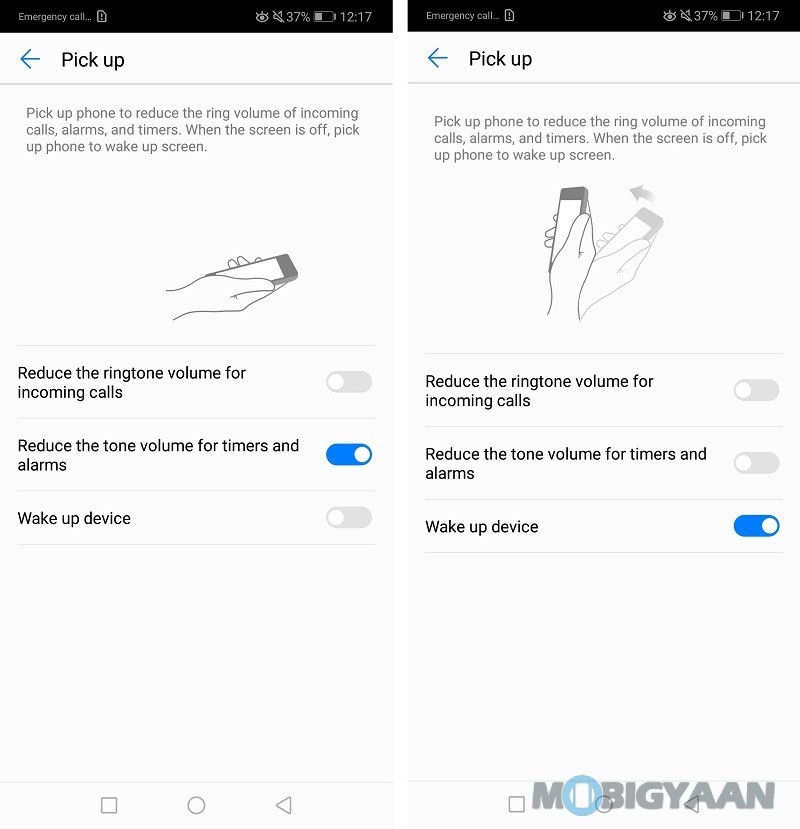 C. Raise to ear:
Clicking on this, you would see four more options. They would be as follows:
1. Answer calls: When a call comes in, you simply need to raise phone to your ear to answer it.
2. Make calls: If you're on the call or contact details screen, just raise your phone to your ear to make a call to the corresponding number.
3. Smart speaker and Smart Bluetooth headset: When you're making a call in speaker mode or using a Bluetooth headset, raise the phone to your ear to simply switch to earpiece mode.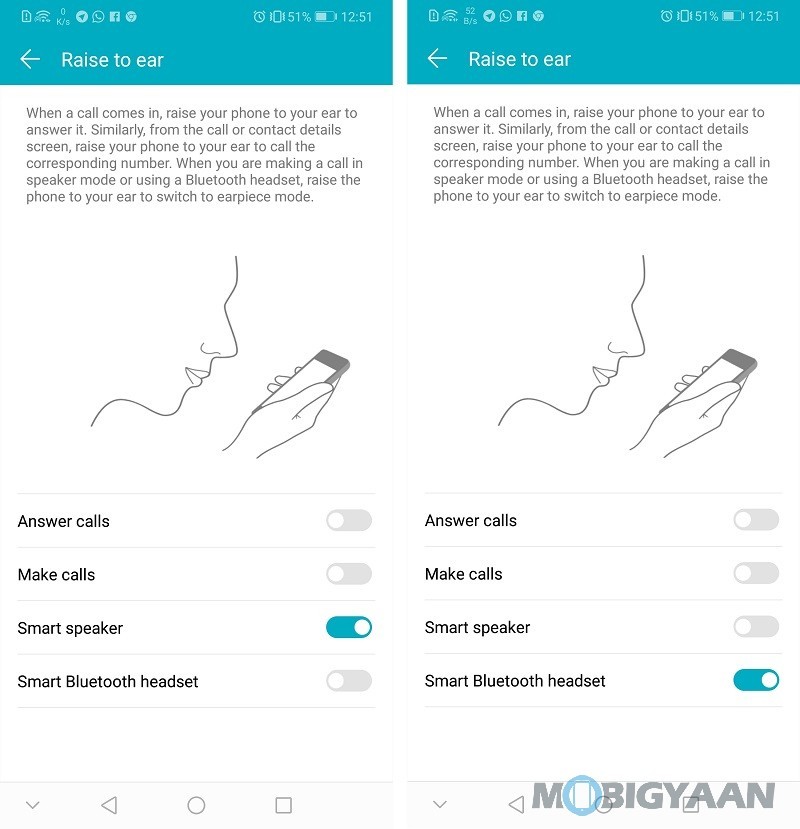 D. Three Finger Screenshot:
Clicking on this option would give show you an option to turn on this feature. Slide that option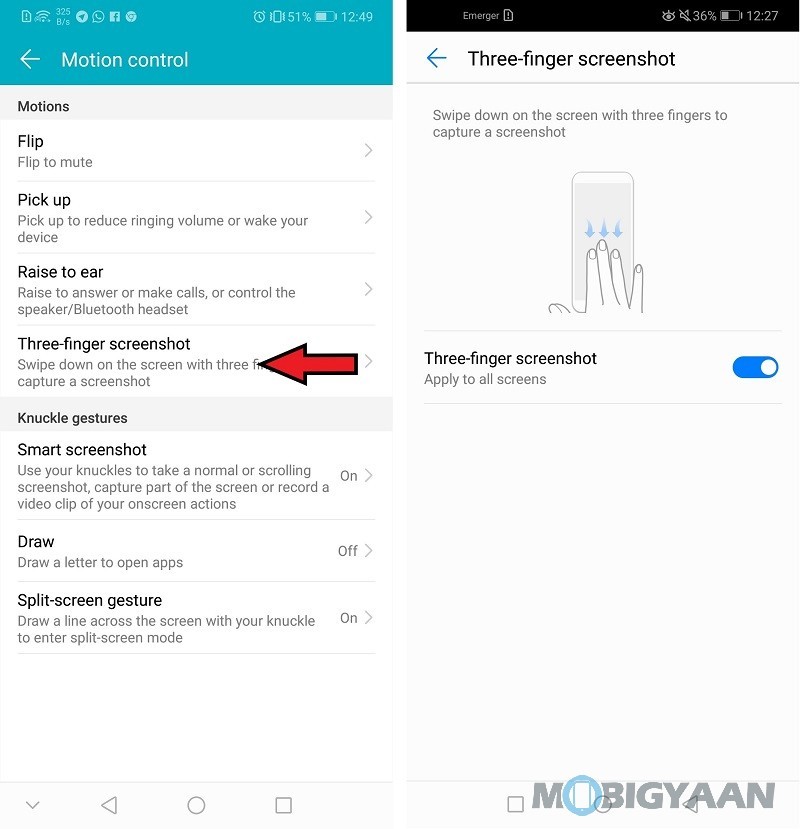 E. Knuckle Gestures:
There are various knuckle gestures available like smart screenshot, drawing a letter to open specific apps and split-screen gesture. You can map a specific letter to open apps by going into the draw option. Go ahead and explore these gestures.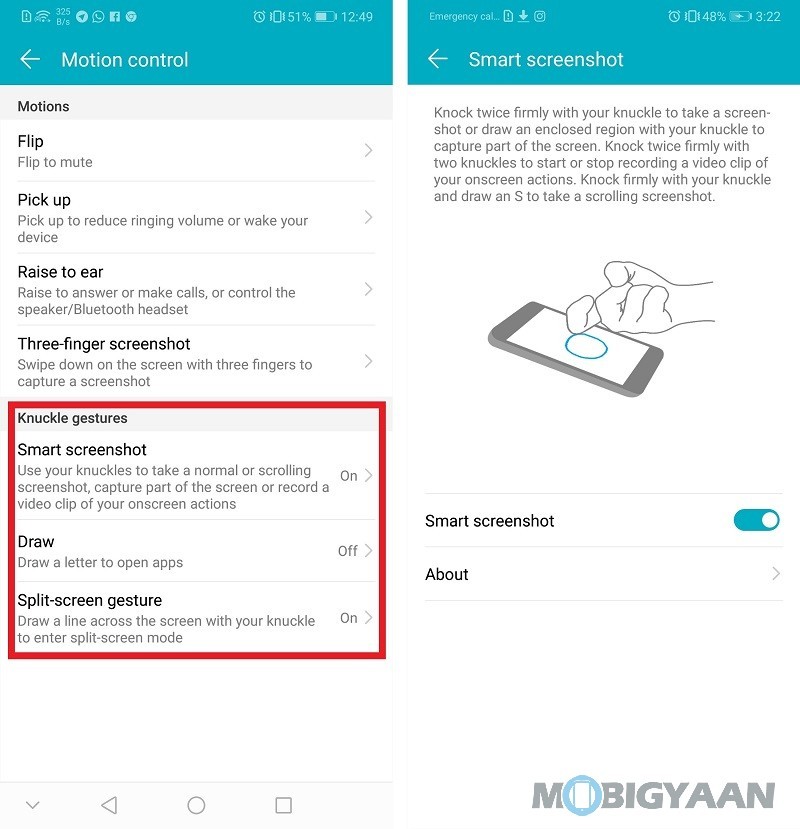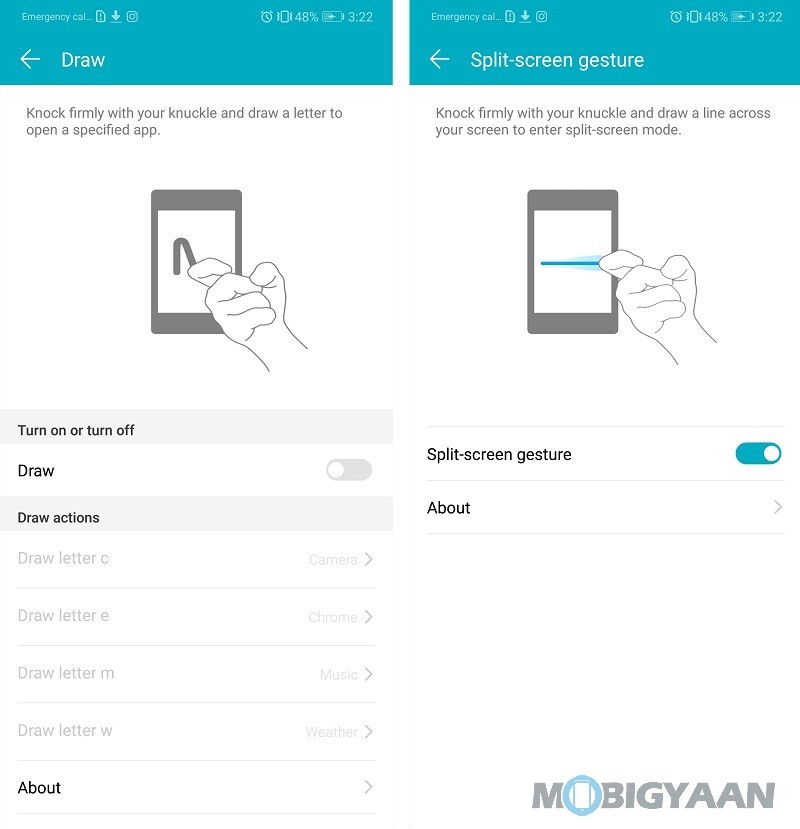 7. Mini Screen View/One handed UI:
This would again help you to use your device single handed by turning your screen into a mini screen. Go to Settings➞Smart Assistance➞One-handed UI➞Mini Screen View➞Slide the button to turn it on. Once you turn it on, you can enter the mini screen view by sliding right on the navigation bar. To exit that view, slide left on the navigation bar or touch on the outer part of the mini screen.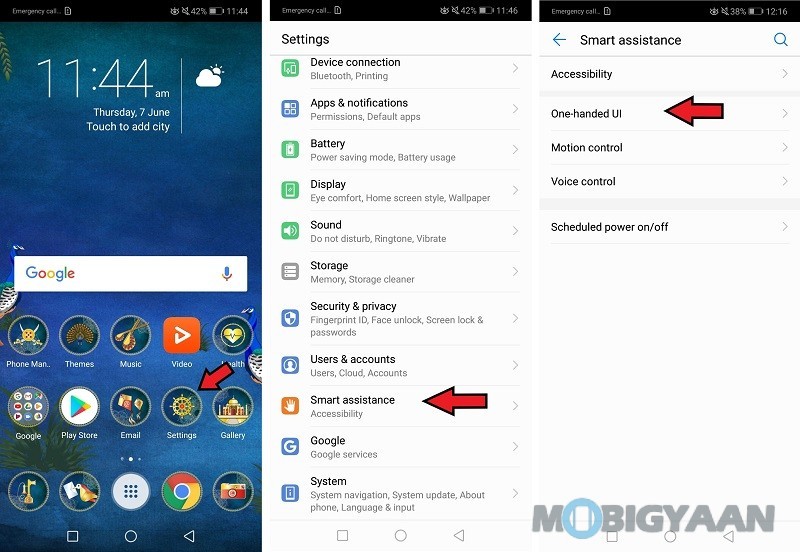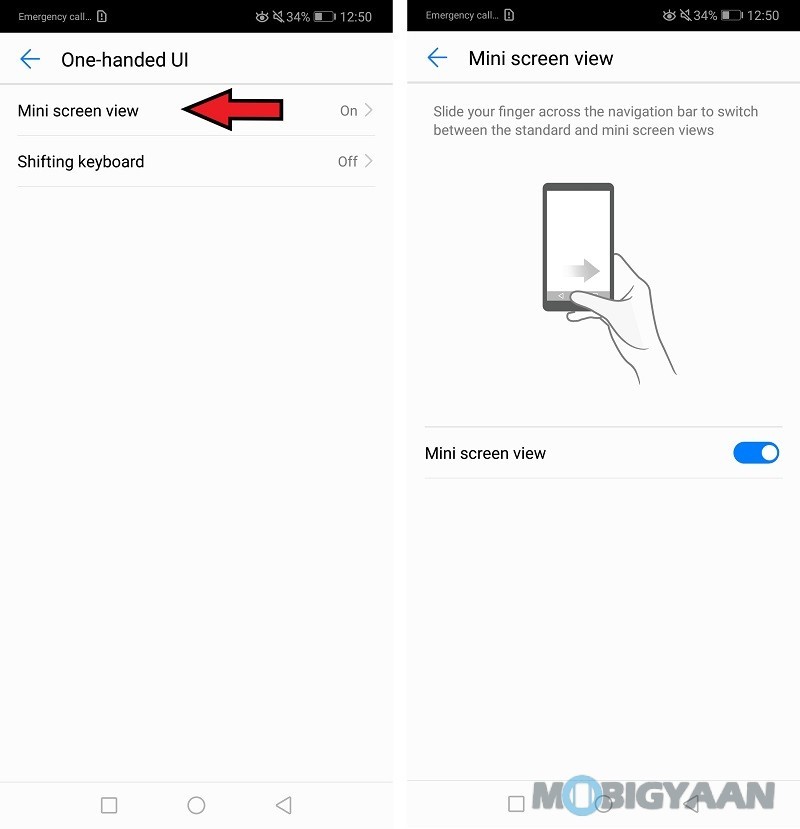 8. App Twin:
If you want to use multiple accounts of WhatsApp, Messenger, Facebook, etc. on the same device, this would be helpful for you. To enable this, follow these steps: Go to Settings➞Apps & Notifications➞App Twin➞Enable the apps according to your choice.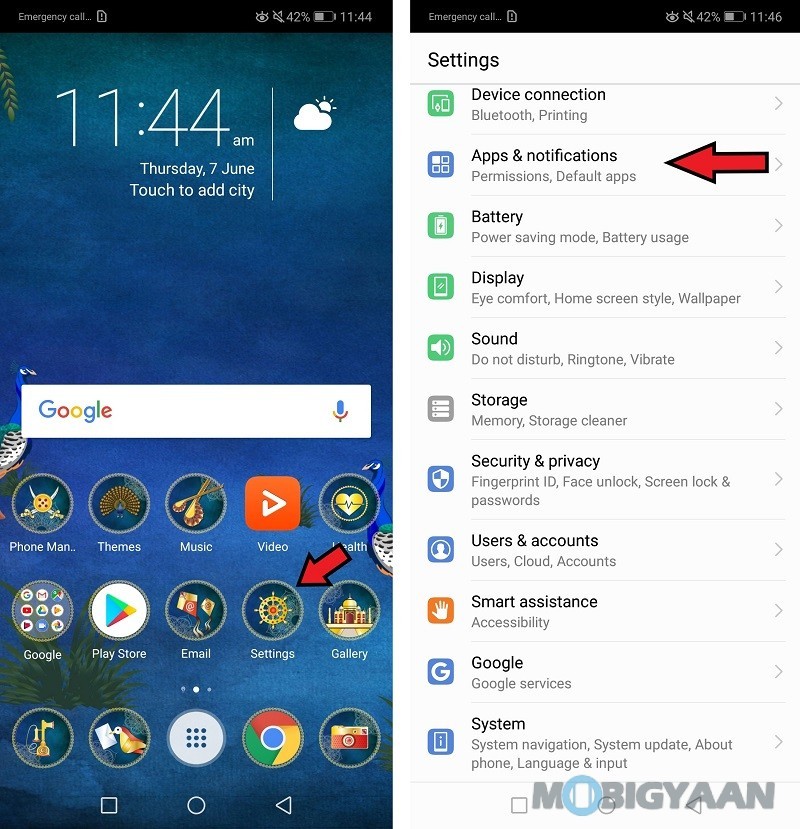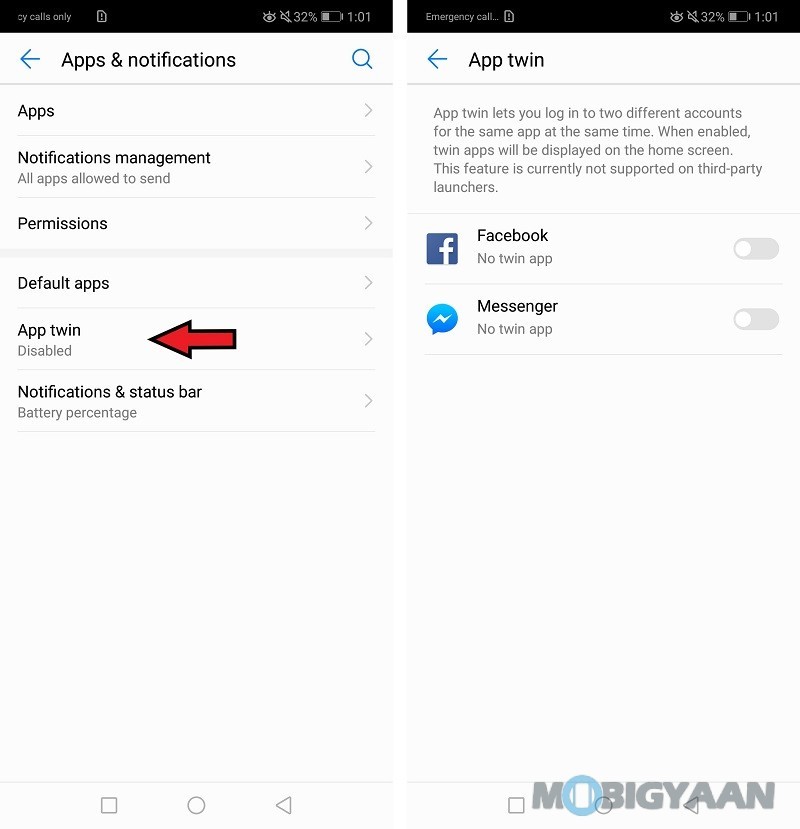 9. Display Battery Percentage:
There are two ways to display battery percentage on Honor 10. But, we all like easier things. So, we'll learn to enable this using the easier way as well. Here are the steps to enable it: Go to Setting➞Battery➞Battery Percentage➞Select Next to icon/In icon according to your preference.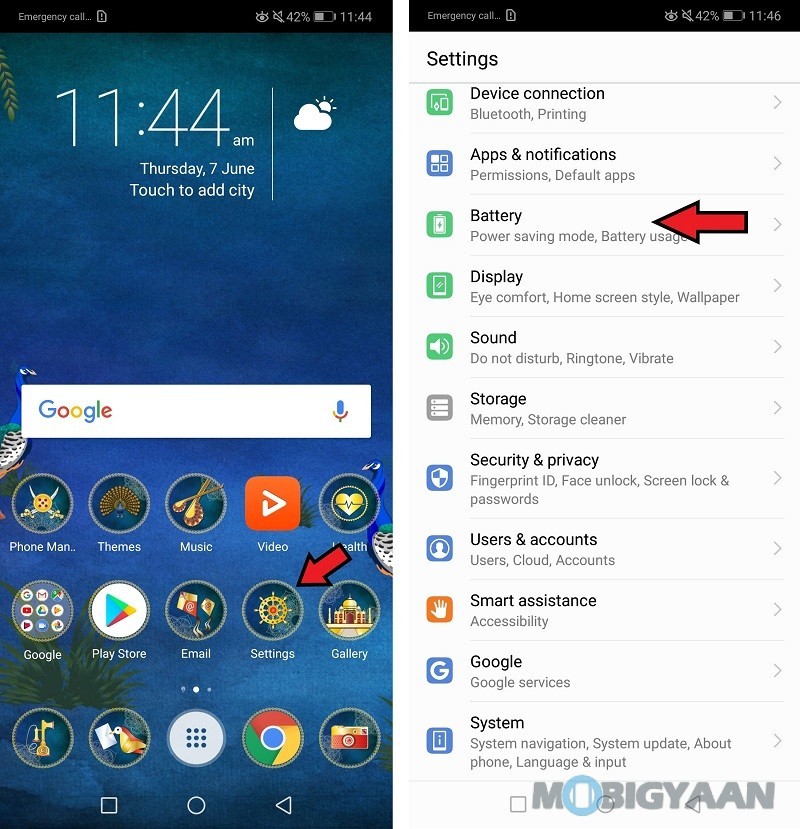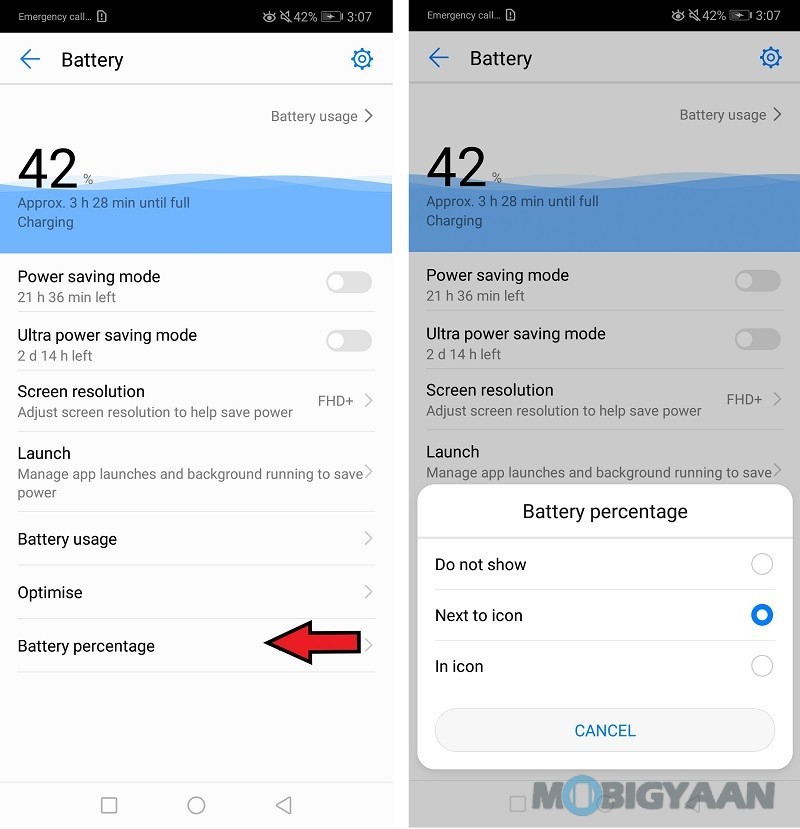 10. Changing Screen Resolution:
You can change the screen resolution to HD+ for saving a bit on battery life by compromising on the screen quality. Also, you can use higher screen resolution to get sharper display, but it would use more battery. You can do this by performing these steps: Go to Settings➞Display➞Screen Resolution. You can also select smart resolution, which would automatically lower the screen resolution to help save battery.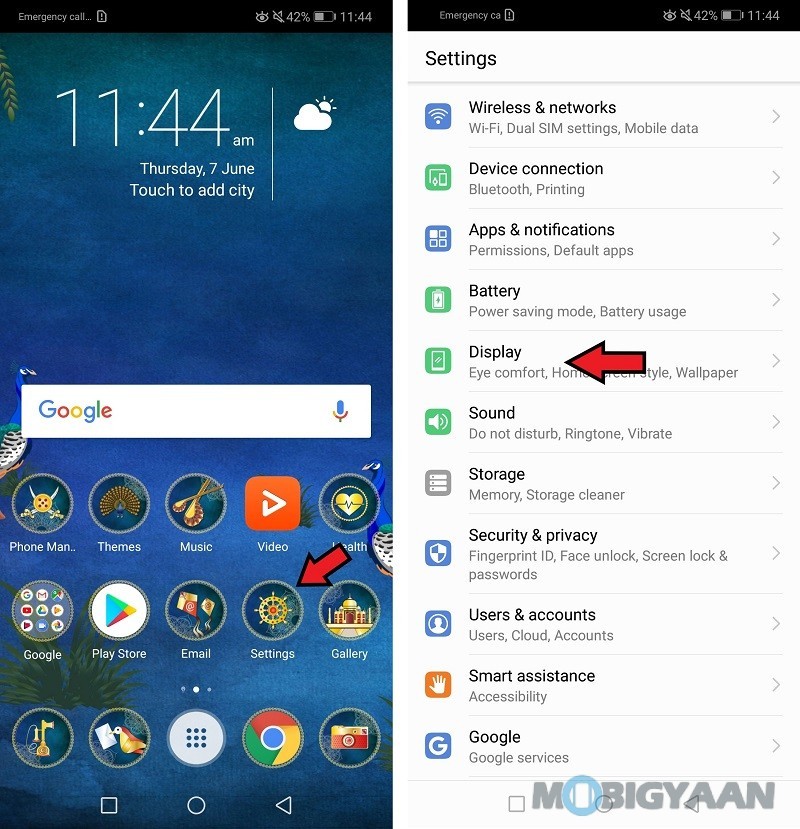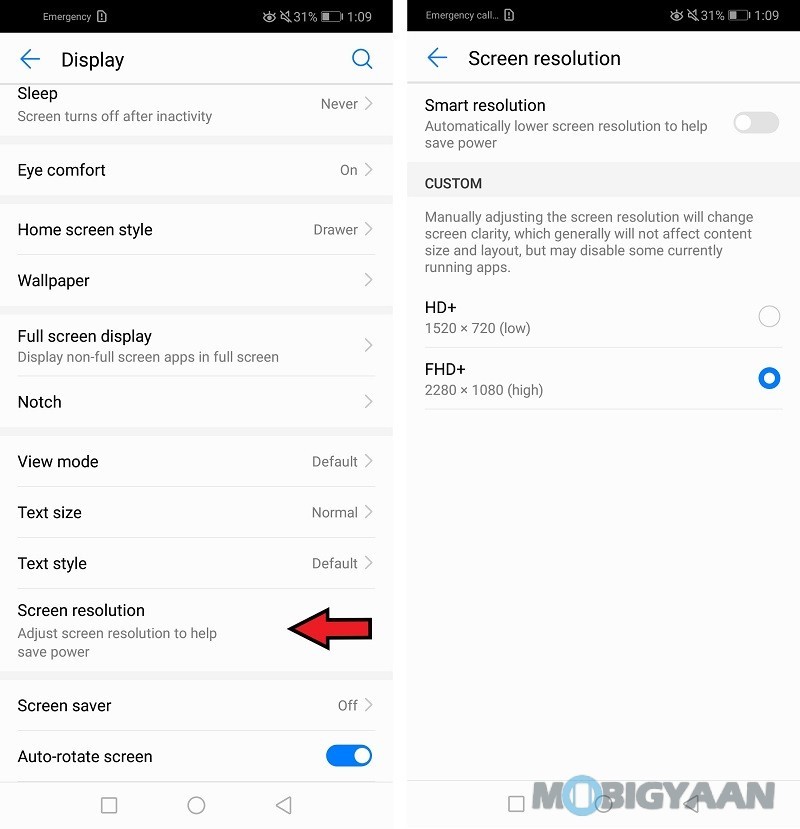 11. Hiding Notch:
Honor 10 sports a notch, but you can hide it if you don't like it. To hide the notch, perform these steps: Go to Setting➞Display➞Notch➞Hide Notch.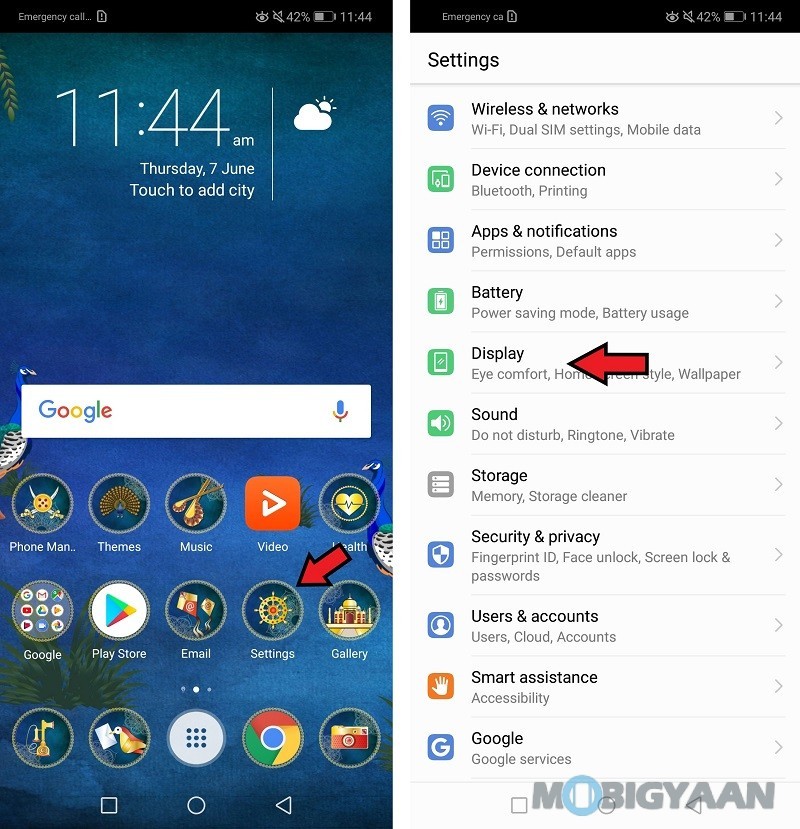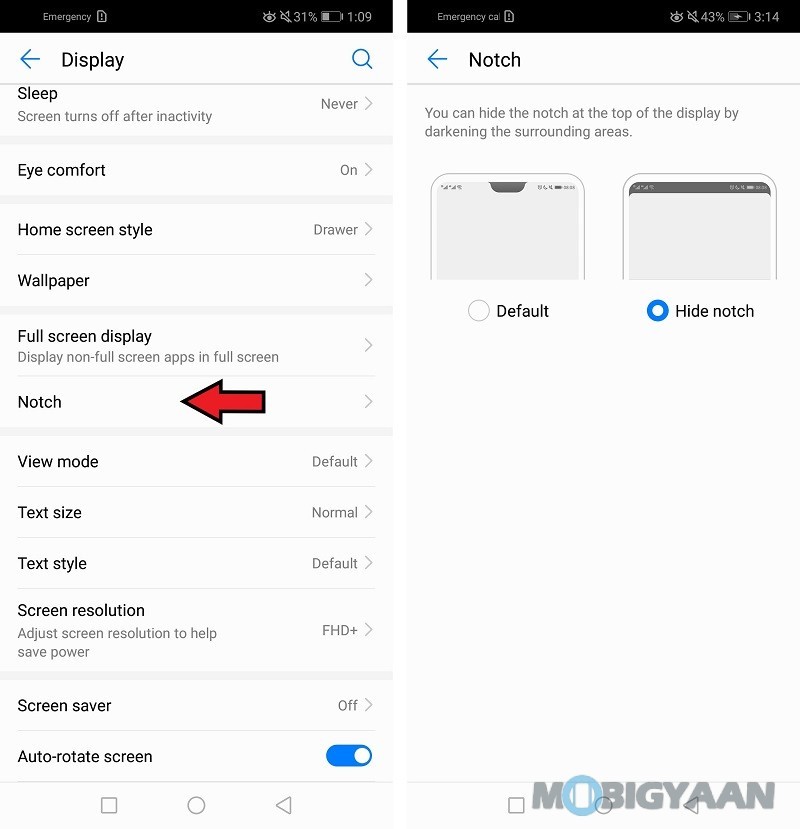 12. Full Screen Display:
Some of the apps are not fully compatible with the notch. So, if you want to take the advantage of that full screen display, you can force those apps to use the full screen by enabling it here: Go to Setting➞Display➞Full Screen Display. Enable the apps for which you would like to experience the full screen display.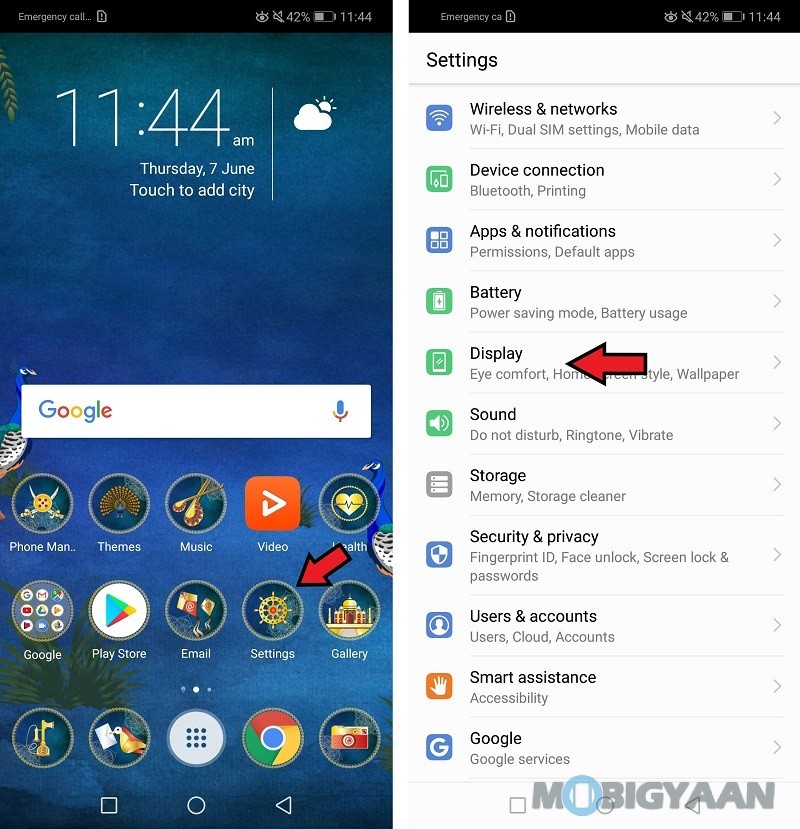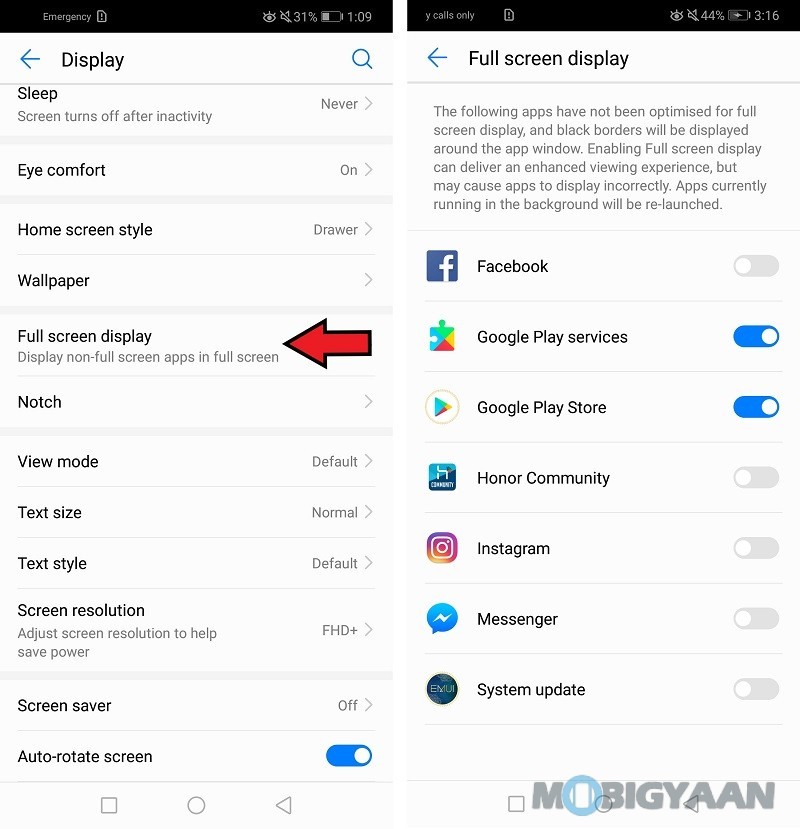 13. Home Screen Style:
Some of us might not like the cluttered home screen. There's a way you can enable the app drawer, straight from the inbuilt settings. Follow these steps to enable this: Go to Settings➞Display➞Home Screen Style.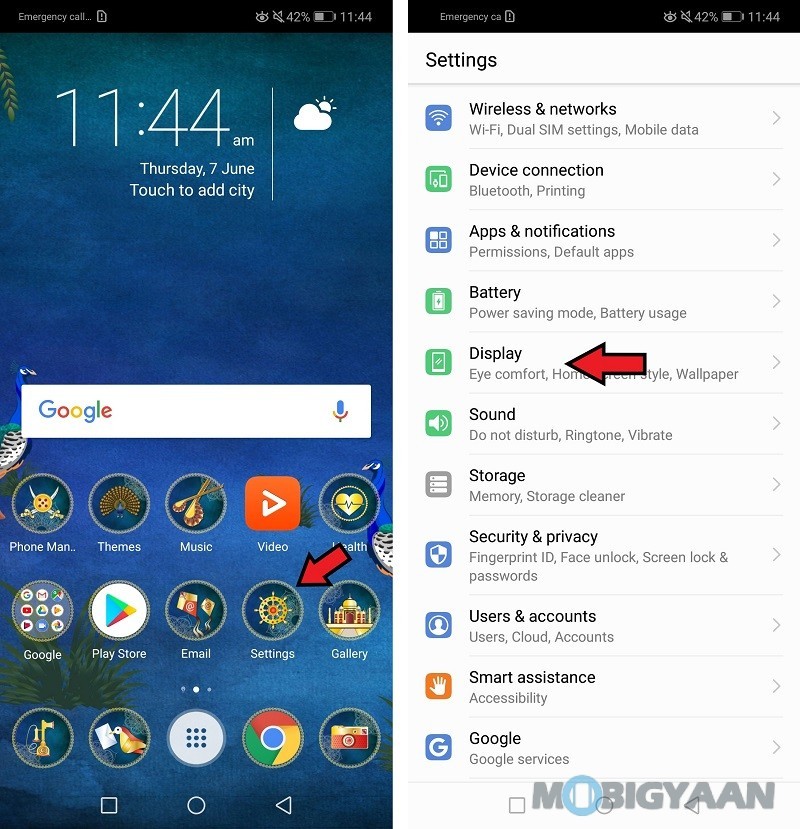 14. Changing Font Style:
As of typing this, there is one more inbuilt font style available in the system, other than the Default one. You can change the font style on Honor 10 by following these steps: Go to Settings➞Display➞Text Style.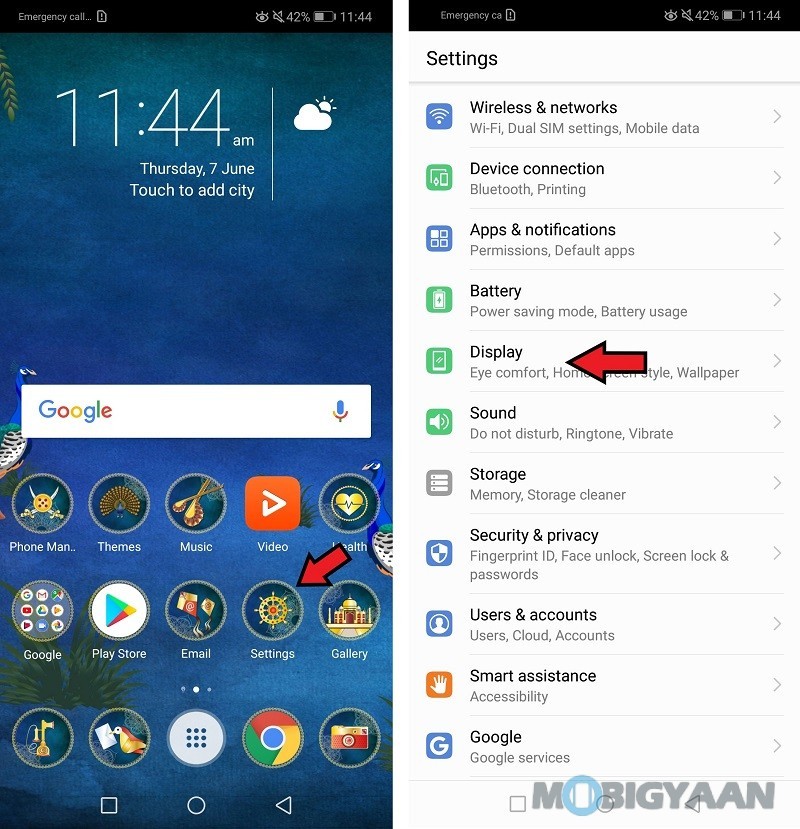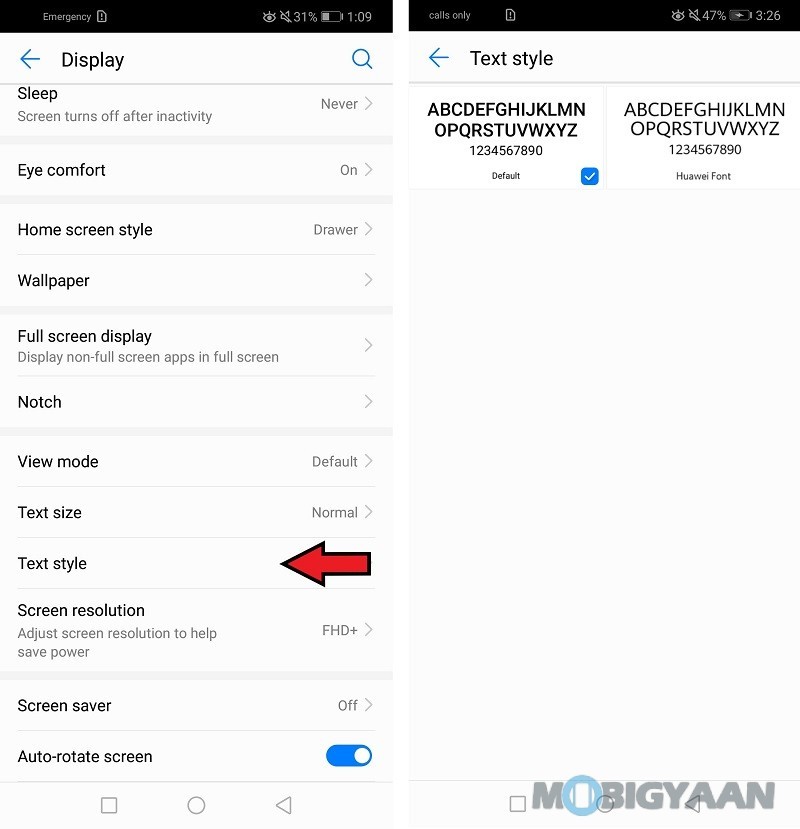 15. Private Space:
Private Space helps you to use two phones on the same device. When you create a private space, it would create a replica of your device (as it came from the factory) and then you can add various apps according to your preference. You can also associate a specific fingerprint with the private space and whenever you open your device using that associated fingerprint, it would directly open in the private space. It can be helpful when you want to give your device to a kid. Enabling PrivateSpace on Honor 10 is easy and you can do it by following these steps: Go to Settings➞Security & Privacy➞PrivateSpace.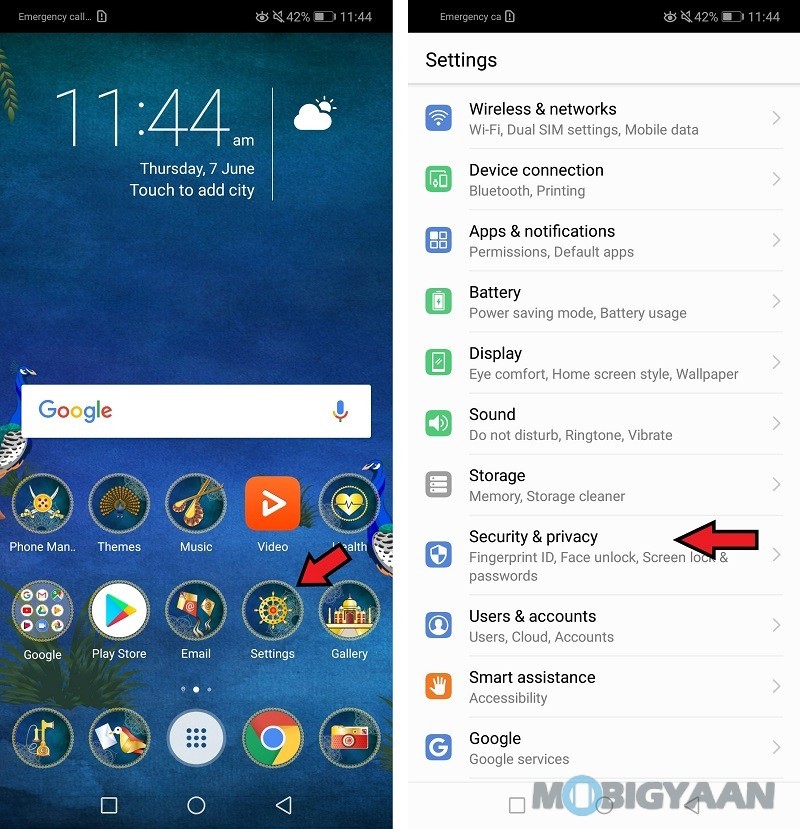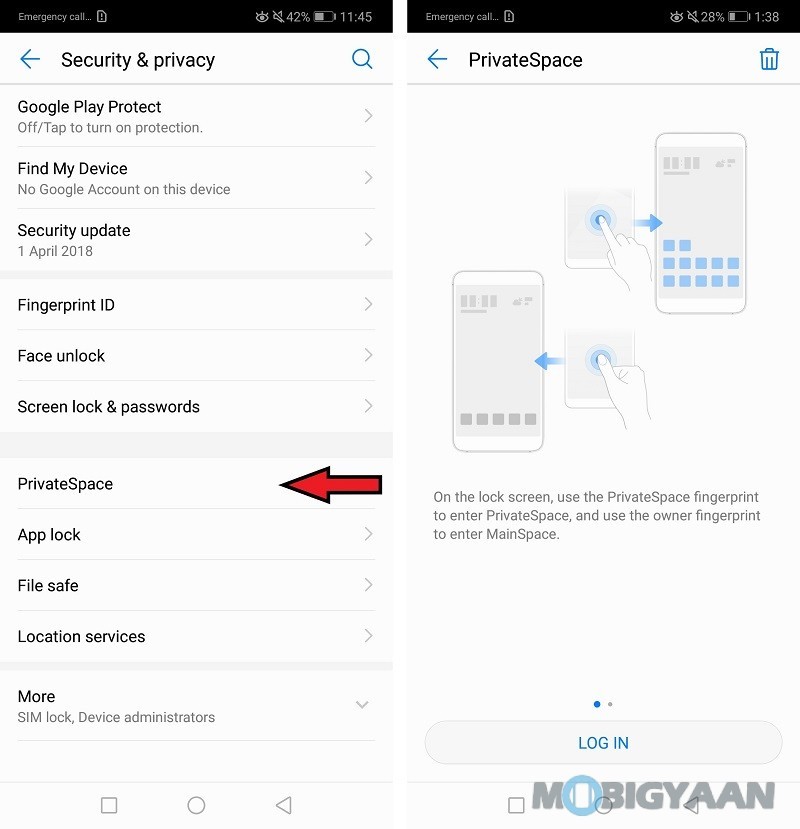 So, that's what we found as interesting features while exploring the features and tricks on Honor 10. If you want to know more about various stuff on latest gadgets and technologies, visit our How-To Guides section.
Also Read:
Honor 10 – Top 10 Camera Tips and Tricks – Hidden Features