Honor 8 Pro, the flagship that competes with OnePlus 5, is a phone that's pack with a number of features, including its slender design, dual cameras, long-lasting battery, high-end performance, and 5.7-inch Quad HD display. We decided to share the 11 best features of the Honor 8 Pro. Here they are the, 11 best features that make Honor 8 Pro a standout.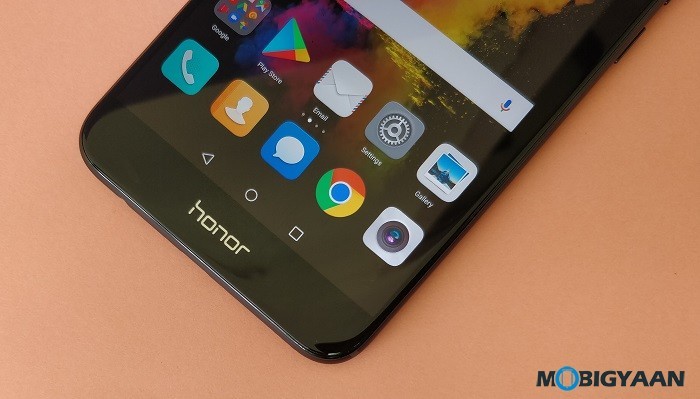 1) 12 MP Dual Cameras – Monochrome, Depth of Field, 3D Creator & More
One of the best features you will find on the Honor 8 Pro is its dual camera. Dual cameras are nothing new to us, we have seen Honor 8, HUAWEI P9, Honor 6X, yet HUAWEI has done a great job putting two high-quality cameras on the Honor 8 Pro. Honor 8 Pro equips two 12 MP cameras on the rear side with one being a Monochrome camera and other as RGB camera.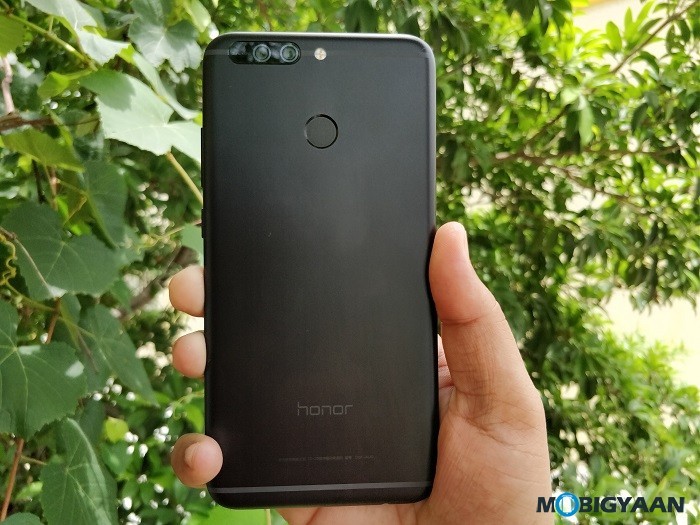 The concept behind these two cameras remains the same. Honor 8 Pro takes Monochrome shots as well as shots with Depth of Field. Since there is a dedicated Monochrome camera, it captures more intensity of light combining with the RGB image giving more contrast and punch.
With dual cameras, Honor 8 Pro can achieve bokeh effect that you see on professional DSLR-grade cameras. And what's more interesting than a dual camera giving you a fully featured camera software. HUAWEI's EMUI has tons of features to offer in the camera. Take Monochrome shots, capture images with bokeh effect, capture mind-boggling night shots, play with Spash effect or the 3D avatar creator, and the list goes on.
2) Long Lasting Battery (4,000 mAh)
The flagships are known to perform weak which sounds generous for Honor 8 Pro to offer cutting-edge battery performance and out-class them when it comes to the battery life. Honor 8 Pro is backed up with a huge 4,000 mAh battery that can actually survive 2 days straight without the need of charging.
Since we got to review the phone, our test suggested that the phone can even survive the whole day on heavy usage that includes Social Media, YouTube and video streaming, web browsing, camera, GPS, hours of music, and some hefty games.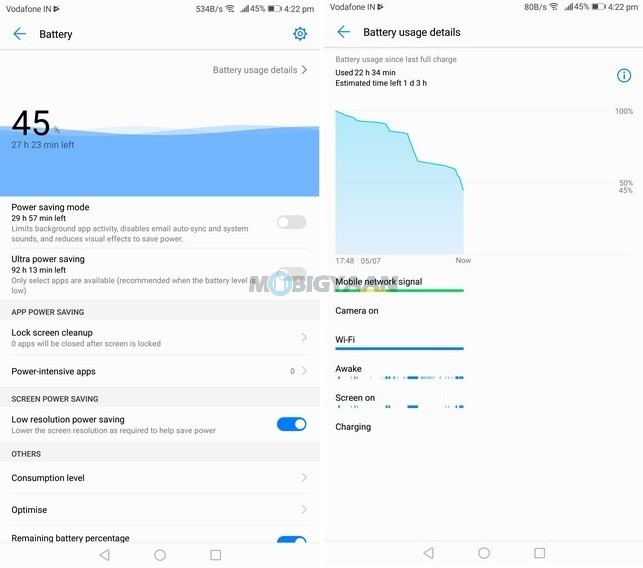 3) 5.7-inch Quad HD Resolution (2560 x 1440 Pixels) Display
A 1080p display is too mainstream for a flagship, so putting a Quad HD screen is a smart move. Even smartphones priced under ₹15,000 (~$230) now offers a full HD display. Honor 8 Pro has a 5.7-inch display with Quad HD resolution (2560 x 1440 pixels). Higher resolution results in sharp and clear content.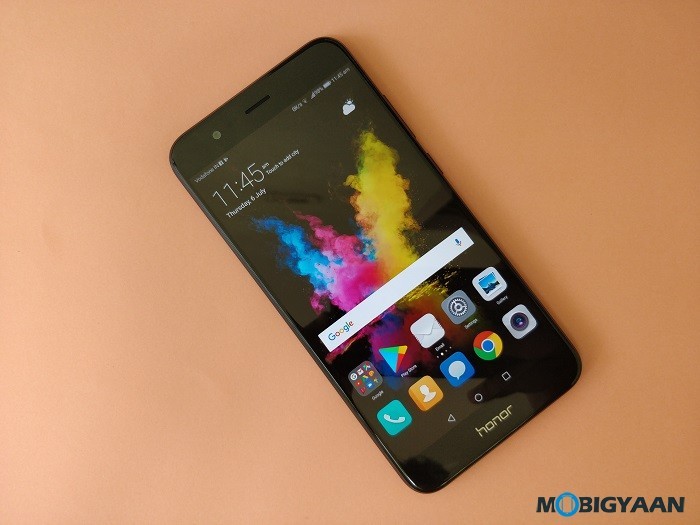 4) 128 GB UFS Storage & MicroSD Support
Honor 8 Pro comes with a 128 GB mammoth storage with MicroSD support. Honor has moved to the fast UFS 2.1 storage and leaves the sluggish eMMC storage behind, hence, the Honor 8 Pro competes with the phones that come with UFS internal storage. OnePlus 5, Samsung Galaxy S8, are Sony Xperia XZ Premium are among them.
5) Thin & Attractive Design
Honor 8 Pro is 7 mm slim, built in a fine metallic body with curvy edges. The screen has thin bezels covered with a 2.5D Corning Gorilla Glass 3. With its slender design, the Honor 8 is too good to forget, the metallic body and slim design on the Honor 8 Pro feels very premium and cannot be overlooked.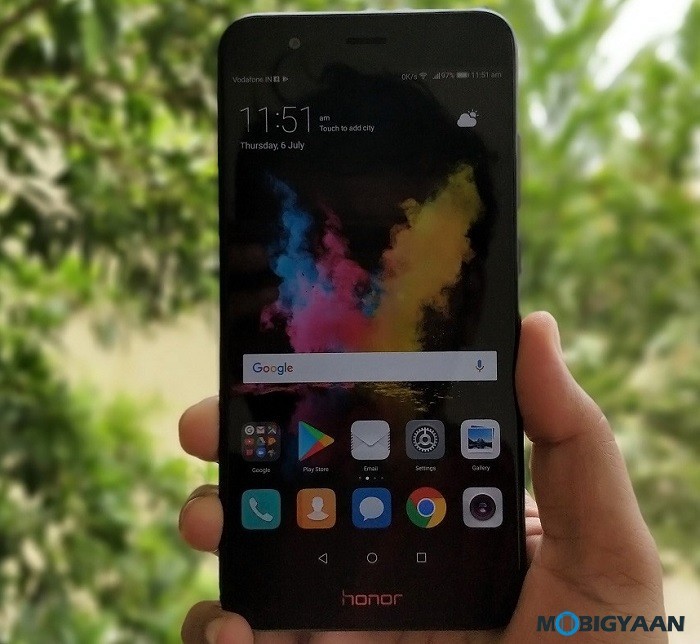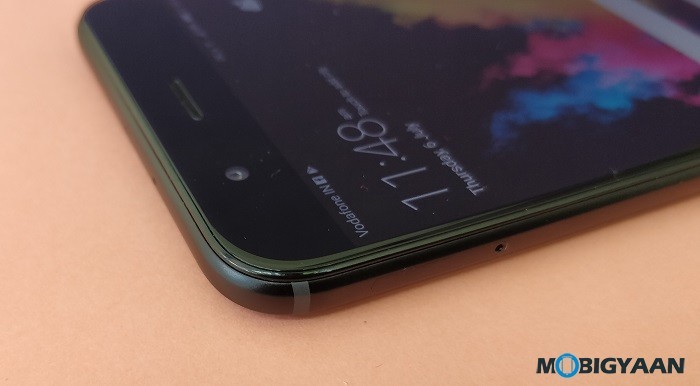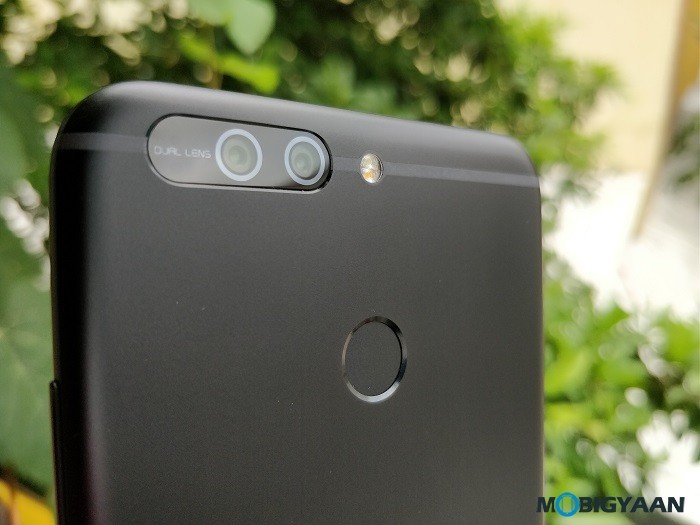 6) IR Blaster To Control Infrared-enabled Devices
Why not keep just one remote for all your electronic devices? One of the underestimated features of a smartphone is the IR Blaster, many phones ignore or opt out while Honor 8 Pro has managed to put an IR Blaster in it. An IR Blaster controls your infrared-enabled devices like TV, Air Conditioner, Music System, and more.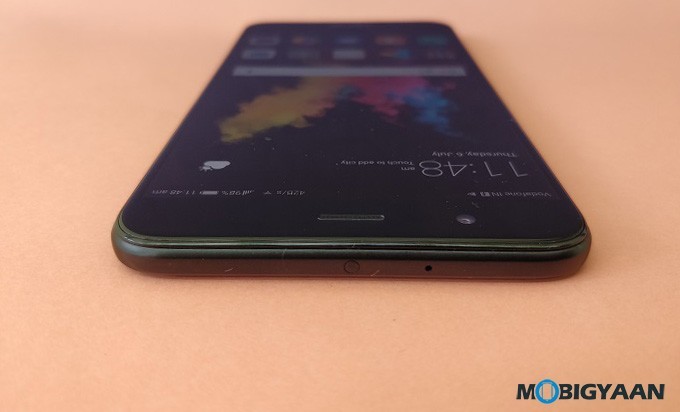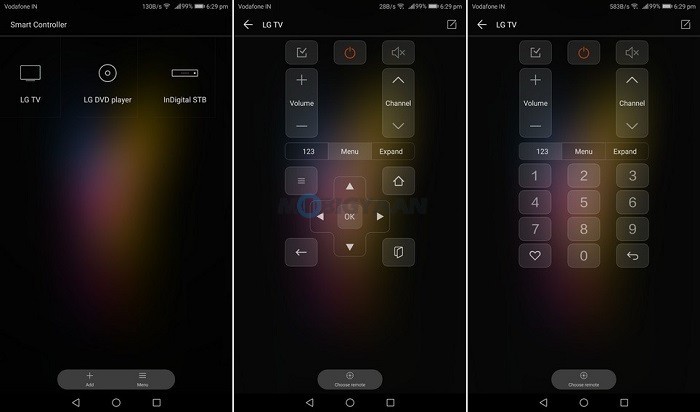 7) VR Ready, Bundles DIY Cardboard VR Kit
Having a Quad HD or 2K display means it is compatible with VR (Virtual Reality) headsets. Honor 8 Pro comes with a DIY Cardboard VR kit with two lenses inside the box and a Jaunt VR app for viewing the VR related content. So, whenever you are bored, pick up the Cardboard VR kit, open the Jaunt VR app and immerse into the virtual reality world.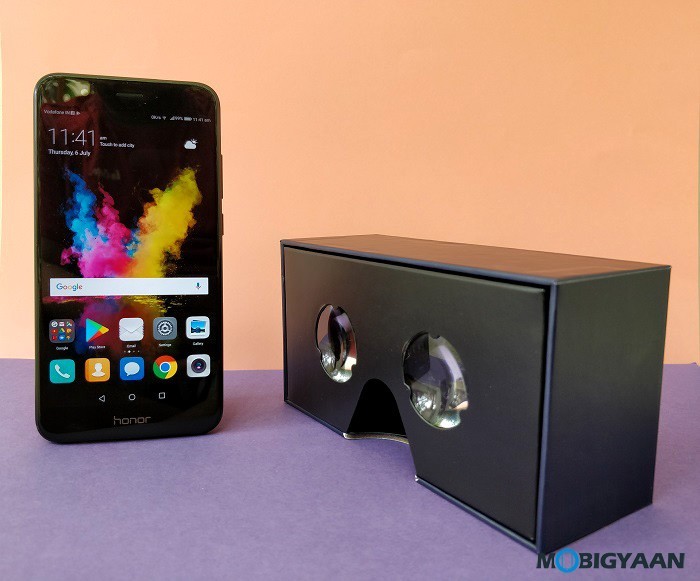 8) App Twin Feature – Runs Two WhatsApp/Facebook Accounts
Here's some cool feature that's more of a handy feature by EMUI, App twin – a feature that lets you run two apps with different accounts. An instance would be running two WhatsApp or two Facebook accounts. If you are running on dual-SIM mode, then you might be having two WhatsApp accounts and App Twin will be one of the features that will ease up your life than keeping two different phones for each account. The same works with Facebook as well.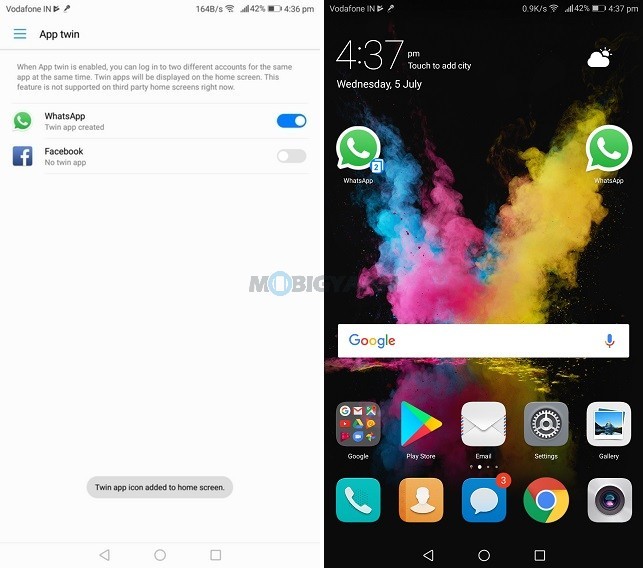 9) Fully Featured EMUI Software (Android N)
Honor's EMUI software is very much matured and offers tons of features, based on Android 7 Nougat, Honor 8 Pro packs a punch in the software department. From the native Nougat features to the gesture-based controls, dual apps, VR as well as features that let you track your fitness activities, everything about the EMUI is amazing.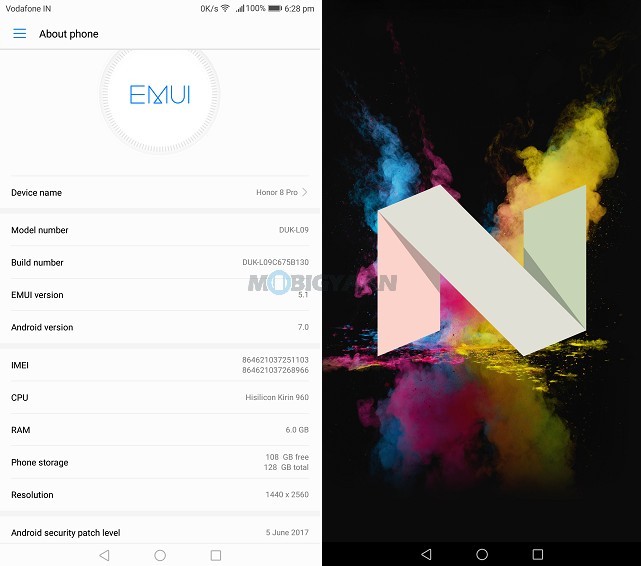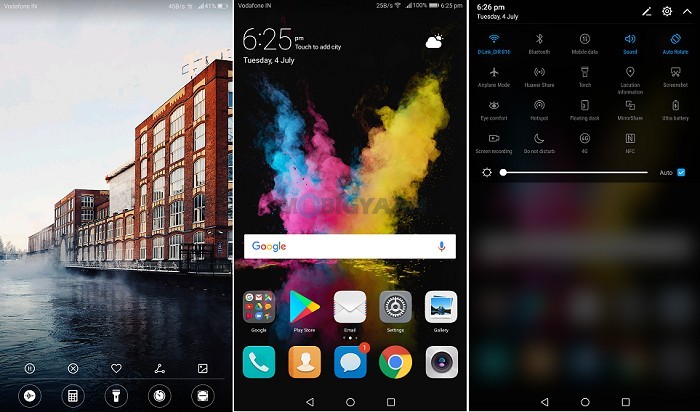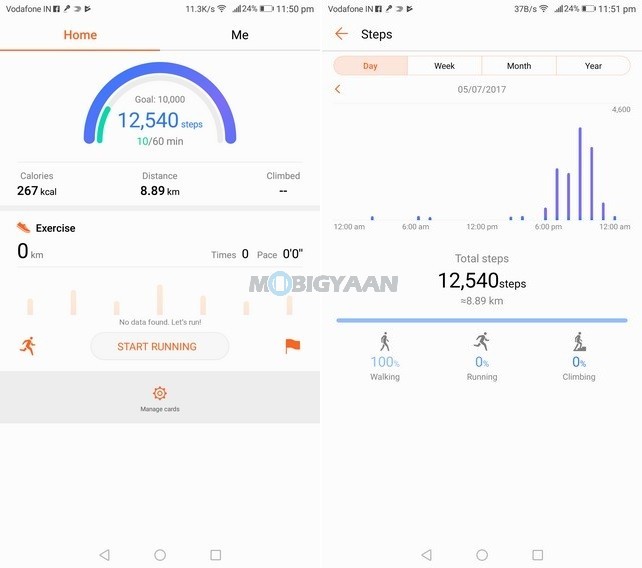 10) Powerhouse (Kirin 960 & 6 GB RAM)
Under the hood, the Honor 8 Pro hides its powerful proprietary 16nm Kirin 960 octa-core SoC. In contrast to modern 10-nm high-end processors like the Qualcomm Snapdragon 835 (Sony Xperia XZ Premium) as well as the Samsung Exynos 8895 (Samsung Galaxy S8), the Kirin 960 is manufactured in a 16nm process from TSMC, yet powerful enough to compete the top-end SoCs. The overall performance should be equivalent to Snapdragon 821 SoC.
The Kirin 960 consists of eight cores (4x Cortex-A73 and 4x Cortex-A53) clocked at 2.4 GHz maximum, a powerful Mali-G71 MP8 GPU, 6 GB RAM LPDDR4 type, and lastly a 128 GB UFS 2.1 storage with microSD support.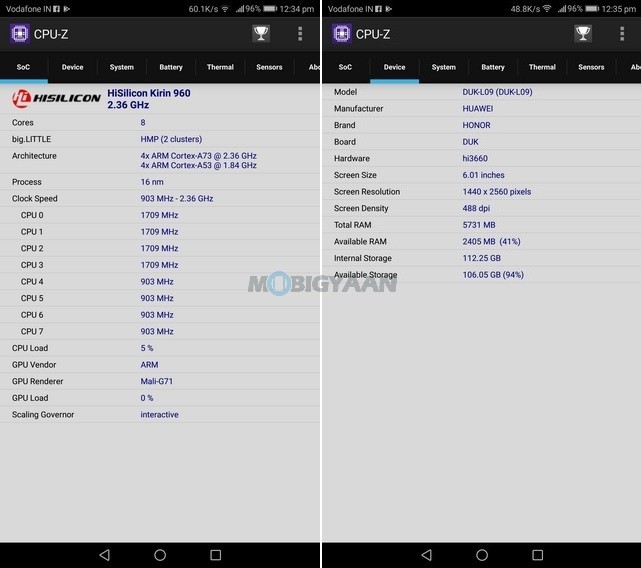 11) Affordable Price
Honor 8 Pro is an affordable flagship phone and that's the last thing that we want to include, no matter what, the ₹29,999 pricing of the phone is very convincing, compared to the OnePlus 5, LG G6, and other similar phones. Honor 8 Pro is a complete standout, there's no doubt the phone is a steal.
Do check out the full review of the Honor 8 Pro.