Fingerprint sensors are emerging into the smartphones and it is quite a useful feature to have it on a smartphone. The Honor 5X is coming soon to India and it is yet another smartphone to feature a fingerprint sensor at the back just like we saw on Honor 7.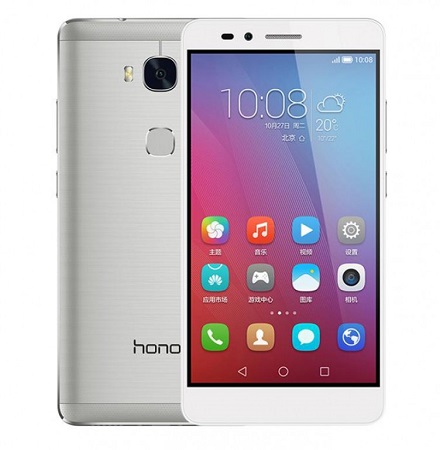 The Honor 5X features a 2nd-gen rim-free fingerprint sensor which performs very fast and accurately. It unlocks the phone under 0.5 seconds which we have seen with the Honor 7. The sensor is highly adaptive and has a self-learning capability of your aging fingerprints that improves scanning accuracy over time.
Other than that, the scanner also supports a number of intuitive gesture controls that can do a plethora of things such as answering a call or taking a selfie, or simply launching an app when in the locked state. Let's take a look at the features of the fingerprint sensor on Honor 5X.
Features of Fingerprint Sensor on Honor 5X
The following are the features of the Honor 5X fingerprint sensor as claimed by the company:
Fast 0.5-Sec unlock time: The fingerprint sensor can unlock the device within 0.5 seconds.
6 attempts required to add a fingerprint: The fingerprint sensor needs only 6 attempts to add all your fingerprints.
Can add up to 5 Fingerprints: The user can add a maximum of 5 different fingerprints on the device.
Rim-free touch fingerprint sensor: The touch on the fingerprint is rim-free and, therefore, it doesn't have any edges making it smooth touch to use in day to day life.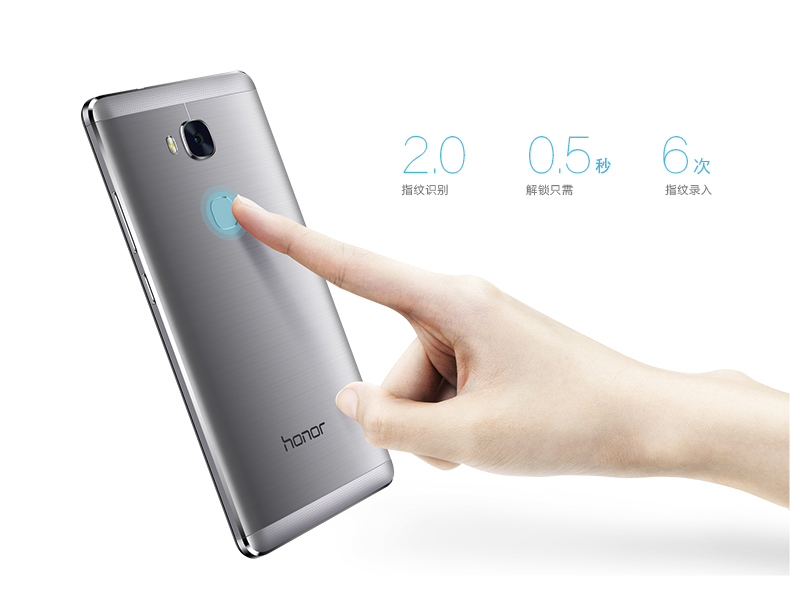 360 Degree unlock: The device can be unlocked 360 degrees, The finger placed any direction can unlock the phone.
100% accuracy of the fingerprint: The fingerprint scanner is very accurate and can adapt to your aging fingerprints as well.
Unlock with a wet finger: The smartphone can be unlocked even when your hands are wet. It doesn't matter, the sensor works with wet fingers too.
Other use of the fingerprint scanner: Can be used for locking apps, answering calls, taking photos, quick launch the apps, stopping the alarm, manage the notification panel, access file manager and more.
Secured and Trusted: All the fingerprints are highly secured (ARM Trust Zone/Chip Level Security/Encrypted storage).
Honor 5X Specifications:
Display: 5.5-inch Full-HD (1920 x 1080 pixels) IPS LCD display
Processor: Octa-core 64-bit Snapdragon 616
Operating System: Android 5.1 Lollipop with EMUI 3.1
Fingerprint Sensor: Yes, at the back
RAM: 2 GB
GPU: Adreno 405
Rear Camera: 13 MP with SmartImage 3.0
Front Camera: 5 MP
Internal Storage: 16 GB
External Storage: Expandable up to 128 GB via microSD card
Network: 4G LTE Dual-SIM (Nano-SIM + Micro-SIM)
Battery: 3000mAh Li-Ion non-removable battery
Color Variants: White, Gray, Gold
The Honor 5X will be using a Qualcomm SoC with 2 GB. It runs on Android 5.1 Lollipop and powers with a 3000 mAh battery. It also has a 16 GB of internal storage that can be further expanded up to 128GB using a microSD card. Honor 5X will be launched in India on 28th January 2016.