Want to play sound from two audio outputs in Windows 11? You can use your speaker as well as headphones to listen to the audio stream simultaneously or you can pair two speakers and play audio at the same time to get the stereo effect and surround sound. By default, Windows 11 plays sound from only one audio output, but you can tweak the sound settings and play sound from multiple audio outputs. Here's how.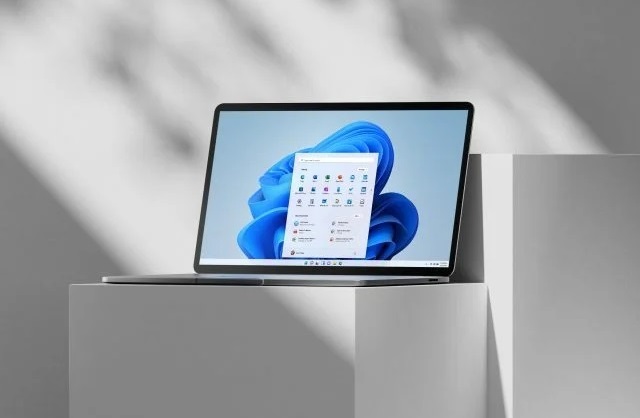 How to play sound from two audio outputs [Windows 11]
You can use this Windows feature called Stereo Mix in the Windows Sound Settings and select two different output devices for playing the sound. 
Note: The tick below works on speakers connected via a 3.5 mm port or USB port, it may not work with HDMI audio and Bluetooth devices.
Step 1: Head to the 

Windows 11 Sound Settings

, you can do it from the 

notification tray icon 

as shown in the screenshot. Or jump to the Sound Settings by pressing the 

Windows Key + I 

and choose 

System -> Sounds 

from the left.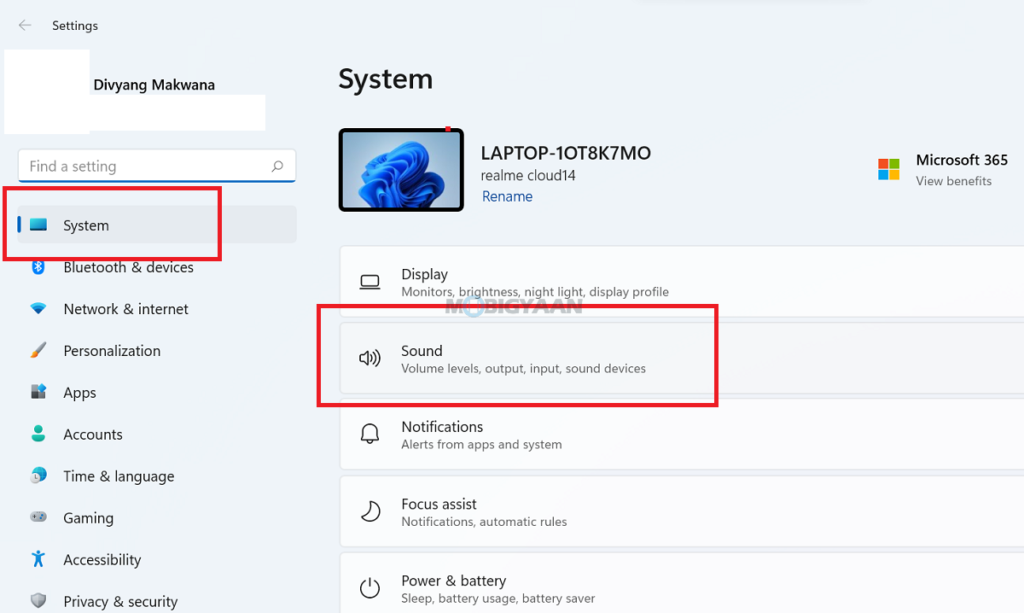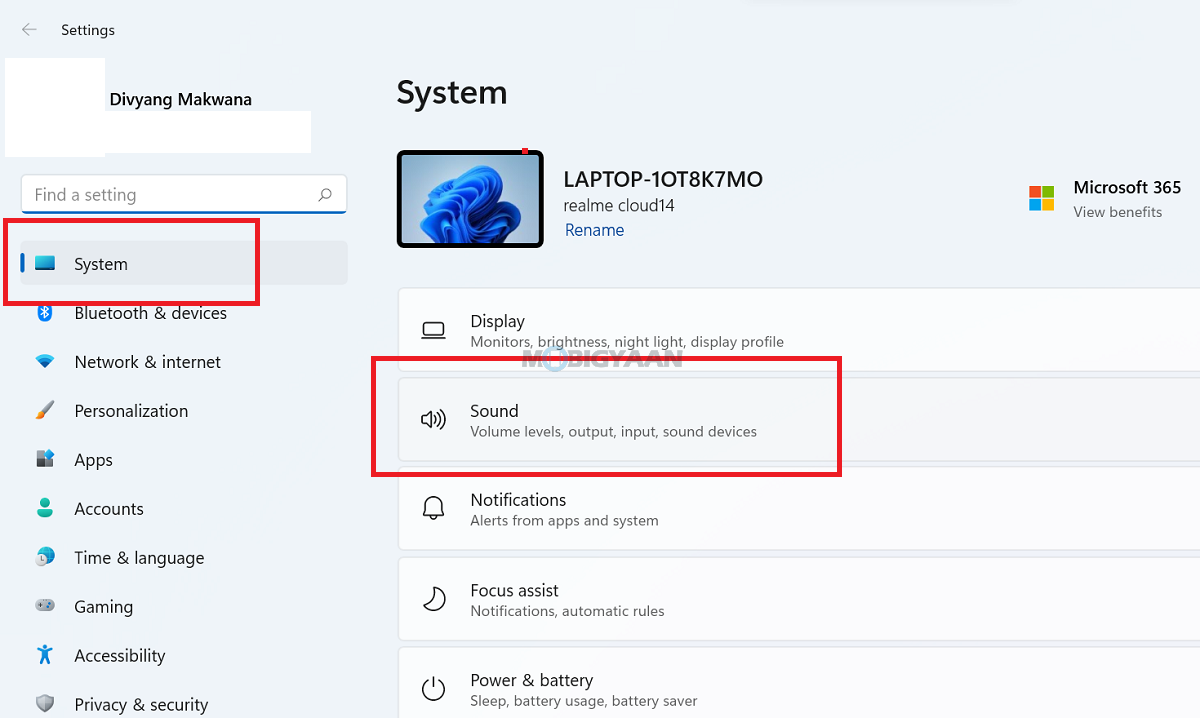 Step 2:

 Once you are in the Windows Sound Settings, make sure there's one device currently selected in the 

Choose Where to Play Sound section

. Go to 

More sound settings 

in the 

Advanced 

tab by scrolling to the bottom.
Step 3: Click on the 

Recording 

tab. Right-click anywhere and select 

Show Disabled Devices 

from the menu. Look for 

Stereo Mix

 and 

Set as Default Device

 using the button below.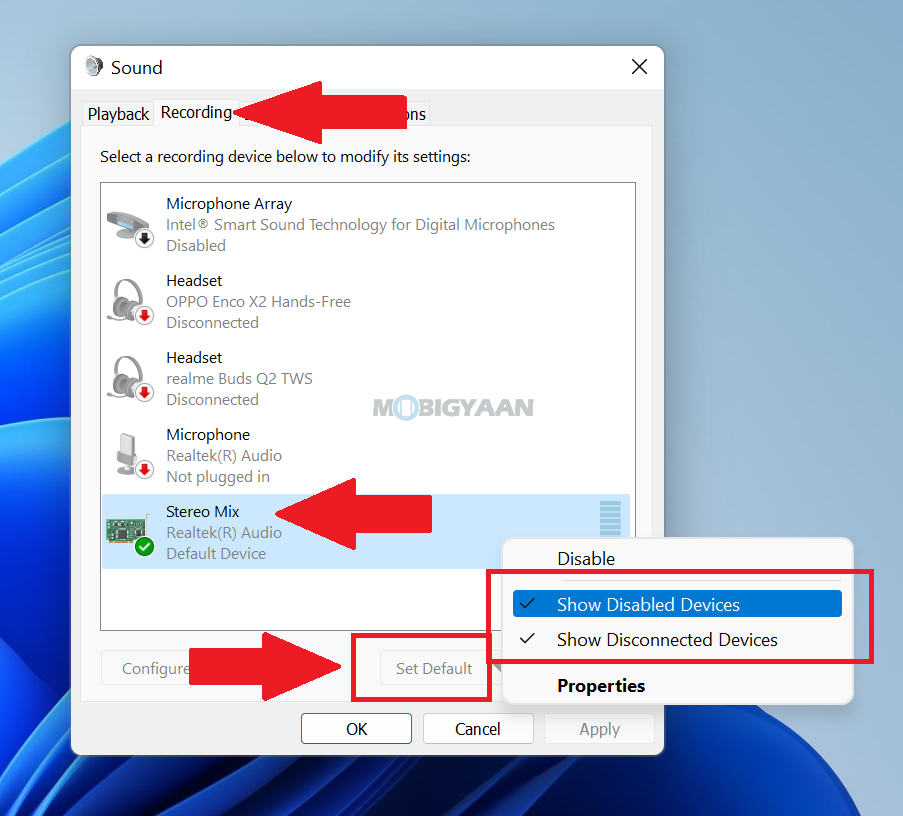 Step 4: 

Now, double-click on 

Stereo Mix 

to open the 

Properties 

or use the right-click menu. Click on 

Listen

 tab as shown.

Step 5: 

In this tab, you can check the box 

Listen to This Device

 and choose the second audio device you want to hear in the 

Playback Through This Device 

drop-down.

Step 6: 

Click 

Apply 

and 

OK 

to save.
Now you should hear the audio from other audio devices connected to your PC, whether it's headphones or an external speaker or whatever.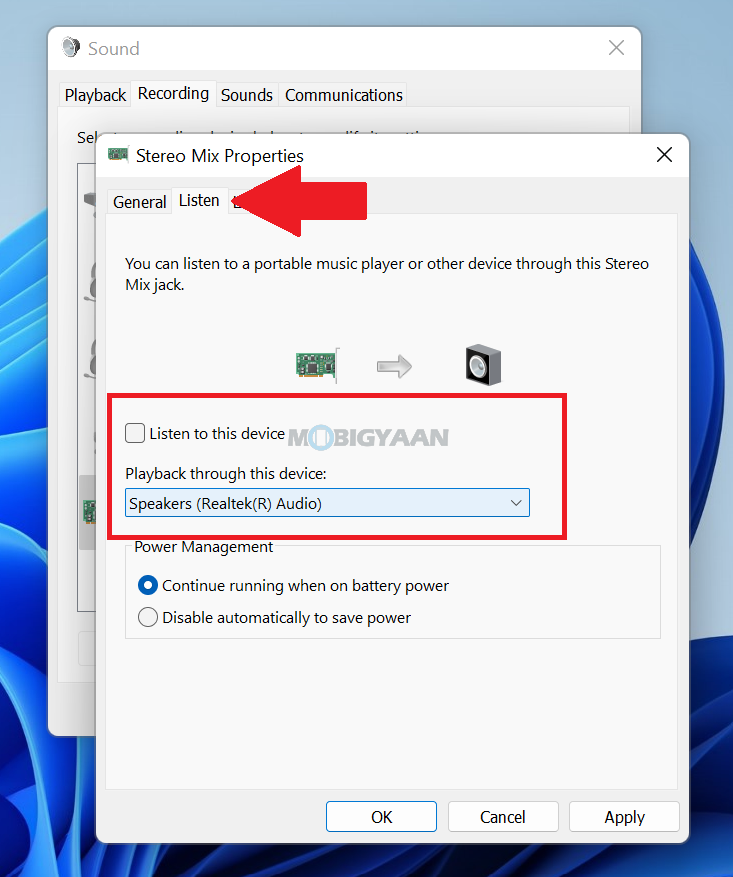 Did you like this content? More such guides can are available in our How-To Guides section.
Here are some useful Windows 11 tips and tricks for you and also, some suggested stuff on Windows 11 below.
To get updates on the latest tech news, smartphones, and gadgets, make sure you follow us on our social media profiles.
Instagram | Facebook | Twitter | Youtube