HTC has had a good time with its smartphones recently. It has churned out quality smartphones and especially its One series has succeeded in pleasing the market. But, its less expensive Desire range of phones has also followed in its footsteps with phones such as the Desire SV and Desire U.  HTC, it seems has launched a phone which picks up from both these series of phones in the HTC Desire 500.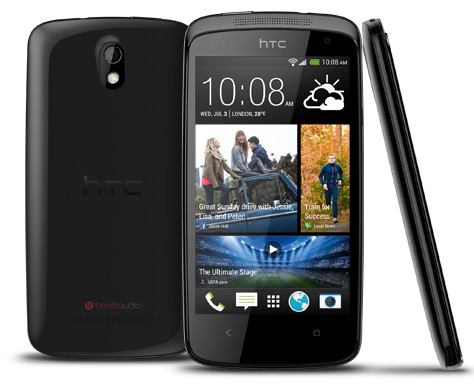 The HTC Desire 500 smartphone looks similar to the Desire series but has plastic casing akin to the HTC One instead of the metallic one of Desire phones like the SV. It has 4.3-inch, 800 x 480p screen and a quad-core 1.2 GHz Snapdragon 200 processor built in. It also has 1 GB RAM and the Adreno 205 GPU. With specs like this, it is only its price that's a bit of an aberration – it has been launched in Taiwan with a price tag of $400 (Rs. 24000 approx. at Indian prices)
While you  can buy many phones from Indian companies at lower prices, the phone has good stuff on offer – like an 8-megapixel rear cam with a BSI snapper and 1.6-megapixel front cam along with an 1800 mAh battery. Internal memory though leaves much to be desired at 4 GB, but 32 MicroSD support is well, okay.
HTC hasn't currently declare what version of Android this phone will run on but we hope it comes with at least Android 4.2.2 – Jelly Bean OS out-of-the-box. To make it even more lucrative for the consumer, HTC has added some goodies on board, such as HTC Blinkfeed, Beats audio but no BoomSound speakers sadly.
We are waiting for its Indian launch. What will determine the fate of this phone is definitely the price tag it comes with to the Indian market.
Specs at a glance:   
4.3-inch, 800 x 480p screen
Quad-core 1.2 GHz processor
Adreno 205 GPU
8-megapixel rear cam, 1.6-megapixel front cam
1800 mAh battery
Blinkfeed and Beats audio